Persistence and Change: Gender Inequality in the US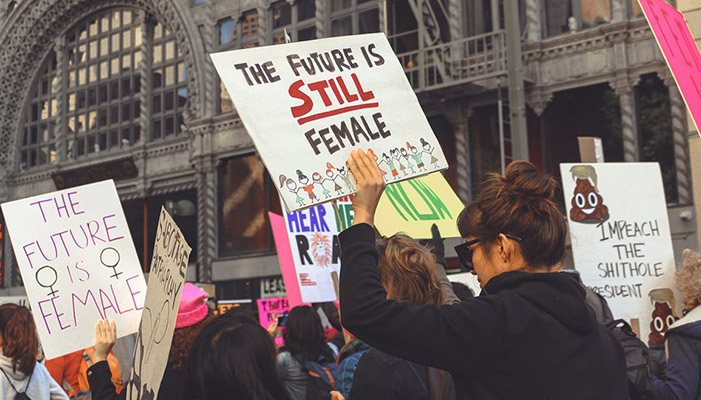 A record number of women were elected during the 2018 November midterm elections and now serve in the 116th Congress of the United States. The election witnessed historic firsts, electing the first two Native American women, two Muslim women, the first openly bisexual woman, and the youngest woman ever elected to Congress. A woman was reelected as Speaker of the House, the only woman to ever hold this post. On February 5, 2019, Stacey Abrams, who lost in a controversial gubernatorial race, made history by becoming the first African American woman to deliver the Democratic response to a US President's State of the Union address. Abrams spoke about the need to address racism, voter suppression, and immigration, and she strongly criticized President Trump for the government shutdown, which had caused severe and unwarranted distress and devastation in people's lives.
The struggle and victory in these small steps shines a spotlight on the larger fight for gender equality and justice. These small victories connect to a long history of collective struggle to break down hegemonic structures, and to bring to light the many pervasive and deeply imbedded systems and cultures of oppression and inequality that exist in society. Small steps are a sign of hope, but they are not enough. We must keep going to bring about social transformation and structural change.
The American context
Despite having more women in Congress, America has pervasive gender inequality.
Despite media attention, the pay gap continues, with white women earning 20% less than men, and women of color earning less than that.
Female-dominated occupations, such as childcare and restaurant service, continue to be at lower levels on the wage ladder.
Men make up the vast majority of the top earners in the US economy.
According to the Institute for Policy Studies analysis of World Bank indicators, women perform twice the amount of unpaid labor that men do, including: childcare, eldercare, and housekeeping.
Median savings for men were at $123,000, compared to $42,000 held by women in 2017.
The American Association of University Women report that Black women graduate with higher debt than any other demographic.
The US Census Bureau declares that women of color experience the highest poverty rates in the nation.
Transgender unemployment is three times the US average.
African American women's imprisonment rate is twice that of White women and African Americans are incarcerated at more than five times the rate of whites.
One in three women in America report having experienced sexual violence in their lifetime.
Moving forward
On January 21, 2017, under the auspices of the Women's March on Washington, millions of people took to the streets within the US and across the globe to protest Trump's election. It was a continuation of the work that the women's movement and many different movements and organizations had been doing for years: #BlackLivesMatter, #SayHerName, #MeToo, to name just a few. Over the years, these and other groups have helped to mobilize and make mainstream the notion of "intersectionality" (a term coined by Kimberlé Crenshaw) and its broad umbrella of interdependent and overlapping matrices of oppression. The scale of the Women's March demonstrated the collective power and need of the global community to confront the persistence and prevalence of patriarchal and misogynistic structures in government and society.
The Women's March and other important protest movements, as a viable means of organizing and communicating for change, erupted in 2017 and 2018, leaping to the forefront of the resistance against entrenched and exploitative systems. A younger generation are using technology and multiple means to mobilize and address critical global concerns while making gender equality and intersectionality integral to the issues addressed. These various movements have helped communities to mobilize to address issues of reproductive rights, gender, intersectional violence, migrant rights, labor rights, citizenship rights, racial justice, freedom of speech, environmental justice, and more. They create a momentum that offers hope but also a challenge. It will take a majority of society, coming together, to ensure that enduring change is steadfastly made, through small steps and seismic shifts.
Research and activism have demonstrated how pervasively state and social systems are entangled with gender inequality and oppression. Violence against women and gender-based violence is the result of gender inequality, unequal power, corruption, and control. Gender violence is systemic and deeply rooted in patriarchy, but it is also intersectional in terms of both its origins and consequences. Patriarchal structures and relationships must be challenged.
One way that change can arise is through an intersectional approach to dismantling and addressing all forms of inequality and oppression: racial, economic, ableist, etc. These are a part of patriarchal structures, practices, and histories. We need to recognize and resist the siloed perspectives and myopic means that divide us, that force vulnerable populations to compete against each other in the interests of the privileged few. We need to reimagine new ways of countering the forces that are subverting equality and justice and causing harm, not just to humans, but to the planet as a whole.
In the search for alternative paradigms, sociological perspectives that are sensitive to all voices are vital. Sociology has already offered valuable insights on gender inequality, yet there is much that requires our attention. The challenge for sociology is to seriously consider the following questions: What will it take to spark the sociological imagination toward equality (including within our own discipline and institutions)? What are the kinds of theories and tools that can actually help dismantle systemic inequalities? How can we not be co-opted by the forms of funding that reproduce inequalities, and instead have our research show the pathways toward equality? How can sociology collaboratively offer the promise and possibility for publics to hear each other across the divides that are being fueled by divisive politics? Can sociology, together with other disciplines, through research and action, offer tangible solutions for true equality and social justice? Clearly, we will need the small steps and the seismic shifts, so that equality can become a dream realized.
---
Margaret Abraham, Hofstra University, USA, former President of the International Sociological Association (2014-18) and member of ISA Research Committees on Racism, Nationalism, Indigeneity and Ethnicity (RC05), Sociology of Migration (RC31), Women, Gender and Society (RC32), and Human Rights and Global Justice (TG03) <Margaret.Abraham@Hofstra.edu>