Trajectories of Rio de Janeiro's
Middle Class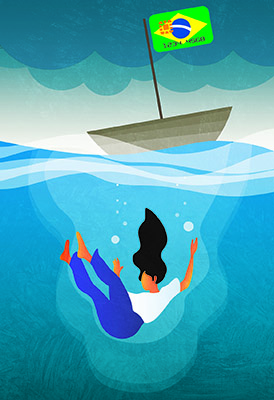 In the 2000s Brazil experienced a favorable economic moment, when the population experienced an increase in income and consumption levels. In 2014, a serious political and economic crisis broke out in the country, felt mainly through the loss of jobs and the devaluation of money.
Aiming to understand the processes of social mobility and the effects of the recent crisis on the life of the middle class, a qualitative research study was conducted, consisting of participant observation and in-depth individual interviews with 28 residents of a condominium in the Pechincha neighborhood of Rio de Janeiro.
Participants in the research identify themselves as belonging to an intermediate stratum in the social structure, often referred to as "middle class," or in related terms.
Respondents recognize their rising and falling process. As Igor (42, driver) points out: "Look, I've been to middle school. And I've been, I won't say at the top, but it's almost there, and today I'm at the bottom." The general perception is that the boom period was a fantasy because it did not have a solid political, economic, and social basis.
In the ascension years, reflected the group studied, the dimension of consumption was the engine of the process of social differentiation. Nowadays, facing the economic crisis, they need to reduce their consumption patterns, so that goods have become an unsatisfactory symbolic frontier: "Consumer goods give an inappropriate view that a person has grown up in life" (Arthur, 46, air force military); "I think the middle class is very much about advertising. This encourages traveling, but once you travel, you come back to your reality [laughs] " (Gilmar, 64, seller).
The interviewees report that in their families there is a high expectation from parents that their children will be more educated than themselves. These parents make a real "sacrifice" for their children to attend elementary and high school in private institutions. The transmission of values and behaviors is one of the main factors for rejecting public schools: "[...] it is a matter of living with other children of such different educations, right?! This is the biggest concern" (Ilza, 47, unemployed, security).
The interviewed people feel deeply insecure about maintaining their social position and, in this sense, private school is both a symbol and a tool of class belonging: "It may be that my child needs to study in public school, and already I'll see myself in another class. It will be weird!" (Lara, 42, unemployed, security).
Since they have no accumulated wealth, the middle class has only knowledge and working skills. These "capitals" need to be renewed with each generation, which is something that requires effort and commitment. Unable to glimpse a horizon of improvement for themselves in the current context of crisis, this middle class bets on their children as guarantees of their social ascension project.
---
Izabelle Vieira, PPCIS/UERJ (Rio de Janeiro State University), Brazil <representar.mg@hotmail.com>