One or Many Sociologies? A Polish Dialogue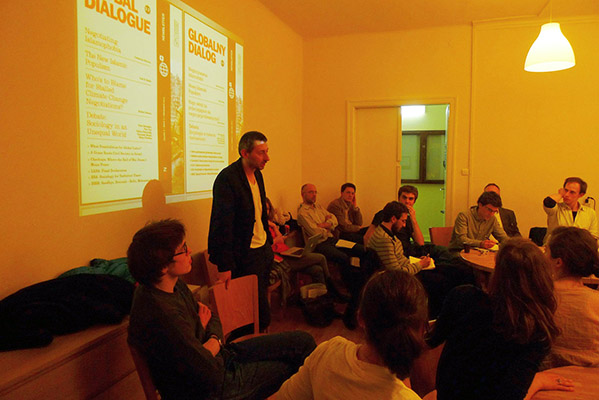 With its lively debate on the status of sociology in an unequal world, Global Dialogue 2.2 was the first issue published in Polish. The local editorial team, working together in the student-organized Public Sociology Lab[1], decided to move the global discussion into a more local context. We organized a seminar devoted to the problems raised by Piotr Sztompka and his opponents, as seen from a Polish perspective.
The meeting was held on January 19 (2012) and attracted students, PhD candidates, and professors from various faculties of the university, as well as from other schools. Everyone at the seminar was free to express his or her opinion, but to set the ball rolling three guests were invited to give introductory speeches. Professor Anna Giza-Poleszczuk is a well-known specialist in the sociology of family and social ties, and also active in the Polish NGO sector. Professor Antoni Sułek is a former president of the Polish Sociological Association (PTS). He specializes in methodology, theories of public opinion, and the history of Polish sociology. Dr. Izabela Wagner's main field of study is the professional careers of scientists and musicians. She has conducted research in France, Poland, and the US, collaborating with EHESS in Paris and with Harvard University.
Discussion at the seminar covered a wide range of topics, from conflicts within the field of sociology to the reform of Polish science and higher education introduced in 2011. Mainly, however, we tried to address the question whether one universal sociology is possible (or desirable) or if we should encourage "local sociologies" addressing local problems – in other words, we tried to answer the question posed in the title of the seminar: One or Many Sociologies?
Dr. Izabela Wagner started by showing the multiple dimensions of divisions and inequalities among sociologists. There are not only conflicts between North and South, East and West, or elite and non-elite sociologists, but also between theorists and "ethnographers" who start from fieldwork and then move towards theory. For Dr. Wagner, Piotr Sztompka and Michael Burawoy – whose opinions reflect to a large degree their academic careers and social backgrounds – are exemplars of these two standpoints. She compared the situation in sociology to the one in molecular biology that used to be dominated by scientists working in artificial laboratory conditions, using the in vitro method, which turned out to be producing mainly artifacts. Thus, the in vivo method was rehabilitated. Although it is much more costly and 95% of the experiments end with failure, it generates knowledge and theory that is well grounded in empirical reality. While in vitro resembles the theoretical approach in sociology, in vivo method is close to ethnography as there are fewer hypotheses framed a priori and the theories are drawn from fieldwork. Dr. Wagner expressed her hope that sociology can take a turn parallel to the one in biology.
Professor Antoni Sułek presented another approach to our question by defi ning sociology as "a science which speaks of society," not "a science of society." Thus, he claimed, we can discuss the diversity of languages that we use in our sociological work, as well as the diversity of societies. The latter is a probably insoluble theoretical problem (how profoundly do societies differ). On the contrary, if we consider the sociological language we use, we can see that the opposition universal–particular is a false dilemma. Professor Sułek suggested that there are two parallel "sociological circuits." One is a purely scholarly one, in which sociologists talk with each other. Here publishing in English is not only acceptable, but desirable – here "sociologists talk to the world, and you talk to the world in world languages." The aim is to communicate local experiences in a language of sociological theory, without contextual references. However, there is another circuit, the one in which sociologists talk to their own society. In this circuit lies the key role of sociology. According to Professor Sułek, the best way of realizing this is "sociological writing" – texts meant not for other scholars but for a mass readership. This should not, however, be confused with the role of "media sociologists" appearing on TV, who resemble more celebrities than scholars.
Professor Anna Giza-Poleszczuk also presented different visions of sociology. She raised three important questions that we must keep in mind when searching for a universal sociology. Firstly, does everyone have the same opportunities to present his or her vision of universal knowledge? Do we think of mechanisms that would protect us from "usurpers" monopolizing this one science? Secondly, who sets the sociological agenda? Who decides which problems are important within the "common pool of knowledge"? Thirdly, are we always talking about the same things? Differences between societies do not operate only on the level of their "manifestations" of universal logics. Theories also play a role in determining how we see the world. Indeed, some theories are simply inadequate, as is neoclassical economics in a country where there is no free market.
Professor Anna Giza-Poleszczuk also referred to the debate about the recent higher education reform in Poland within the framework of public sociology[2]. In a discussion that followed, Dr. Maciej Gdula, mentor of the Public Sociology Laboratory, argued that the reform profoundly alters the circumstances of Polish academic life. It tries to turn Polish scholars into American scholars by heavily weighting rewards toward articles published in the list of journals recognized by the International Science Index rather than teaching students or performing extra-academic activities in relation to problems of one's own society. Public sociology, after all, is not looking for recognition in the international publication system, but aims at building ties between various social actors in local contexts.
Academic dependency and a critical reflection on sociology provide another fruitful analytical framework for studying the situation of Polish academic institutions. However, the seminar could not conclude with unequivocal answer to the question posed in the title. It is because – as Jeffrey C. Alexander stated in the last issue of Global Dialogue (2.3) – the dispute between universalism and particularism could not be settled once and for all, but must be periodically revisited in different contexts. We can only try to find some common ground, which is what Professor Sułek did in the final words of the seminar. He suggested that what is most important is to do a good sociology. We are free to set our own standards of scholarly excellence. What counts is to comply with these standards.
This conclusion is extremely important: sociology does not have to be tailored to one version of what is defined as "good science." However, even if we choose the path of public sociology, even if we develop a "local sociology" addressing local problems, we should develop and apply criteria to evaluate our work as science.
[1] Koło Naukowe Socjologii Publicznej (Public Sociology Laboratory) is a students' scholarly organization founded in the Institute of Sociology, University of Warsaw. For contact please write to public.sociology.kn@uw.edu.pl or visit http://www.facebook.com/socjologiapubliczna.
[2] For more on the Polish reform, see articles by Izabela Wagner and Anna Szołucha in ISA blog (http://www.isasociology.
---
Mikołaj Mierzejewski, Karolina Mikołajewska, and Jakub Rozenbaum, Public Sociology Laboratory, University of Warsaw, Poland