Burning Forests: An Interview with Nandini Sundar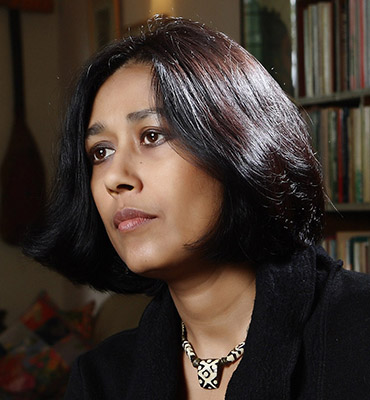 Nandini Sundar is Professor of Sociology at the Delhi School of Economics, Delhi University. Her recent publications include: The Burning Forest: India's War in Bastar (Juggernaut Press, 2016, and new edition under the title The Burning Forest: India's War Against the Maoists, Verso, 2019); an edited volume, The Scheduled Tribes and Their India (OUP, 2016); Civil Wars in South Asia: State, Sovereignty, Development (co-edited with Aparna Sundar, SAGE, 2014); and Inequality and Social Mobility in Post-Reform India, Special Issue of Contemporary South Asia (co-edited with Ravinder Kaur, 2016). She has also authored Subalterns and Sovereigns: An Anthropological History of Bastar (2nd ed., 2007); co-authored Branching Out: Joint Forest Management in India (2001); edited Legal Grounds: Natural Resources, Identity and the Law in Jharkhand (2009); and co-edited Anthropology in the East: The founders of Indian sociology and anthropology (2007). Sundar was editor of Contributions to Indian Sociology from 2007 to 2011 and has served on the boards of several journals, research institutions, and government committees. She was awarded the Infosys Prize for Social Sciences (Social Anthropology) in 2010, the Ester Boserup Prize for Research in Development in 2016, and the Malcolm Adiseshiah Award for Distinguished Contributions to Development Studies in 2017.
Sundar has been engaged in human rights litigation and activism since 2005. In 2011, the Supreme Court of India banned state support for armed vigilantism in a landmark judgment, Nandini Sundar vs. State of Chhattisgarh. She writes regularly for the media on contemporary issues, and her writing is available at http://nandinisundar.blogspot.com/.
Here she is interviewed by Johanna Grubner, a PhD researcher at the Johannes Kepler University, Linz, Austria and assistant editor of Global Dialogue.
JG: Your critically acclaimed book Subalterns and Sovereigns: An Anthropological History of Bastar was published in 1997 and focuses on the nineteenth- and twentieth-century history of Bastar. Can you tell us about the initial interest and motivation that led you to focus your work on this area in central India?
NS: When I started out on my PhD in the late 1980s at the department of anthropology, Columbia University, I was inspired by the work of Marxist historians like E.P. Thompson and Eric Hobsbawm, as well as anthropologists like June Nash and William Roseberry with a political economy focus. In India, scholars were debating the subaltern school of history. I knew I wanted to study colonialism, the expansion of capital, and peasant rebellion/contemporary social movements, but it took a while to figure out where and how. In 1990, I visited Bastar for the first time, and it seemed to have all the ingredients I needed for a PhD – generous people, ongoing social movements, a rebellious past… and nobody had really worked on this history.
JG: In your latest book The Burning Forest: India's War Against the Maoists, you discuss the results of your continued research and fieldwork in the area of Bastar. Could you briefly describe the specific social and political conflicts taking place in this area today?
NS: For the last century or more, central India has been exploited for its forest and mineral resources, a process that has intensified in the early 21st century. Large corporates have been given mining leases, displacing local communities and causing environmental and social distress. People have been resisting displacement through a variety of movements. One form this has taken in the last couple of decades is through participation in armed guerilla activity with the Communist Party of India (Maoist). The government's counterinsurgency operations have involved a large number of extrajudicial killings, the massive proliferation of security camps, and militarization of the landscape. Currently, both the government and the Maoists are intransigent about adopting armed methods, though they both claim to want dialogue and peace in the interests of the people.
JG: In The Burning Forest, you call the status and understanding of democracy and democratic practices in India into question and state that "India is a democracy with all institutions […] but what they mean may not be what we expect." Could you outline this critique for us?
NS: Elements which are often considered essential to democracy, like elections or welfare measures, are often used to delegitimize alternative modes of protest as well as forms of life that do not fit in with the state's vision of jobless growth. These include forms of coexistence with the forest as well as a range of artisanal productive practices. Even in "normal times" electoral representation is problematic because of the structural inequalities under which it functions, such as the enormous sums of money that are required to fight elections, making parties dependent on big business and facilitating a variety of corrupt practices. However, during counterinsurgency or conflict, the use of the democratic apparatus as an instrument of oppression rather than of representation is especially pronounced. For instance, people are forced to vote to legitimate the political order, and parties and organizations are selectively banned. Currently in India, large sections of the media have been co-opted by the right wing and are functioning as hate propagandists masquerading as nationalists. Increasingly all the institutions that support democracy are being hollowed out, such as the judiciary, regulatory authorities, etc. Democratic politics – through the appearance of separation of powers and popular consent – functions as an outer limit on the possibility of thinking through creative alternatives.
JG: The social and political conflicts in Bastar involve the state, as well as a number of different political and social groups with different structures and different political and social aims. Can you speak about the theoretical framework you draw upon, as well as the empirical approach you apply to capture these differences and why you consider them to be useful?
NS: My underlying theoretical framework is always broadly Marxist. In The Burning Forest, however, I have tried to do an ethnography of democracy through the various aspirations people bring to the process, as well as the way different institutions like the media, judiciary, and political parties have responded. We see how impunity and precarity are co-constructed, but also how people have the will to survive and fight. I have tried to appeal to a generalist audience, so the critique is implicit. The choice of methods and sites was determined largely by circumstances. Since I was so centrally involved in what I was writing about – as a litigant against human rights violations – certain spaces were more difficult to access, such as the world of the police and security forces. However, other spaces became available to study intimately, such as the legal process involved in filing public interest litigation and how the judiciary functions.
JG: In your experience, can sociological field studies such as the one you conducted in Bastar help us to gain insight into the social structure of conflict more generally? And if so, could you tell us about some of those elements of your work that you find particularly pertinent when viewing social conflicts beyond the context of Bastar?
NS: There are many resonances between what is happening in Bastar and what is happening elsewhere, especially in resource-rich areas with indigenous people. I have learnt a lot from the literature on Latin American movements and state violence as well as from studies on counterinsurgency, including the British use of emergency legislation and strategic hamletting in Malaya, Vietnam, etc.
There are many ways that one can treat a subject like this, and I can think of at least three alternative books I could have written: around vigilantism and questions of authority, proxy authorship by the state, and individual culpability; around law and its fleeting appearances and the way in which this frames the state; or around the conflicted emotions of civil war. Further, unlike the excellent sociological/anthropological work on the Latin American armed left, we do not have a solid study of the Maoist movement which looks, for instance, at the changes they have brought about in land distribution and the local agrarian political economy. I think that is something worth doing.
JG: In situations where democratic principles are challenged and basic human rights are violated, what would you consider to be the responsibilities of the social sciences and specifically of sociology as a discipline?
NS: We all have multiple responsibilities – as citizens, as sociologists, as teachers. There are times when we feel called on to don our citizen hats – attend a demonstration, sign a petition, give evidence in court, or whatever. At other times, our responsibility to our students and colleagues takes over and the relentless grind of academic life precludes other kinds of activities. The hardest thing in times of crises is to remember that we also have a responsibility to keep doing research. Sometimes sociological writing seems like a personal project which benefits no-one other than the author, sometimes it feels pointless especially if it's not groundbreaking, but at the end of the day we are paid to add whatever little incremental knowledge we can to the world. In these days of academic precarity, it's important also to keep reminding ourselves that having a job is a privilege.
JG: You are considered to be an academic as well as a social activist. Would you agree with this description? And how would you describe the typical relation between academia and politics in India and how this has affected your work?
NS: I have always been involved in various civil liberties and anti-communal platforms, but it was because I was deeply invested in Bastar as a researcher that I was driven to nearly full-time human rights activism in 2005. In 2007 when we initiated litigation in the Supreme Court against vigilantism and state atrocities I did not imagine, however, that we would still be in court in 2019. We got a great judgment in 2011 banning state support for vigilantes and ordering compensation to all victims, but the government refused to implement it, so we are still struggling for justice. In 2016, the Chhattisgarh police filed a vindictive and false complaint against six of us for murder, bearing arms, rioting, etc., along with charges under the Unlawful Activities Prevention Act, one of India's main anti-terror laws. Luckily we got reprieve from the Court and were not jailed, but the charges were only lifted in February 2019.
Over time my activism in Chhattisgarh has waned as other people have come in to work on this issue. Personally, I find it hard to be a good activist and a good academic, if for nothing else but the time this takes. At one level, many Indian social scientists are involved in some form of activism, because the problems around us are so visible and pressing. But there are others who are supercilious about activism, claiming it detracts from objectivity and appropriate theorizing. Under the Modi regime, preserving the university as an academic space has itself become a challenge, as seminars and workshops have been banned, speakers have been disinvited, students have been charged with sedition and beaten up, and books – including mine – are being taken off syllabi for being "anti-national."
JG: As your work has already gained a great deal of attention, surely many people will be curious about your intentions for the future. Can you tell us a little about your plans as an activist and scholar for the years to come?
NS: In part, it depends on India's political future, and how universities will be treated under future regimes. I have several projects in mind, including a study of the making of India's constitution, and the contribution of student movements to national politics, but I'm not sure which of them I will end up focusing on. I would like very much to do research on another continent, but am not sure if and when that would be possible. A lot of this also depends on getting leave from my university, which is increasingly hard to come by these days.
---
Nandini Sundar <nandinisundar@yahoo.com>