Welcome to the XX ISA World Congress of Sociology
in Melbourne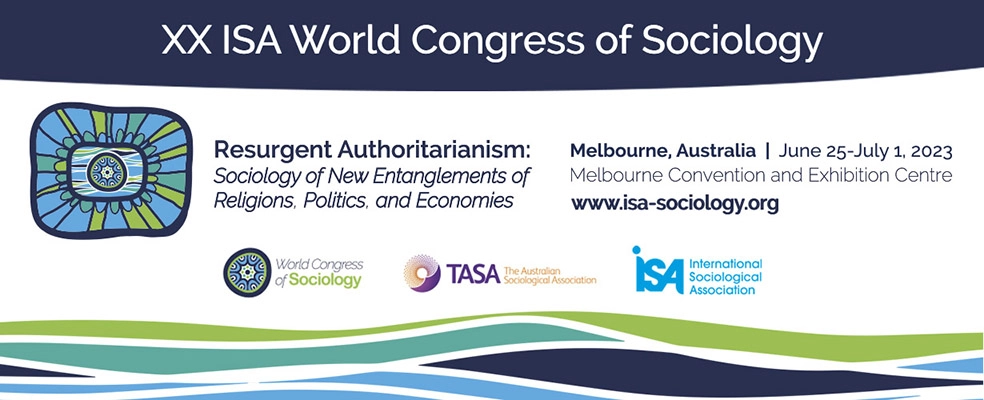 We will at last meet in person. When finally deciding on the date for this XX ISA World Congress of Sociology, many questions remained: Should it be online, hybrid or in-person? Who cannot make it? Who is still fearful of coming too close to others? After almost three years of online meetings due to the COVID-19 pandemic, this major in-person event appears as a historic moment.
We envisaged different scenarios, but for now the outcome is most encouraging, with 7,126 abstracts submitted. Two-thirds of those are planned to be presented in person and the other third virtually. The program coordinators have done a great job assessing the submissions and accepting 6,408 abstracts from 124 countries. Compared with the previous World Congress in Toronto (2018), the number of accepted abstracts has increased by 19%. We invite all those who have been accepted this time to register before March 22, 2023, which is the deadline for presenters' registration.
The Congress program has been the subject of many meetings of the Program Committee, which is composed of our four Vice-Presidents (Filomin Gutierrez, Eloísa Martín, Geoffrey Pleyers, and Sawako Shirahase), the head of the Local Organizing Committee (Dan Woodman), four Research Coordinating Committee members (Hiroshi Ishida, Allison Loconto, Susan McDaniel, and Nazanin Shahrokni), another four from the National Associations Liaison Committee (Elina Oinas, Bandana Purkayastha, Celi Scalon, and Borut Rončević), our invited guest member, Armando Salvatore, and myself. The Local Organizing Committee, headed by Dan Woodman, has shouldered tremendous logistic work. I want to thank them all for the great work they have been doing. We have put together a wonderful program, with most speakers planning to attend in person. Let me share some highlights.
When we chose the theme for this ISA World Congress, Resurgent Authoritarianism: Sociology of New Entanglements of Religions, Politics, and Economies, authoritarianism had not become as widespread as it is now, including in the Global North. Its growth has been facilitated by the gradual "symbolic thickening" of public culture through combinations of extreme nationalist and religious fervor, notably when a national conservative project replaces the liberal political project, and public reason becomes incapable of dealing with either a unified conception of justice or different conceptions of the good in society. With more hierarchical polarization in society, we live in a time when reasonable public debate is often impossible. These are demagogical times animated by the vertiginous rise of populism and many levels of misunderstanding between the religious and the secular, in our scholarship and media, in their relationship to politics, economy and culture. Religiosity is increasing in most regions, and secularism has become, in some countries, a civic religion set up against other religions, particularly of the populations originating from migration.
Presidential panels and plenaries
Within this theoretical framework, we conceived a program with two presidential panels interested in connecting sociology to moral and political philosophy.
In the first one, entitled "Liberalism, the Other and Religion," two philosophers and two sociologists debate this theme. French philosopher Cécile Laborde defends minimal secularism, while Palestinian philosopher Azmi Bishara argues that comprehensive liberalism can be promoted if its basic values, like civil liberties and individual autonomy, are reproducible in the context of the prevailing culture. For Brazilian-Belgian sociologist Frédéric Vandenberghe, the sociological critiques of social injustices and social pathologies adhere to the repertoire of "liberal communitarianism": sometimes it veers more towards the communitarian pole of identity and authenticity, and sometimes towards the liberal pole of autonomy and justice. Finally, for Australian sociologist Anna Halafoff, the role of religion is to enable and resist the anti-cosmopolitan terror manifested in the rise of religious nationalism.
The second panel is about "Building a Just Post-COVID-19 World." The surreal atmosphere of the COVID-19 pandemic has exposed fault lines in trust among human beings, countries, citizens, and governments. It has pushed us to raise big questions about ourselves, our social relationships, and life more generally. This moment of crisis could be an occasion to address this new reality and the attendant rampant uncertainty actively. While this global crisis may have prompted fresh strategies to reinforce exploitation, dispossession, and neoliberal capitalism, and also increased the reach of our greed and selfishness, it has also allowed us to explore and provide new ways of understanding and reclaiming our humanity and social justice. Didier Fassin points out the unlearned lessons of the pandemic, focusing on public health and social inequalities. For him, the health crisis revealed the flaws of public health in most countries and the depth of social inequalities within and between countries. Eva Illouz is interested in fear as the anti-democratic emotion post-COVID times reveal. Meanwhile, Afe Adogame, with his Ghanaian sensitivity, unravels the nexus between religion, science, and pandemics that plays out in myriad ways. While science challenges the legitimacy and potency of religion in offering protection, healing, security, and hope, religion, in turn, confronts the efficacy and authority of science as a panacea. Finally, in the face of the impact of COVID-19, Li Peilin argues that modern world-systems theory, Cold War theory and clash-of-civilizations theory are incapable of understanding regional conflicts and the threat of world economic recession. He thus calls for more inclusive post-Western sociology to contribute to establishing a world order of peace.
In addition to these panels, eight plenaries will deal with four themes: secularism from the perspective of post-secularity or multiple secularities; authoritarianism, particularly in its brutalizing version and its effects on knowledge and post-factuality; populism and its different local forms of a global phenomenon, and an invitation for an intersectional approach to understanding the construction of the "people"; and neoliberalism, which generates so many inequalities, jeopardizing both individual and collective rights to life.
Spotlight Sessions
As we aim for this Congress not only to converse with other disciplines but also with media, actors from within civil society and policymakers, we conceived three Spotlight Sessions focusing on three burning trends and conflicts.
The first is about racism and Islamophobia. While after the civil rights era, overt racism was widely condemned, how do we conceptualize and measure its more subtle and diffuse present manifestations? This session will focus more particularly on the rise of Islamophobia. Nacira Guénif will argue that rather than considering that integration may be the solution to racism and a fortiori to Islamophobia, the rhetoric of integration in France and elsewhere has fueled racist practices and discourses, allowed dismissive policies and opened the path for an enduring Islamophobia. For François Burgat, the tensions and rifts between Europe and the Muslim world, whether domestic or regional, may be analyzed as resulting from various historical dynamics. For him, the most important of these rifts have little to do with global religious affairs but rather with those that are internal and political. Randa Abdel-Fattah will point out, as a sociologist and activist, how marginalized communities in Australia are betrayed by Muslim "leadership" which succumbs to the enduring and seductive power of commonsense ideas and scripts about "moderate/apolitical/integrated" Muslims so powerfully sedimented over two decades of the war on terror and the privileging of liberal multicultural frameworks of inclusion in fighting Islamophobia. Finally, Farid Hafez will focus on Islamophobia in Muslim societies as a way of regulating and disciplining Muslims, thus framing it as political. In many Muslim countries (e.g. some in West Asia), state institutions are pushing legislation to discriminate against Muslims who are politically opposed to those in power. Hafez thus moves beyond the majority–minority relation dynamics.
The second Spotlight Session will provide a sociological perspective on the war in Ukraine. The Russian invasion of Ukraine shocked the world. This is not an isolated war; it is exceptional due to its capacity to escalate into the Third World War, possibly a nuclear one. Going beyond its geopolitical impact, four panelists, Nikolai Genov, Olga Kutsenko, Larissa Titarenko, and Tamara Martsenyuk will explore the transformations of Russian and Ukrainian societies that enabled the social conditions that led to the war to develop. They will also contemplate the possible implications of this war on the future transformation of both societies. The war also has wider European ramifications and poses questions as diverse as the development of the idea of Europe, the implications of the refugee crisis, the global social impacts of food and energy scarcity, academic freedom to assess the war critically, etc.
The last Spotlight Session is about the Arab–Israeli conflict. Some read this conflict as a settler–colonial project that has continued since 1948 and has established an apartheid system against the Palestinians, while others read it as conflicting nationalisms between Arabs and Israeli Jews. No matter how this conflict is read, a creeping "spacio-cide" process in the Occupied Palestinian Territories is evident at all levels. The Peace Process (known as the Oslo Process) did not stop it. Many Israeli and Palestinian scholars argue that the two-state solution has collapsed with the failure of the Oslo Process and that we should aim for one secular state for all its citizens. Four panelists will reflect on this topic: Palestinian sociologists Mohammed Bamyeh and Areej Sabbagh-Khoury, and Israeli sociologists Ian Lustick and Lev Grinberg.
Former Presidents Panel and the history of the ISA
In June 2023, in Melbourne, we will be celebrating the twentieth edition of the ISA World Congress of Sociology. To highlight this important anniversary, I have focused part of my presidential project on publishing abstracts from all the previous Congresses and updating the outstanding work of Jennifer Platt's History of ISA 1948-1997. Two studies were commissioned. One was conducted by Gisèle Sapiro, looking at plenaries and programs of selected Research Committees at past Congresses, and analyzing their changing forms and contents in terms of topics, theories, and methodologies. Tom Dwyer conducted the other study to update the History of ISA from 1997 until today. Former ISA Presidents Margaret Archer, T.K. Oommen, Alberto Martinelli, Piotr Sztompka, Michael Burawoy, and Margaret Abraham will also comment on these two studies.
Author Meets Critics
For these sessions, we have selected six excellent books written or edited by sociologists from different geographical areas and with exciting and timely topics:
Critical Engagement with Public Sociology: A Perspective from the Global South edited by Andries Bezuidenhout, Sonwabile Mnwana, Karl von Holdt
The Gift Paradigm: A Short Introduction to the Anti-Utilitarian Movement in the Social Sciences by Alain Caillé
Aesthetic–Cultural Cosmopolitanism and French Youth: The Taste of the World by Vincenzo Cicchelli and Sylvie Octobre
After the Arab Uprisings: Progress and Stagnation in the Middle East and North Africa by Shamiran Mako and Valentine M. Moghadam
Diaspora as Translation and Decolonisation by Ipek Demir
Refuge beyond Reach: How Rich Democracies Repel Asylum Seekers by David Scott FitzGerald
And more
Research Committees have their own understanding of the theme of this conference and have selected papers with various approaches. Additionally, we have four fantastic Australian Thematic Sessions organized by the Local Organizing Committee in Australia on compelling topics: refugees, climate change, indigenous scholarship and contemporary inequalities in Australia. In the program there are also, of course, Integrative Sessions and sessions by the different national, regional, linguistic and thematic associations, as well as Ad Hoc Sessions, and Professional Development Sessions. Before the Congress, we have also organized some pre-congress events by the different Research Committees and the Australian Sociological Association (our local host). I would particularly like to highlight the seminar for the winners and finalists of the ISA Worldwide Competition for Junior Sociologists, which will bring together fifteen junior sociologists from fourteen countries.
Needless to say, Melbourne is a fantastic place to meet: it's a vibrant and friendly city with public art, many parks and great food, and some affordable housing options. I hope to see you all in late June 2023!
---
Sari Hanafi, American University of Beirut, Lebanon, and ISA President (2018-23) <sh41@aub.edu.lb> / Twitter: @hanafi1962