The Global Interface Project: Linking Sociology and Movement Activists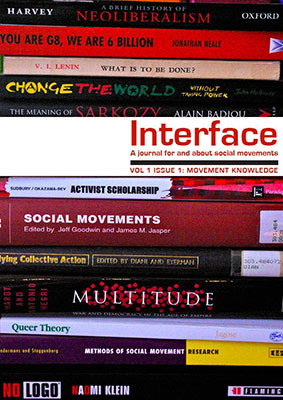 Interface: A Journal for and about Social Movements is an open-access multi-lingual journal that seeks to build a global dialogue between activists and academics working with social movements, across language, cultural and ideological differences, and between disciplinary and activist traditions. The idea was born from a group of practitioner-academics who felt that existing academic social movement journals often seemed disconnected from the movements they were studying in two key ways: one, in that the theoretical concerns of the knowledge producers were not always that relevant or useful to the subjects of the research (the social movements themselves), and two, that they did not necessarily acknowledge the value or contributions of the movements themselves as knowledge producers. At the same time, movement produced knowledge, disseminated through movement websites and other media, often had a narrow focus on the issues that concerned them, but did not necessarily have much to say to other movements with different geographical and political realities. Interface's founding editors had a vision of bringing these two important sources of knowledge together across what are still very real global divides (see Cox and Flesher Fominaya, Issue 1).
We wanted the structure of the editorial collective to mirror our global aspirations – and it took us two years to develop a model that worked for us. In addition to the fact that we are a virtual collective, some of whom have never met face to face, and that we have no source of funding, there are two distinguishing features that define the journal's editorial approach. One is a decentralized editorial collective organized in regional semi-autonomous groups, with one to three editors and a group of collaborators. These groups handle submissions from their regions, and work with contributors in what we hope is a sympathetic and supportive editorial process. The second aspect of the journal is a somewhat unusual peer review process, in which our collaborators review each piece with regards to both its activist and academic potential. In principle, this means peer review by one activist and one academic, in practice, because so often these two are one, we ask reviewers to direct their comments to the relevance of the pieces for practitioners or academics. We strive to publish work that has relevance for both audiences, and that makes a contribution beyond the specificities of the particular empirical movement or issue in question. The issues are themed around specific concerns of the editors, who take it in turns in small groups to serve as coordinating editors for a particular issue.
Since its debut in 2009, we have published issues on movement knowledge, on the relationship between civil society and social movements, on crisis and revolutionary transformations, and on movements and alternative media. New issues are in process on repression and social movements and on feminism and women's movements. All of our issues also include non-themed contributions. So far, with the help of many collaborators, we have published articles, activist interviews, editorials, action notes, key documents, debates, book reviews and review essays in six languages, by authors located in Angola, Argentina, Australia, Austria, Brazil, Britain, Canada, Germany, Greece, Hungary, Ireland, Italy, Latvia, Mexico, Norway, Palestine, Portugal, Russia, South Africa, South Korea, Spain, Sweden, Thailand, Turkey, the USA, and Venezuela. Since March 2010, we have had web visits from readers in over 130 countries. We are open for contributions, readers, and collaborators at www.interfacejournal.net.
---
Cristina Flesher Fominaya, University of Aberdeen, UK