History Corner: The ISA Secretariat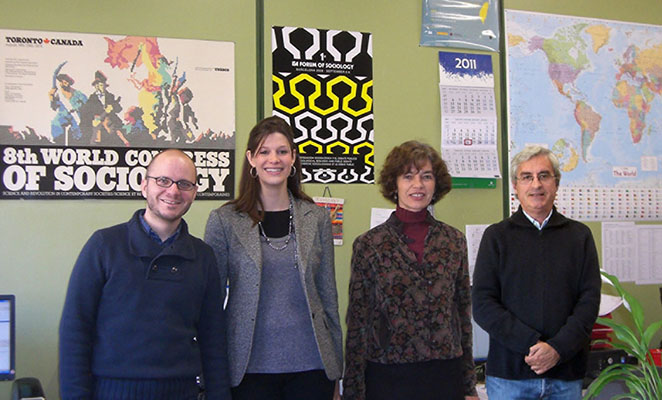 ISA members now are accustomed to having Izabela Barlinska at the center of things, running the office in Madrid. She has been there as Executive Secretary since 1987, but this long period of stability follows one of repeated changes in both personnel and locations. Earlier locations have been: Oslo, Norway (1950-53); London, England (1953-59); Louvain, Belgium (1959-62); Genève, Switzerland (1962-7); Milano, Italy (1967-74); Montréal, Canada (1974-82); Amsterdam, Netherlands (1982-6). It will be noted that almost all of these have been in Europe, which means that only one has been in a purely anglophone country; none have been in France, although French has always been one of ISA's official languages, but three other part-francophone countries have taken a turn. In each of these cases the Executive Secretary has been a national of the country where the office was based, and the choice of location has owed a lot to the availability there – not only of willing and competent candidates, but also of good institutional support and facilities. The establishment of a more permanent office and secretariat has allowed a more professional administration to deal with the larger numbers of members and activities that ISA now has. Previous Executive Secretaries have held academic posts as well as working part-time for ISA, so there was sometimes a team of two or three. Many of them have had distinguished careers in the discipline; perhaps the most prominent served in the 1950s – Stein Rokkan (later ISA Vice-President 1966-70) and Tom Bottomore (President 1974-78). Others have also served as members of the Executive Committee, though the Statutes prevent them from doing that while also holding the Executive Secretary post.
To bring history up to the present, a few words about the current team. Izabela Barlinska, of Polish origin, had a very early association with the ISA, working as a student collaborator at the World Congress in Uppsala in 1978 and then joining the secretariat in the organization of the 1982 World Congress. When the office moved to Amsterdam she became Deputy Executive Secretary, and finally Executive Secretary on the move to Madrid. (In Madrid, she has gained a doctorate in Political Science and Sociology.) Her current colleagues are José Reguera (who has worked for ISA since 1990, and is responsible for the data base and web site), Juan Lejarraga (who with José Reguera is in charge of membership dues payments, receipts, address updates etc.), and Melanie Bloem, who has just joined the team and is learning her way around the various office tasks.
---
Jennifer Platt, University of Sussex, Vice-President for Publications