Sociology and Environmental Change: Report from Malaysia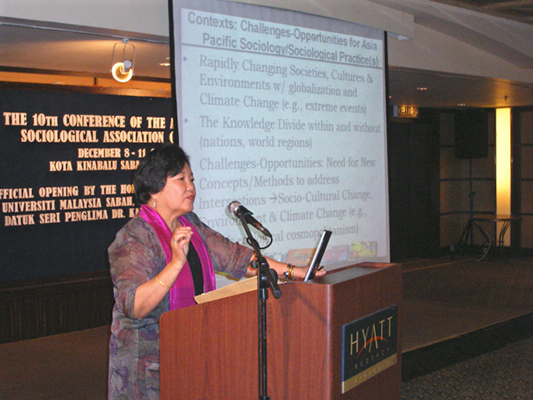 The 10th Conference of the Asia Pacific Sociological Association was held in Kota Kinabalu, Malaysia in December 2010. It was co-hosted by the University of Malaysia, Sabah (USM) and the University of Wollongong (UOW). The general theme of the conference was "Social and Environmental Change: Opportunities and Challenges for the Asia Pacific". The topical nature of the conference theme attracted a great deal of media attention and was covered extensively in the local print media and television. Sociologists generally do not have a great public profile. However, a number of participants were interviewed, providing us the opportunity to highlight the significance of sociology to the world beyond the academy.
The keynote speakers were Professor Datuk Dr. Shamsul Amri Baharuddin, Founding Director of the Institute of Ethnic Studies (KITA), Universiti Kebangsaan Malaysia (UKM), ISA Executive Committee member Professor Emma Porio, Professor of Sociology, Department of Sociology of the Ateneo de Manila University, the Philippines, and Mr Chris Chong Chan Fui, Sabahan-born filmmaker and visual artist. Professor Porio's address "Social and Environmental Change: Opportunities and Challenges for Sociology and Sociological Practice(s)" generated a great deal of discussion and debate setting the scene for the conference. In the past although a number of prominent filmmakers and journalists have participated in APSA conferences, this was the first time a documentary by a young award-winning filmmaker was screened as part of the conference. The successful reception of Chris's documentary Dis-Location has made us think about incorporating such endeavours as a regular feature for future conferences, especially with the growing interest in Media sociology among graduate students and early career researchers.
Over 150 sociologists from 15 different countries attended the conference. It was heartening to see a number of sociologists from European universities working on Asian themes participating in the conference. A significant number of graduate students attended the conference, presenting new ideas and challenging some of the mainstream sociological thoughts.
Talking informally to delegates I got the feeling that the conference was an overall success and was enjoyed by participants. At the APSA AGM a new postgraduate representative was elected, as Nichole Georgieu had recently submitted her PhD. The new representative, Ms Briekena Qafa-Osmani, an Albanian national is a PhD candidate in Sociology and Anthropology at the International Islamic University, Malaysia. Apart from this post, the APSA executive remains unchanged.
In the APSA tradition, the highlight of the conference was the conference dinner. Local Kadazan dancers entertained the delegates. APSA Secretary Prof. Scott Baum surprised all of us by his display of unusual dexterity in participating in one of the most complicated dance steps. All in all, a successful and well-organized conference was enjoyed by all and plans are underway for the next APSA conference to be held in 2012. The time and venue are still to be confirmed.
---
Ruchira Ganguly-Scrase, President of the Asia Pacific Sociological Association