Global Perspectives on Care Work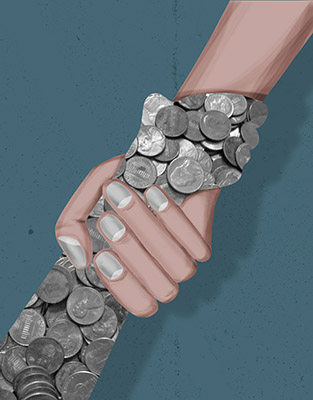 Care and care work, self-care and care for others, in everyday life and across the life course, by family and kin, and by care professionals, in the market and provided by the state or civil society: all these are fundamental for individuals and for social cohesion. Yet despite a long tradition of research on care, the issue has been marginalized – perhaps because care is often invisible in the so-called private sphere and devalued in the public sphere, especially within the framework of a gendered and ethnic division of labor.
For some years now, however, sociological interest in care and care work has been on the rise: the theme is fast moving up the sociological research agenda, and sociologists are increasingly exploring the social differences and inequalities involved in care and persistent care gaps.
Crises of Care and Global Care Deficits
In the sociologies of high- and middle-income countries of the Global North, this new interest in care and care work reflects processes that began in the 1980s and 1990s, including the implementation of New Public Management in OECD countries and the commodification of care, as well as the ongoing challenges of providing care in everyday life.
On the one hand, new so-called care industries are evolving and private households increasingly employ migrant workers from the Global South and East. On the other hand, as welfare states shrink in South and Eastern Europe as well as in Western Europe, post-2008 fiscal austerity is creating new crises of care – crises that have often been overlooked, since care and care work have always been subordinated and neglected issues of social reproduction.
But in the middle-income countries of the Global South, as economic growth has in the last decade been accompanied by an expansion of new social programs and a welfare state, care and care work have been strengthened as a public sector service for the poor, children, elderly or disabled people, and has increasingly been extended to other parts of the population.
Current sociological research on care and care work reflects these developments, and the following articles in Global Dialogue provide some insights into the care regimes of several countries in the Global North and South.
Care Regimes in the Global North and South
Taking us around the globe, the following articles compare different care regimes, focusing on the interplay of (private) households, family and kin, civil society, states and markets in a number of countries. Together, the articles offer four key insights into contemporary care regimes. First, they reveal a general tendency of ongoing marketization. Second, they outline a complex interplay between commodification and decommodification of care. Third, they show how the commodification of care not only makes a difference in the organization of care work, but also raises questions about who provides and who receives care. Finally, the articles show the importance of examining local, national and trans- and international contexts for understanding important trends in care and care work.
In his contribution, Michael D. Fine describes how Australia's care regime is being reorganized between marketization and state provision of care. The tasks and working conditions of care givers, as well as the concept of the care recipient as a customer, are undergoing fundamental changes, oscillating between professionalization and de-professionalization. Hildegard Theobald's and Yayoi Saito's description of the Swedish and Japanese care regimes shows how national policies transfer and adapt ideas of care and how they relate to the division of labor. Despite divergences between these two care regimes, professional long-term care in both countries seems to be threatened by policies which weaken public care provision.
Roland Atzmüller, Brigitte Aulenbacher, Almut Bachinger, Fabienne Décieux and Birgit Riegraf present their findings about Austria's and Germany's pathway from welfare state to investment state, depicting care as a contested terrain, and shaping migrant work in the household, professional care, social protests and alternative care concepts. Monica Budowski, Sebastian Schief and Daniel Vera present a comparison of care regimes in Chile, Costa Rica and Spain, and show how child care arrangements and the division of labor between men and women in economically precarious households are shaped by welfare states' orientation to the market, the family or the state as key care providers. Elena Moore and Jeremy Seekings reconstruct the history of South Africa's welfare state, emphasizing the historical shift from apartheid to a post-apartheid regime. Facing problems such as AIDS and orphanhood and focusing on the elderly and children, the state is central to care provision, but the family, kin, and, recently the market, are also important components of South Africa's contemporary care regime. In short, the articles point to the divergent contexts and consequences of the increasing commodification of care in very different countries.[1]
[1] For these and further insights on care and care work from around the world see the special issue: Soziale Welt (Sonderband 20), "Sorge: Arbeit, Verhältnisse, Regime" [Care: Work, Relations, Regimes], 2014 (edited by Brigitte Aulenbacher, Birgit Riegraf, and Hildegard Theobald).
---
Brigitte Aulenbacher, Johannes Kepler University, Linz, Austria and member of ISA Research Committees on Economy and Society (RC02), Poverty, Social Welfare and Social Policy (RC19), Sociology of Work (RC30), and Women in Society (RC32) and Vice-Chair of the Local Organizing Committee of the Third ISA Forum of Sociology, Vienna 2016 <brigitte.aulenbacher@jku.at>