Using a Sociological Lens to Address Violence Against Women
An Interview with Shruti Majumdar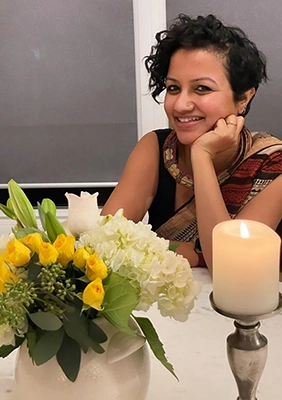 Shruti Majumdar[1] is currently the acting Programme Manager for the Ending Violence against Women portfolio in UN Women's Afghanistan office. She has over a decade of field experience at the World Bank and the United Nations at the intersection of programming and research on women's empowerment programmes in multiple countries such as India, Bangladesh, Serbia, Jordan and Uzbekistan. Shruti has an MA and PhD in Sociology from Brown University, and a BA in Sociology from Lady Shri Ram College, Delhi University.
Here she is interviewed by Sebastián Galleguillos, a doctoral student at John Jay College of Criminal Justice (CUNY), where he also completed an MA in International Crime & Justice. He is a Youth Representative for the International Sociological Association (ISA) to the United Nations and Research Associate at the Centro de Estudios de Derecho Penal, Universidad de Talca, Chile. His research interests include comparative criminology, social media and crime, and alternatives to incarceration.
SG: Can you tell me about your current position at the United Nations? How long have you held that position and what are your principal duties?
SM: Since 2018, I have been working at the United Nations Trust Fund to End Violence against Women at UN Women. We support and invest in civil society organizations across the globe working to eliminate violence against women. The UN Trust Fund is 25 years old and has a long history of working with women's rights organizations and women's movements. In 2020 alone, we supported 150 civil society-led projects in 71 countries and territories that worked on a range of issues: providing services to survivors of violence; strengthening the implementation of laws, policies, and action plans on violence against women; and preventing violence from occurring altogether by tackling the root causes of violence and gender inequality.
In my role as a Monitoring and Evaluation Specialist, my work can be broadly divided into two parts. First, I work directly with civil society organizations to build their research and evaluation capacity and to make data central to their programming. I help them arrive at the most appropriate, ethical, and safe methodologies for measuring the impact of their programs in their communities. A second and major piece of my work is to grow the internal research function and capacity on violence against women at UN Women. This work is critical because violence against women and girls is devastatingly pervasive – globally one in three women report physical or sexual violence by an intimate partner or non-partner, and this number has remained unchanged in the past decade. At the same time, we know that violence is preventable, so it is critical that we learn from organizations that have been working on the front lines for decades. I am involved in writing research proposals, mobilizing resources, managing teams of external researchers, and co-producing knowledge in partnership with frontline organizations. This research then also feeds back into my daily support to these organizations. In a nutshell, my work involves constantly moving back and forth between sociological research and development practice – something that I have been always passionate about.
SG: You have spent several years studying sociology, including a bachelor's, a master's, and a PhD in sociology from different universities. How do you apply your sociological lens and skills at UN Women?
SM: Indeed, I spent almost ten years formally studying sociology, and still remain a student of the discipline! I received my BA in sociology from Delhi University in the early 2000s. Like many young Indian sociologists, I was deeply inspired by the work of M.N. Srinivas and his unshakeable belief in the discipline and the tools and methods it offers in understanding the world we live in, especially in understanding social structure and change. I knew quite early on that I wanted to pursue sociology and that I wanted to apply a sociological lens to real world problems. Which is why right after my BA, I moved to the United States to pursue a master's and PhD in sociology at Brown University, which is a wonderful hub for both development sociology and interdisciplinary work on pressing developmental challenges. I got very interested in structural violence and social movements during my time at Brown and in questions of why some groups are more likely to be marginalized (or get mobilized) in certain times and spaces versus others. In addition, while I trained in both qualitative and quantitative methods, I was really drawn towards good ethnographies. Through my PhD and eventually as a sociologist at the World Bank, I was fortunate to spend time conducting ethnographies embedded in large-scale development projects in India, Bangladesh, Serbia, Uzbekistan, Jordan, Liberia, Afghanistan and other countries.
In terms of applying these skills to my current work at the UN, I use them every day because a sociological lens is absolutely critical for the field of violence against women: for diagnosing the root cause of the problem, that is, the social structures and norms that buttress violence; for co-creating contextually relevant projects with governments and civil society organizations; and for evaluating whether these projects have been effective for those for whom they are meant, and if so, how and why. For instance, I am currently on an assignment in Kabul as the acting Programme Manager of the Ending Violence against Women portfolio of UN Women and am in different provinces where, in the aftermath of the Taliban takeover, services and prevention programmes for survivors were ceased – a bulk of my work is re-building these services in a safe and ethical way, which requires a rapid and constant back and forth between research and practice.
You can find here some of my most recent work, which is a series of papers co-produced with 100+ practitioners and social scientists across the globe in three languages on preventing violence against women and girls, noting what kinds of solutions have worked best. It is the first of its kind of systematic review of qualitative and mixed methods research that unpacks some really hard questions – e.g., on intersecting vulnerabilities and why some women and girls are more likely to experience violence than some others, how communities can mobilize to prevent violence, what kinds of resistance and backlash civil society organizations experience daily against their work, and how they adapt strategies to keep the work going. The field is still largely the arena of public health economists and, consequently, of questions around what works to end violence. Complementing it with sociological research on how and why things work, and doing research on stigmatization, power, and structural violence makes clear that more work is needed to develop long-term, holistic, and sustainable solutions to this problem.
SG: Based on your experience, what challenges might sociologists face when working in international organizations? How do you overcome those challenges?
SM: There are more opportunities than challenges in my opinion! Sociologists have so much to offer when it comes to upstream analysis, design, and downstream evaluation of development programs, and there are plenty of avenues for fruitful collaboration across disciplines. A few challenges that I can think of nonetheless (some true for all researchers and some more true for sociologists perhaps) is transcending not just the disciplinary boundaries but the boundaries between development research and development practice. In other words, how to leverage sociological theory effectively for practice, and then, vice versa, how to use practice to inform theory, and how to create more spaces for meaningful dialogue between the two?
Research and practice generally tend to have different rhythms; finding ways that we can dialogue effectively in order to co-produce solutions on the front lines that are grounded in the needs of survivors and at-risk women and girls is important. More researchers need to be involved in rapid implementation research that draws on the types of problems civil society and governments are grappling with every day but is still grounded in theory – I was fortunate to be part of a team at the World Bank called the Social Observatory where we did exciting cutting-edge embedded research in South Asia. It is absolutely critical that we learn from and document the daily praxis of civil society organizations, especially women's rights organizations, that have been working on the front lines for decades but struggle to document their work, and allow it to inform sociological theory. In an upcoming book with Cambridge University Press on building women's movements, my co-authors and I try to do exactly this – we are documenting four years of fieldwork in one of the poorest states in India on the nuts and bolts of how movement building work is done incrementally by a World Bank supported project in a hard context and the types of gender and cultural norms that are undone in the process.
A second challenge, and this one is specific to sociologists, is how to use rigorous ethnographic research as a basis to rethink some of the major questions asked in development practice. A few years ago, The New York Times carried a wonderful, thought-provoking article titled "What if Sociologists had as Much Influence as Economists?" As Michèle Lamont argues in the article, too often the questions asked of projects are questions economists are equipped to answer; with more sociologists in the room, the very questions being asked will gradually shift. They will shift to the how and why, i.e., how and why projects led by civil society organizations or governments are having an impact on wider social systems and structures.
SG: What policies have you promoted at UN Women to strengthen women's rights during the pandemic? What areas are we overlooking, in your opinion?
SM: The pandemic and the subsequent lockdown measures in countries across the globe have led to a notable rise in several forms of violence, notably intimate partner violence (as more women are locked in with their perpetrators), non-partner sexual violence, online sexual harassment and, in certain regions, even harmful traditional practices such as female genital mutilation and early and forced child marriage. At the UN Trust Fund, in collaboration with many civil society organizations, I have been writing about these trends regularly to bring them to the attention of policy makers and donors. As lockdowns continue indefinitely or are re-imposed, civil society organizations across the globe are likening the situation to a prolonged crisis and want to build their emergency preparedness and resilience. They, especially the smaller and grassroots organizations, need flexible and core funding – for salaries, health insurance, communication, and transport – to build their capacity to adapt. The lockdown has severely weakened civil society organizations' capacity and threatens their survival. Several of their premises have been diverted for COVID-19 testing, their shelters and staff are overwhelmed, and several have had to close offices, downsize, and lay off staff exactly when they are most needed. They are needed because women are still reaching out to their local women's rights organizations and community-based structures for help – through WhatsApp, social media, helplines, word of mouth, or directly, women are seeking support from their local shelters, self-help group leaders, community health workers, faith leaders, community-based counsellors, and paralegals.
In light of this, at UN Women we have continued and further amplified our support to civil society, raised more resources, and provided flexible funding to these organizations. We are also listening and learning from them [2] – because in this moment these organizations, as first responders, have a lot of textured and real-time data and we must get policymakers and researchers to listen and work closely with them to unpack and act on that data. In short, the voices of survivors and grassroots civil society organizations have to be the starting point for policy, and ending violence against women and girls policies need to be tailored and extremely localized at this time.
SG: Finally, do you have any advice for junior sociologists and social scientists who are starting a career in the international field? Do you have any recommendations or information about locating job opportunities?
SM: My advice would be to read widely across disciplines and across the spectrum of theory and practice. And to not be afraid to ask big questions! Sociologists are well-equipped to thoughtfully and critically engage with development practice through their theoretical knowledge and methodological tools, and to further the field. The experience of the COVID-19 pandemic has revealed the fragility of progress on gender equality and the scale of the challenges that persist. We are now at a critical juncture where there is a heightened recognition that transformative approaches that require deep and lasting changes in power across domains are needed. We need to create more holistic programs that establish patriarchy and deep-rooted gender inequality squarely as the challenge to overcome, and we need to ask: What are the systems, ideologies and institutions that create, embody, and perpetuate patriarchy? How can we transform them in sustainable ways in specific contexts and times? I strongly believe sociologists can contribute to this, both in research and practice.
I also encourage young sociologists who are starting their careers to gain as much field experience as possible – UN country-level programs are where one can gain a grounded understanding of complex developmental challenges. These postings can be found at the UN careers website. Also, while it's important to stay current on development challenges, it is equally important to stay abreast of cutting-edge research in the field, especially if you plan to wear both hats! And in this regard, I cannot emphasize enough the potential for learning from other sociologists within organizations like the ISA. It is a fantastic platform for staying current, disseminating your own research, and creating relevant collaborations.
And finally, do not hesitate to reach out to sociologists who are wearing both hats. I found that reaching out to alumni from graduate school was a great way to fully understand the nature of the work. And they still remain my support system in navigating the complex and ever-evolving field of development.
[1] The views expressed in this publication are those of the interviewee and do not represent the views of UN Women or the World Bank.
[2] United Nations Women (2020). Voices from the ground: Impact of COVID-19 on violence against women.
---
Shruti Majumdar <shruti.majumdar@gmail.com>