The Sunflower Movement and Taiwan's Embattled Sociology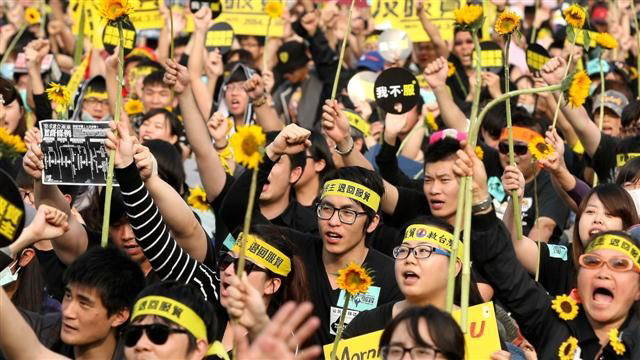 In protest against a sweeping trade liberalization agreement with China, Taiwan's university students stormed the national legislature in the evening of March 18, 2014, unexpectedly giving rise to a 24-day occupation of parliament, and a subsequent political crisis. The so-called Sunflower Movement partly inspired and was often linked to Hong Kong's Umbrella Revolution six months later. It was arguably the largest and longest episode of collective contention in Taiwan, where activism has surged since the conservative Kuomintang regained national power in 2008. In the end, the Sunflower Movement was peacefully concluded, with the disputed free-trade agreement halted in the legislative process.
Taiwan lacks any tradition of civil disobedience, and its generally conservative political culture is not fertile ground for radical protests. Yet the Sunflower Movement enjoyed considerable popular support for, at least, three overlapping reasons: first, it sought to defend democratic procedures, demanding more transparency and oversight over international negotiations; second, it protested against free trade; and third, it expressed a nationalist mobilization against China. There are even elements of a Polanyian social protection in this unusual anti-regime protest, since the People's Republic of China's territorial ambition over Taiwan is now couched in terms of "encouraging cross-strait economic exchange" – an exchange generally perceived to favor big corporations at the expense of wage earners and democracy.
Taiwan's sociological community – both professors and students – was deeply involved in this unprecedented protest. In response to the Sunflower leaders' call for a national class boycott, sociology departments in Tsinghua, Taipei, and Sun Yat-sen Universities suspended teaching activities, defying top-level administrators and the Ministry of Education. Many professional sociologists conducted teach-ins, both around the besieged parliament and on campus. In an experimental attempt at deliberative democracy among protest participants, a number of students and teachers participated in joint discussions over free trade, youth unemployment and other topics. Many other sociology majors camped out in the besieged parliament, ranging from Chen Wei-ting (a charismatic Sunflower leader from Tsinghua University) to anonymous volunteers and participants. After a unanimous on-line vote by the leaders of the Taiwanese Sociological Association, the TSA published a pro-Sunflower statement on March 25. In November, in a gesture of recognition of student activism, the TSA invited Wei Yang, a core student activist, to offer the keynote speech at its annual meeting.
To be sure, a minority of dissenting voices among Taiwanese sociologists frowned upon professorial involvement. When the TSA newsletter published a piece arguing against political participation on the grounds of "value neutrality," it was countered by a pro-participation discussion on the contemporary relevance of this Weberian concept. Importantly, this debate about sociology's mission and public role demonstrated the discipline's health and vitality.
The high-profile engagement of Taiwan's sociological community naturally attracted a backlash from conservatives. A Kuomintang lawmaker later publicly decried sociologists for "doing nothing except inciting the students to take the streets" and requested the Minister of Education to look into sociology departments in public universities. Such defamation prompted an immediate response, and many students and teachers wrote op-ed pieces to defend sociology's critical spirit – a precious occasion for public assertion of the discipline's importance. A wave of protest phone calls to sociology departments proved more annoying, because most of the callers refused to identify themselves and used abrasive language, amounting to harassment of the office staff. The sociology department of Sun Yat-sen University received a self-identified parent's call condemning the faculty's decision to suspend regular teaching which, he claimed, had hurt the future of his daughter who was said to graduate in three months. (In fact, that department was only recently established, and it had no majors who were in their fourth year at the time of the protests.)
On balance, the Sunflower Movement's immediate impact on Taiwanese sociology is almost certainly beneficial. With our teach-ins, deliberative democracy, and op-ed writing, the public visibility of our discipline was enhanced. Increasing numbers of participating students are now interested in sociology because its conceptual tools are well-suited for exploring how power is maintained, exercised and challenged in contemporary society. Applicants to the National Taiwan University's graduate program in Sociology doubled in 2015, and many applicants cited their personal experience during the Sunflower Movement as the main motive for pursuing advanced study.
While we cannot know the long-term impact of the Sunflower Movement, past experience can serve as a rough guide. The Wild Lily Movement of 1990, a successful pro-democracy student-initiated protest, drew an influx of new blood into our discipline. Many ex-student activists are now professional sociologists in their mid-forties and early fifties. Their teaching and research gave rise to the engaged and embattled characteristics of Taiwanese sociology. Similarly, in time, the Sunflower generation is sure to reshape the contours of our discipline.
---
Ming-sho Ho, National Taiwan University, Taiwan <mingshoho@gmail.com>