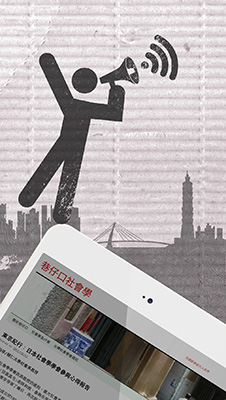 Disseminating professional knowledge in Taiwan's current academic environment is not an easy job: university administrations do not encourage such "unproductive" work. Any social scientist who wants to engage in public affairs risks being stigmatized as "unacademic." Some scholars write their own blogs, but they are often not sustained because they require so much time.
In 2009, a few Taiwanese anthropologists experimented with running a collective blog, called guavanthropology that offers a short commentary every week to disseminate anthropological research. The blog did not attract much attention in its first few years, but it set an example for the sociology community.
Supported by Taiwanese sociologists, Streetcorner Sociology had its debut in February 2013. In two years it has published more than 130 articles, written by more than 100 Taiwanese sociologists. It has received 2.2 million views, and many of its posts have been reposted by different mass media.
Before Streetcorner Sociology was created, Taiwan boasted several popular science blogs like PanSci or Mapstalk, garnering millions of hits in a few years. Obviously, people seeking updated information today have learned to surf the Internet. Accordingly, if social scientists want to influence public opinion and social policies, they will have to engage in debates on the Internet. Further, many people have lost the patience needed to read long articles. According to one publisher, a short article which can be finished in three to five minutes is the optimal length for readers on the Internet. Therefore, from the beginning, contributors to Streetcorner Sociology have been advised to write less than 5,000 Chinese words, about 1,500 English words – too long for a newspaper public opinion column, but enough for a blog post to engage in public debate.
A key factor in Streetcorner Sociology's success has been the wide support it has received from Taiwan's sociological community. The Japanese Sociology Society has more than 3,000 members, while the Korean Sociology Association has more than 1,000 members; in contrast, Taiwan has fewer than 300 active sociologists. Different sub-committees of the Korean Sociology Association write textbooks on different topics – for instance, migration or social theory – to disseminate sociology knowledge. In Japan, similarly, there is a series of sociology handbooks, dealing with important sociological issues. Clearly, such efforts would be beyond the capacity of the small Taiwanese sociological community. Thus, short commentaries by sociologists in different spheres, writing collectively, offers a more effective channel for disseminating sociological contributions. As a small community, in which most sociologists know each other only too well, many Taiwanese sociologists have proved willing to contribute a short commentary every two years or so.
In the past few years, rising public interest in social and political issues has also contributed to the blog's popularity. Discontent with the problems caused by economic globalization, China's expansion, and the current conservative right-wing government prompted large student protests in March 2014; during the 50 days of occupations and protests, Streetcorner Sociology published more than 17 articles supporting the movement, and about 10,000 visitors viewed the site every day, up from only 1,700 in the previous month. The blog became an important site where movement supporters could debate public policy. Even government officials came to the blog to defend their policies.
Streetcorner Sociology has become a window for those who are interested in Taiwan's sociology, or with the social and political developments in the region. As Streetcorner Sociology has become better known, more and more high-school students read the blog to understand the discipline. This is especially important as, in the past, sociology has often been confused with social work. In addition, other news media in Taiwan report on the articles published on the blog, giving greater visibility to academic perspectives. Articles on the blog have also been reblogged by websites in China and Hong Kong. Perhaps not surprisingly, Chinese websites mainly repost those articles dealing with less sensitive political topics, such as the sociology of arts, tourism or community development. By contrast, Hong Kong blogs are interested in more political issues, dealing with questions about state and childhood, or with issues dealing with Hong Kong, Taiwan and China.
Most academic papers are read by fewer than ten people, and about a third of social science papers are never cited. If our time-consuming research attracts no readers – not even our academic colleagues – it would be very frustrating. In contrast, the coauthored Streetcorner Sociology shows that collective work can have strong social impact, and also demonstrates that sociologists can participate actively in social affairs without sacrificing their academic research.
---
Hong-Zen Wang, National Sun Yat-sen University, Kaohsiung, Taiwan and member of the ISA Research Committee on Migration (RC31) <hongren63@gmail.com>