The Life and Times of a Committed Sociologist
An Interview with Dato Rahman Embong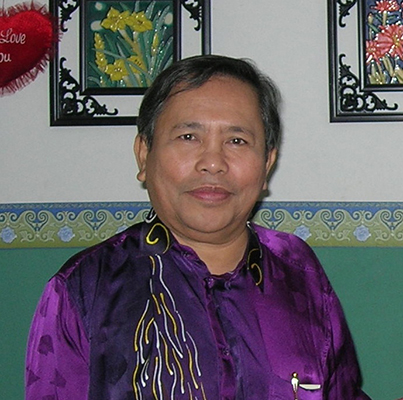 Rahman Embong, distinguished Malaysian sociologist and long-time public intellectual, traces the interweaving of his biography and the development of Malaysian sociology from the colonial period through the postcolonial struggles and then repression to the new opening after 1991.
MB: Let's begin at the beginning. Growing up under colonialism, how did you manage to obtain your education? This seems like an extraordinary achievement.
RE: Let's set the scene. Michael, you have recently been to Malaysia, a thriving oil-rich country of 28 million people that aspires to achieve a high income, developed nation status by 2020. It has come a long way from the agricultural backwater and commodity producer it was at Independence in 1957. During your visit, we brought you to see the capital, Kuala Lumpur to feel its pulse, and also to see the new administrative center, Putrajaya, built on land previously planted with rubber and oil palm, itself originally a jungle inhabited by Orang Asli, the indigenous people. Some regard the administrative center as a real splendor, an opulent state-of-the-art city, the envy of many developing countries. It was Prime Minister Mahathir's dream to leave this behind as his legacy for posterity.
However, now let me turn to my background. I was born into a "middle" peasant family, not rich but not too poor either. My birthplace was Terengganu, then the most backward state on the east coast of Peninsular Malaysia (then known as Malaya). I was born in 1944, towards the end of the Japanese occupation, when conditions were very hard for most families due to food shortages and rationing. My father was a padi farmer and an imam of a local mosque, who wouldn't send his children to English school as he wanted them to go to an Arabic or religious school. He also cursed the British who ran away and surrendered when the Japanese invaded Malaya.
My father and mother were very hard-working people, tilling our padi fields to support eight children who were growing up, with me as the youngest. Other families in the village also tilled their land. These peasants did not fit the insulting "lazy native" syndrome the Orientalists talked about – a myth debunked by the late Syed Hussein Alatas in his now classic 1977 book.
My father died in 1949, five years after I was born. I was told he died of malaria, after being delirious for days. We felt so sad. Unlike today, the hospital was far away, there was no clinic, no doctor and, at that time, we didn't even know what had hit him. With my father's passing, it was a tough life for my mother, who had to support the kids by becoming a rural peddler, selling vegetable produce, home-baked cookies, tobacco, and other goods from one small village market to another.
Being the youngest, and still in school, I was spared the ordeal of doing odd jobs like my elder siblings. But I did follow my mother on many of her rounds to the rural markets, helping to carry her over-sized baskets with my small hands. It was a cash-and-carry rural exchange economy that my mother was part of in those days.
There was virtually no electricity or piped water in the village. Nor were there tables or chairs in the family house. At night I had to light flickering kerosene lamp and do my homework while lying flat on my stomach. My elder male siblings went to Malay primary school, followed by one or two years in an Arabic or a religious school, but then they abandoned their education for work. But I was set on a different trajectory. My mother and elder siblings didn't want me to follow in their footsteps; they wanted me to go far beyond the village. So after finishing Malay primary and basic religious education, and passing the entrance exam, I joined the only government English school in town. I was inducted into the "Special Malay Class" – an express class that enabled me to jump to Primary Six in my third year. As I was a top student, I was later offered a scholarship to enter the Royal Military College on the west coast of Malaya, an elite multi-ethnic school set up by the British in 1953 to train local military officers and also potential government administrators. There were five of us who went to the college in 1960 from the whole of Terengganu.
I was the only one from my generation who managed to fly far beyond the local district and later the country. The then commandant of the military college, its director of studies and many of the teachers were British. Though they were good, their patronizing attitude helped to nurture anti-colonial sentiments among us. You have to remember that period was only a few years after Independence in 1957, and the Malaysianization policy took effect only from the late sixties and early seventies. After finishing high school at the college in 1964, I was sent to "mother" England on a Federal Government scholarship with a view to serving the elite Malaysian civil service after completing university education. Several other top Malay students were offered similar scholarships to the UK.
MB: How did going to England and getting degrees at Leicester and then at SOAS shape your intellectual and political development?
RE: Studying in the UK was a decisive turning point in my life. It opened up and deepened my intellectual horizons and strengthened my ideals. I went to Leicester in 1965 to study sociology, and after obtaining my BA in 1968, I pursued my MA in Area Studies in the London School of Oriental and African Studies (SOAS), which I obtained in 1970. My lecturers then were some of the leading scholars in Britain and Europe. In the late sixties, London – and for that matter Britain and Western Europe – was seething with student activism, and anti-US imperialism, especially against its war of aggression in Vietnam. The Chinese revolution and the Cuban revolution were also an attraction to many. I was exposed to various schools of thought in sociology – from structural functionalism to Marxism and social constructivism – and read all sorts of books and left-wing journals like the New Left Review and Monthly Review. That's the context in which I became politicized and radicalized. Many Malaysian students of my generation in London were also inspired with similar activism.
MB: What happened when you came back to Malaysia? The country had already been independent for fifteen years so how did you fit in?
RE: I came back on 31 December 1970, nineteen months after the bloody race riots of May 13, 1969 in Kuala Lumpur. When in the UK, I kept in close touch with happenings at home. The news of the 1969 riots hit us like a thunderbolt. I was a student leader then, and with my friends, we organized various activities like forums and seminars to educate the students – Malays, Chinese, Indians, others – and unite them. We fervently argued that the issue was not race, but class.
Back home, a new university with Malay as the medium of instruction was being set up next to the more established University of Malaya whose medium of instruction was English. The new university was Universiti Kebangsaan Malaysia (National University of Malaysia – UKM), set up in May 1970. It was the fruit of the struggles of Malay nationalists who wanted a university in the national language, Malay, to take in mainly students from national schools. The Malay language policy took effect fully in all universities by the 1980s. Mind you, the students then were an elite group, constituting only 1% of the 18-24 age cohort, unlike today when the proportion in tertiary institutions has shot up to 30%.
MB: What about sociology?
RE: There were important developments in sociology during those days. The Harvard Advisory Service in the Prime Minister's Department, headed by Professor Samuel Huntington assisted by professors Manning Nash, Myron Weiner, and Nathan Glazer, had just submitted to the government a report entitled Social Science Research for National Unity, following the 1969 riots, recommending the setting up of departments of sociology, anthropology, psychology, and political science in Malaysian universities to address problems of national unity and also to train experts to deal with the conflict situations of nation building. It was then that UKM set up a Department of Anthropology and Sociology and began to actively recruit academic staff. So, when I reported for duty to join the civil service upon my return, I was told to go to UKM. I was told UKM needed someone like me who had a Master's degree, all the more so from London, to teach there. In my heart, that was what I really wanted – a university teaching post.
MB: It sounds like the early 1970s saw the flourishing of social science, albeit under the auspices of Harvard team and its concern with nation building. Is that correct?
RE: It is true the late 1960s and early 1970s in Malaysia was a period of flourishing social science and humanities, the era of great debates. But let me put the Harvard team in perspective. For the record, I was the fourth member in UKM's fledgling anthropology and sociology department, the first three being graduates from the University of Malaya. In fact, already in the 1960s, before the Harvard team's recommendation, elements of both anthropology and sociology were already taught under the Culture Stream in the Department of Malay Studies at the University of Malaya (UM). Prominent among the sociologists were Sutan Takdir Alisjahbana, Syed Hussein Alatas (he later moved to Singapore) and Syed Husin Ali. So, while we can argue that sociology and anthropology in Malaysia were "the children of modernization and nation building," the Harvard team was not the sole midwife as the scholars in UM had already laid the foundations.
The great debates varied between disciplines. The literary people were prolific, insisting on the institutionalization of national literature, advocating "art for society" as opposed to "art for art's sake"; the historians were repudiating the colonial (read: orientalist) perspectives on history; the economists held what was called "The Great Economics Debate"; and we the young sociologists and anthropologists were waging a paradigm war against positivism, structural functionalism, and modernization theories including those advanced by members of the Harvard team.
On another front, it was also the beginning of the Islamic dakwah movement as part of the student and youth movement. The campus was rife with student and intellectual activism opposing the US imperialist war in Vietnam and Israeli aggression in Palestine. Internally, we supported the struggle of the landless peasants and the homeless urban squatters, we campaigned against poverty which, then, affected about 50% of all households, and opposed corruption and the "get-rich quick" mentality of the ruling elite. For me personally, it was a continuation of the academic life and student activism of my London days. With sociological theories as my guide, I taught two popular courses – sociology of development and political sociology – while my colleagues taught other courses such as rural sociology, urban sociology, race relations and so on. I started a monthly journal in 1973 called Truth, which was banned after seven months. What my friends and I did was not just academic and critical sociology, but it was already public sociology – though we didn't have the term then. Our position was clear: there is no such thing as value-free sociology, and modernization theories of development served multi-national corporations. In line with Gunder Frank, we argued that development and underdevelopment were two sides of the same coin, and the sociology of development inherited from the West was as "underdeveloped" as the countries it was supposed to address.
MB: Then the repression came. Tell me about it and how sociology was affected.
RE: The year 1974 was another decisive turning point in many people's lives. The first national conference on the role and orientation of sociology, anthropology, and psychology in Malaysia was organized in UKM in August that year. I was chairman of the organizing committee. It was a lively conference where intense debates took place about the kind of sociology and social science we should encourage and promote. It was another expression of the paradigm war. Lecturers from various Malaysian universities together with researchers and students participated actively. It was then that we proposed the formation of the Malaysian Social Science Association (MSSA) which materialized in 1978.
The student movement and intellectual activism, which had reached its climax in 1974, would not last long as it was soon suppressed. Mass arrests took place in December that year, targeting student leaders and intellectual activists. That was the turning point of that period with grave repercussions for the subsequent country's history. Anwar Ibrahim, the present leader of the Malaysian Opposition, then the most influential leader of the Muslim youth movement, was arrested and detained. After his release, Anwar was recruited by Prime Minister Mahathir and rose to become the Deputy Prime Minister until their relationship fell apart and he was sacked in 1998. The rest is history.
Among academics, one of the most senior sociologists in Malaysia then, Syed Husin Ali from the University of Malaya, was arrested and held in detention for six years until 1980. Interestingly he managed to keep his job as professor in the university despite his detention. His prestige was high among scholars, and not long after walking out of prison gates, he was elected President of the Malaysian Social Science Association, a post he held for ten years until 1990.
In 1975, subsequent to the mass arrests, the government tightened the University and University Colleges Act which was first promulgated in 1971 by introducing various amendments, which curtailed academic freedom and university autonomy. This was a repressive act that for many years crippled intellectual and student life at the universities, an act which was only relaxed last year.
MB: It was not until after 1991, when there was a negotiated compromise with the opposition, that universities opened up again but what were you doing all this time?
RE: Well, as you may have guessed, I escaped arrest, but had to leave the country after the 1974 crackdown. I was out of the Malaysian academia for almost twenty years, but I followed its developments closely and never stopped researching and writing.
I came back in 1992, a few years after the end of the Cold War. The government's opening up and accommodation combined with UKM's professional approach to dissenting academics enabled me to rejoin the university in the same department in 1995. Things have changed so much compared to the earlier days. Universities and the government have been under market pressures and accepted market imperatives, and education came to be treated as a commodity rather than a public good. The traditional social sciences and humanities, including sociology and anthropology, lost their shine to science and technology, and to management studies. The faculty of social sciences and humanities in my university was restructured, and sociology and anthropology lost its status as a department. So from being arguably the strongest anthropology and sociology department in the country's history in the 1970s, it was reduced to the mere program it is today.
Many senior sociologists and anthropologists of my generation have retired or have moved on. However, one prominent social anthropologist from the former department is still active today. He is founding director of a very important research institute – the Institute of Ethnic Studies in UKM, doing academic and public policy work.
As for myself, I left the department before it was restructured and became a full-time research fellow at UKM's Institute of Malaysian and International Studies, a multi-disciplinary social science research unit, formed in 1995. I became a professor in sociology of development in 2001, and was made emeritus professor in 2009.
When I came back to the country, one of the first things I did was to reconnect with the Social Science Association. I was elected MSSA President in 2000, and like Syed Husin Ali, I held the post for ten years. After stepping down, I was made the association's Special Advisor – a post I hold until today.
MB: You have seen Malaysian sociology develop for over four decades, where do you think it is heading?
RE: Despite the changed conditions, I see light at the end of the tunnel. There is a revived interest in sociology among the younger scholars, despite the emphasis on multi-disciplinarity. They can see the power and relevance of sound social theories and sociological perspectives together with strong methodologies to analyze social conditions and suggest change. The spirit and idealism is still there. Though the number is small compared to other disciplines, it is growing. The MSSA is helping to see that such interest and numbers grow, and this opportunity to dialogue with you, Michael, as President of the International Sociological Association, is most timely. It helps to generate deeper interest and broaden our outlook. We look forward to working together and I'm sure this collaboration will be a fillip to push sociology and social sciences forward in Malaysia.
---
Michael Burawoy, Editor of Global Dialogue
Rahman Embong, Malaysia