The Changing Status
of the Chinese in Serbia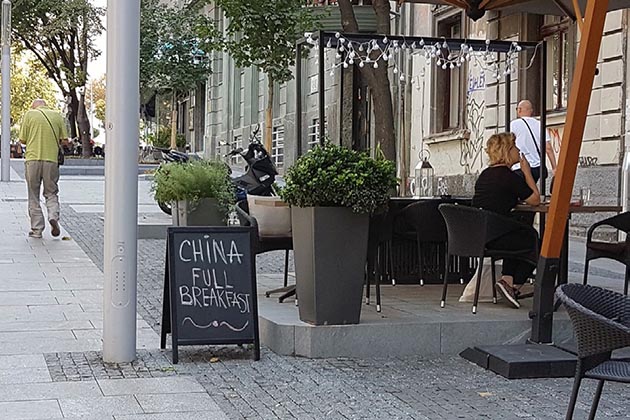 Relations between the People's Republic of China and the Republic of Serbia have been growing closer throughout the past decade, bringing about changes in migrant communities and migration trends. The status of the Chinese in Serbia has shifted from undesirable outsiders, necessary during times of economic crises, to that of a complex group perceived as both an attractive opportunity and a potential threat.
The first wave of migration
The first larger groups of Chinese migrants settled in Serbia in the 1990s, moving southward after unfavorable changes in Hungary's visa requirements. They were mostly traders originating from China's southern provinces, operating transnational businesses and living in relatively isolated communities. They continued to distribute goods across the region, only now from Belgrade instead of Budapest. These entrepreneurs seem to have been driven by a search for transition economies, where they profited from a scarcity of consumer goods. Their presence can be seen as a continuation of historical trends of Chinese migration in Eastern Europe, but also as a consequence of China's changing global position. It can also be understood through the lens of Serbia's position within Europe – while it was a desirable destination for Chinese traders due to more lenient regulations than the European Union's, not many migrants wished to stay permanently. Children are still mostly sent to school in China, so there is no large local-born Chinese population. As Serbia's progress towards EU membership slowed down, many Chinese-owned businesses moved to Bulgaria, Romania, Italy, Croatia, other EU countries, and even South America and Africa.
The status of the first Chinese communities in the Serbian population has been the subject of several studies. These Chinese migrants were mostly perceived negatively, being associated with the low quality of the goods they sold. Serbians did appreciate them as purveyors of a wide variety of goods, which were in short supply during the economic sanctions in the 1990s. However, this link with a tumultuous historical period that everyone was eager to overcome also contributed to their unfavorable status.
New migrations and mobility
After China and Serbia formed a strategic partnership in 2009, the two countries' collaboration rapidly grew closer. There was a significant rise in Chinese constructions projects and investments in Serbia under the Belt and Road Initiative, enhanced cooperation in the domain of culture and technology, and, most recently, a team of Chinese doctors led the development of Serbia's response to the COVID-19 pandemic in line with the "Chinese model." However, these changes did not significantly affect the status of the Chinese migrants already living in Serbia as Serbians do not see these entrepreneurs as synonymous with China [article in Serbian]. Moreover, new migration and mobility trends led to new waves of Chinese in Serbia, who instead became the perceived face of China.
Chinese investment projects brought about a new migration wave, with fixed-term migrants moving to Serbia, including manual laborers and mid- and upper-management. However, while the projects are highly publicized, these new Chinese communities live outside the public eye, mostly near the remote construction and development sites where they work. This is the first time that Chinese construction workers have migrated to a European country in such numbers and under interstate agreements, marking a shift from Chinese labor that has been present in Europe in the form of catering work or garment workshops, both often illegal and invisible.
The second new wave of Chinese in Serbia came due to mobility rather than migration, following the establishment of a bilateral visa-free system in 2017. That led to a significant influx of Chinese tourists, reportedly belonging to China's upper-middle class, who arrived in such numbers that joint police units of Serbian and Chinese officers were formed to patrol tourist spots. Along with Cyprus and other Western Balkan countries, Serbia was among European countries with the highest rise in Chinese tourist numbers in 2019. This rise in tourism is similar to trends elsewhere in Eastern Europe. However, it has not yet been accompanied by middle-class lifestyle immigration like, for example, in Hungary or Portugal, perhaps due to Serbia being outside the EU.
Towards a joint future
There are still no extensive studies of these recent developments. Still, an overview of media and anecdotal evidence suggests that the Serbian population responded to these two new groups differently. The latter were welcomed – business-minded people saw the opportunity in the arrival of growing numbers of relatively wealthy Chinese and tried to adjust or establish services catering to their specific needs, with more or less success. The potential economic benefit for the country was evident at every major travel destination in Serbia. On the other hand, those working on Chinese investment projects are occasionally mentioned as a potential threat in the context of Serbia's high unemployment rate. However, at the same time, there are individual stories about interethnic friendships and examples of close ties between local communities and Chinese workers. The relations with this new type of Chinese migrants might develop in very different ways and should thus be closely observed in the near future.
As for the Chinese already living in Serbia at the turn of the twenty-first century, their status was not much affected by the said changes in geopolitics and bilateral relations, but they were faced with new opportunities. Some saw the two new groups as an opportunity to expand their businesses, by supplying construction sites with Chinese food and goods or opening Chinese restaurants and bubble tea shops near tourist spots. Some used their position as "locals" and advised businesses on how to implement projects or agencies on where to organize tours. The first-wave Chinese might have originally belonged to lower socio-economic classes than these new migrants – they undeniably came from a less-developed China. However, today they can leverage their local knowledge and experience, becoming desirable for new waves of incoming Chinese. In time, perhaps the fact that they can also provide cross-cultural insights to the Serbian side might lead to a change in their status in the eyes of the local population.
The dynamics between these different groups of Chinese and their respective relationships with local communities reflect the trajectories of shifts in the global political economy. With the strong influence of fickle factors, such as populism and public health, new migration trends challenge existing boundaries and hierarchies and require each group's positions to be renegotiated. Considering the vastly varying perceptions of the Chinese in Serbia and the changing perception and position of Serbia and China, their status can develop in completely opposite directions, forming the foundation for future waves of migrants.
---
Jelena Gledić, University of Belgrade, Serbia <jelenagledic@gmail.com>