Sweeping News from Havana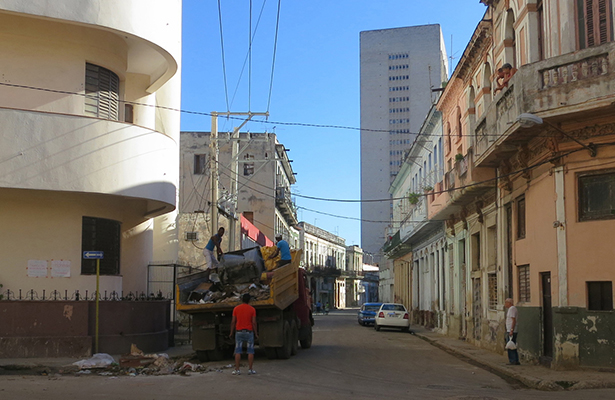 December 17, 2014, the day Obama announces that the US and Cuba will restore full relations, is a memorable day in Havana. Juan, an ex-boxer turned street sweeper and muy fidelista (very loyal to Fidel), receives the news on the half-broken television he found in the trash one day and set up in the small office of the sanitation services of this Centro Havana neighborhood. As Juan learns through fragments of Raúl Castro's speech that all the Five Cuban Heroes are now finally free, he is overwhelmed with emotion: finally the demands supported by marches and murals all over Cuba for so many years have been fulfilled. But by the evening, when I find him back at his everyday lucha (struggle), sifting through garbage for cans that he can sell for cash, a more mundane discussion has erupted among his co-workers: could it be true that the heroes will receive back pay for all those years they were in prison when they return to Cuba? And even a car and a house? Juan's somewhat obligatory comment that no payment would outweigh their suffering in a yanki prison is met by his co-workers' agnostic silence.
Juan's neighbor, Mari, watches the news on an illegal Miami channel on her employer's flat-screen television. The broadcast focuses on the distraught daughter of a US pilot, shot down by the Cuban military after one of the Five informed the Cuban authorities of what the daughter calls a "humanitarian intervention" but Cuba considered a "terrorist attack." Mari's employer owns a tourist house, which Mari cleans; she urges Mari to get back to work. "This chica," the employer mutters, "all she does is dream of working in Mexico – she has no idea what real work, in capitalism, means." As her employer leaves, Mari defiantly counters, "The witch – let her see how she does without me. The only reason tourists visit this house is because of me!" Optimistically she adds, with all this news, no need to go to Mexico: surely the Cuban economy will prosper again, more tourists will come, life will be brighter.
But will life be brighter for people like Juan and Mari? Like many Cubans, they assume that change will be positive. An opening of the economy will mean dollars start flowing in; standards of living will return to the pre-1989 level, when ration cards ensured adequate food, and Cuban citizens enjoyed generous health care and education opportunities. Few consider the possibility that December 17, 2014, might mark the beginning of Cuba's post-socialist path, one marked by privatization, marketization, state transformation, or inequality.
Take Juan: as a state-employed street sweeper, he earns around 800 pesos (roughly 32 dollars) – more than his bosses in the same enterprise. But many of Juan's bosses are busy acquiring property which they rent out to tourists (at an average of 30 dollars a night in convertible pesos); they maintain international networks, and generally turn their organizational prerogatives into lucrative extractive knots within markets. Juan's only hope of earning extra money on the side is his rickety garbage cart, and neighbors who might pay him to clean up after an event. His ration card ensures only basic items – not vegetables or meat, nor the milk he needs to manage a chronic ulcer. After ten years in Havana, he still has no registered address; without a doctor's prescription, he must buy omeprazole on the black market. His anxiety is intensified by rumors that the state-run municipal services will be transformed into "cooperatives," a process that may increase salaries but will also involve shedding workers – perhaps including Juan.
Mari at least has a registered address and enough cash to keep the wheels of various socialist services turning in her family's favor. But as a self-employed worker (cuentapropista) – a growing category in Cuba – her earnings are only 40 dollars a month, with no security, benefits, or pension. Because her employer refuses to register her, inspectors demand bribes; Mari's employer charges those costs to Mari, reducing her pay to zero and making her entirely dependent on tourist tips. Mari and her employer argue about what attracts tourists to the house, but clearly the negotiation is structurally unequal: even with tips, Mari earns at most about 25 dollars a week, whereas her employer earns up to 50 dollars a night. Mari lives on the brink of poverty, facing the prospect of becoming old without having been able to secure a proper pension, nor savings.
These stories unfortunately resonate with Eastern Europe's experiences after socialism ended, where new "cooperatives" left many workers dispossessed, while former state managers turned their organizational prerogatives into (quasi) property rights, enthusiastically supporting further privatization. In Cuba, a growing class of urban kulaks – the property owners who benefit from tourism and real estate deals – may well push for further deregulation, the securing of property titles, and reduced taxation, moves which would come at the expense of most ordinary workers, and could further shred the socialist safety net.
Of course, Cuba is not Eastern Europe. Cuba's socialism was built from a real, long-awaited, patiently prepared, popularly supported revolution, not from Soviet occupation. Socialism and revolution are autochthonous in Cuba, a reality which can be seen in workers' pride as well as in the lively populist socialist savoir vivre that marks Centro Havana. In a changing international context Cuba could perhaps embark on a new-socialist rather than post-socialist path – though for that to occur, it may be necessary to acknowledge, and publicly debate, the risks that a post-socialist trajectory may involve.
Note from the author:
I conducted fieldwork in Havana from September 2014 to January 2015, with research affiliation to the Juan Marinello Center for Cultural Research. I thank participants of the "International seminar of socio-cultural anthropology" I co-organized there (Jan. 9-12, 2015) and guests from the IUAES (International Union of Anthropological and Ethnological Sciences) Commission on Global Transformations and Marxian Anthropology for insights used in this paper. Workers figuring in the article bear pseudonyms and are partly fictionalized.
---
Luisa Steur, University of Copenhagen, Denmark <luisasteur@yahoo.co.uk>