Public Sociology in South Asia
During Lockdown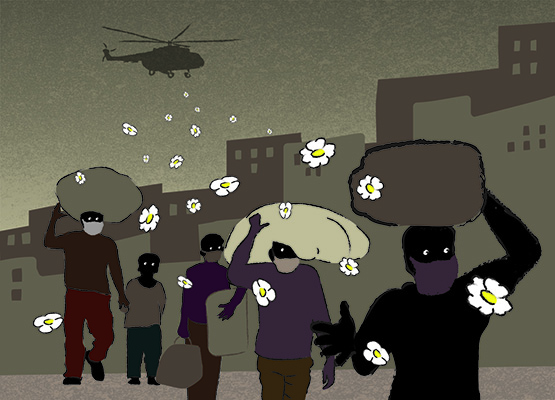 An opportunity to rethink South Asia in terms of human emotion, suffering, and socio-political crises lapsed once again during the lockdown that was enforced to check the spread of coronavirus across the region. A quick reckoning of the pieces of the drama could help in understanding it. The old rhetoric of geopolitical states echoed in the recent unfolding of an old dispute between Nepal and India about Kalapani, a landmass in the Himalayas. This was in the middle of the crisis of migrant workers' desperate attempts to return home during the lockdown. To this, one must add the failure of the SAARC (South Asian Association for Regional Cooperation) meeting on COVID-19 held during the lockdown, which revealed once again that South Asia is nothing more than a game for several of its member states. It invariably comes down to the participation of its member states in occasional meetings in what is nothing but a talk show on their largesse and common funds, shared strategic interests and bilateral ties, security and safety. There is hardly any space for people's emotions, socio-cultural dynamics, and connections and flows. Seldom does it occur to anyone that South Asia, as an under-explored social entity, also entails possible cross-border compassion, empathy, and collaboration in line with the shared emotions in the region. A disturbingly dehumanized idea of South Asia dominates and obscures human feelings, anguish, and anxiety in the region. In short, a public sociology of suffering, anxiety, and emotions in South Asia lacks even a faint chance to emerge due to the predominance of a "cold-blooded" objective - the so-called "COVID diplomacy." And hence, an emotionally truthful sociology of South Asia in which humans and their struggle are central remains an ever-unfinished project.
The crisis of migrant workers
Perhaps COVID-19 universally brought about a blessing in disguise: it was a blow to the smart masks of many including the educated middle class, the class of intellectuals who claimed to have understood migrant workers. Migrant workers became newly intriguing across the region, with a dual social existence, typically described as "one foot in the city - one in the village." All those who claimed to have understood the teeming mass of workers in formal and informal sectors of the economy were caught fumbling for answers. A series of opinion pieces in newspapers and portals only revealed inscrutable policy jargon and hackneyed ideas about the rural-urban divide in various parts of the region. In such a situation, the chinks in the armor of the state became evident. We witnessed the near disappearance of the machinery of governance and crisis management during the pandemic across the region. Instead, there were evident spectacles such as banging utensils, lighting lamps, and air force choppers showering petals on the health workers in India. The pandemic became even more of a source of panic amongst people due to the ill-devised policies and actions across South Asia. There might be exceptions here and there, yet there remains a common failure in the way the states in South Asia have perceived humans in the face of a pandemic.
In this context, the migrant workers' return migration became a common crisis in the region, which underlined the absence of an empathetic approach. A great deal of the discussion across South Asia in the context of COVID-19 hovers around the intricacies of migration. Everyone was suddenly reminded of an old truism: migrant workers are the backbone of a substantial part of the economy. Every middle-class household in the cities of South Asia thrives due to the help from migrant workers. And yet, unfortunately, these workers have been perceived only as cogs in the machinery rather than as significant humans with emotions, imperatives, and sensibility. This is commonly visible across the region. Bangladesh did not take sufficient care of the disarray in the garment industry, a huge contributor to employment in the country, and hence many workers walked back and forth between Dhaka and their hometowns and villages hoping to find work. Bangladesh also failed to make plans for the returning workers from afar, like India and Nepal. The workers who were once contributors to the remittance economy became migrants without a nation in India too. They returned only to an ungrateful nation, so to speak. Nepali workers returning from India to Nepal had to walk for many arduous miles without being provided any care along the way. In India, there were arrangements along class lines: flights were arranged for out-migrants returning from foreign locations while there were no facilities made for the return of internal migrants. Though heavily under-reported, the situation for workers in Pakistan was not very commendable either. These workers, be they in the formal or informal sector, were seen only as the embodiment of saleable labor power. They were not perceived as humans with due sentiments, mythology, folklore, culture, and everyday life. This points to the need to reconfigure South Asia as a social category peopled by the workers.
For an emotionally truthful sociology of South Asia
One ought to steer clear of the dominant logic of state and geopolitics in South Asia so as to explore a nuanced and emotionally truthful sociology of South Asia. Within such a sociology, one can work out novel utopias for a people's South Asia in which emotion and reason can combine for a better comprehension of social reality. Such a sociology ought to be sensitive to the emotionally volatile public. For, within the relatively fluid frame of sentiments, we might inch closer to one another, be equal and able to empathize, and be compassionate. Unfortunately, India's much-congratulated policy of "neighborhood first" turns out to be more a diplomatic gimmick than an outline for socio-cultural togetherness. Such a policy retains the connotation that India is superior to its neighbors and hence it ought to take care of them. With this superiority complex it collapses in the face of the pandemic and the consequent decline of the state, people's rising misery, and lack of hope. Rather than policy gimmicks, it would have been better if we all, within and across borders, could walk away from this challenge together.
---
Dev Nath Pathak, South Asian University, India <dev@soc.sau.ac.in>