History Corner: The Vital Life of Current Sociology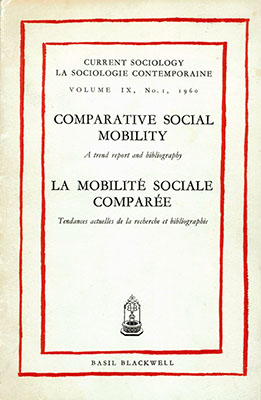 Current Sociology is one of the longest-standing sociological journals; this year it celebrates its 60th anniversary. Its development shows quite a lot about the general progress of sociology internationally since the 1950s. ISA was founded at the instance of UNESCO, and so the journal started as a UNESCO production; when Tom Bottomore became ISA's Executive Secretary in 1957 he took over the editorship. (In 1973 Margaret Archer became the first editor who was not also holding another ISA post.) The leading part of its early mission was to promote international communication by providing a general bibliography of recently published sociology; the field was still small enough for that to be practicable. The headings under which items were classified in the bibliography included "Sociology of primitive and underdeveloped peoples," reflecting both UNESCO's action priorities and the current "comparative" theoretical approach contrasting non-industrialized and industrial societies.
Rapidly, however, the main emphasis shifted to the bibliography of specific areas of work such as the sociology of religion, science, politics or education, with a "trend report" for each, many written by the best-known authors of the time. These were a valuable and well-known resource. Probably the best known was S. M. Miller's 1960 Comparative Social Mobility, which compared the results of the social mobility studies so far made and drew general conclusions. Google Scholar shows 253 citations to it, some of them quite recent.
In 1963 issues with groups of related papers from Research Committees were introduced, the first being on the sociology of the family; in the 1990s these became defined as a separate category, Current Sociology Monographs. From an early stage some of the issues were limited to one geographical area, though the titles do not always make it clear whether the area defines the topic, or just the country where the sociological work mentioned was carried out; over time issues reviewing a whole national sociology also appeared: Scandinavian Sociology (1977), Anglo-Canadian Sociology (1986), and so on. Finally, in 1997 it was decided that the trend report model no longer fitted contemporary needs, with so many other information sources readily available. Under Susan McDaniel's editorship, the journal was relaunched on the more conventional model of a peer-reviewed journal, with a focus on new developments and controversies in sociological inquiry – but still reviewing international developments, whether in substantive areas, concepts, or theories and methods, and addressing the widest group of international colleagues.
Dennis Smith continued Susan's pioneering efforts, and was Editor from 2002 to 2010. It is undeniable that he stamped a personal mark on the journal during these eight years, providing a fresh outlook on the new academic demands. Under his editorship the journal was accepted for ISI listing, and has already achieved a very respectable ranking. In addition, thanks to his capacity to read the implicit sociological agendas formulated in the work submitted, Dennis's editorship helped to create a space in which those works and agendas could be subject to critical debate. This was done, in part, by organizing dialogues, allowing authors and critics to engage with one another on many different topics.
Current Sociology has always received submissions in the ISA's official languages of English, French, and Spanish, but now, thanks to an initiative by the Publications Committee, it accepts submissions in practically every language, in order to facilitate publication for scholars who find it difficult to write in English. For researchers working outside the English-speaking world –especially those who live in peripheral countries – this provides a unique opportunity to share their findings with an international audience. In 2010, Eloísa Martín took over the editorship. It was the first time that the journal would be administered by a non-Anglophone scholar from a non-central academic institution. This reflects changes in ISA membership, which extends to countries all around the world, and also creates challenges for the journal's future.
Nowadays, the world's universities seem to share the same concern and complaint: publish or perish. Funding, project approval and prestige all depend on the quantity of a researcher's publications, in the first place, and also on the ranking of the journals where such research is published. Within, and despite, this context Current Sociology would like to focus on the tradition of dialogue, where reflections can be made available for colleagues to debate, critique and improve, and where the careful reading of works by other colleagues constitutes a place for exchange. In such dialogues, we could find new heuristic tools to contemplate our local realities, while considering sociology a necessarily global project.
---
Jennifer Platt, University of Sussex, UK, and ISA Vice-President for Publications, 2010-2014
Eloísa Martín, Federal University of Rio de Janeiro, Brazil, and Editor of Current Sociology