Exploring South Africa while Discussing your Dissertation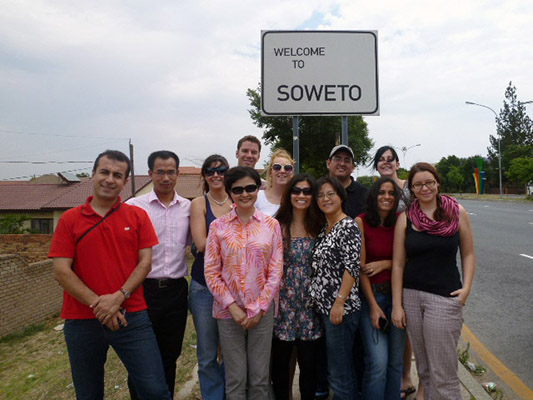 The Tenth ISA Doctoral Laboratory took place in the secluded environment of the University of Johannesburg Island in the Vaal Dam near Vereeniging in South Africa, November 8-11, 2011. A diverse group of twelve students from places as far apart as China, Iran, Europe, the USA, Mexico and Brazil were selected from 50 applicants. They were joined by two South African students. Their mentors were also quite diverse namely: Jan Marie Fritz from the USA, Chin Chun Yu from Taiwan, Yoshimichi Sato from Japan. The theme of this year's doctoral laboratory was Social Exclusion, Citizenship and Social Capital.
The activities kicked off with a "welcoming the students back to Africa" through a visit to the Sterkfontein caves, a World Heritage Site in the Cradle of Humankind where scientists have discovered many hominid and other animal fossils, dating back more than 4-million years, to the birth of humanity. The most important and most famous of these fossils are "Mrs Ples," a 2.1-million-year-old Australopithecus skull, and "Little Foot," an almost complete Australopithecus skeleton that is more than 3-million years old. After the visit the students and faculty members were transferred to the Island first by minibus and then by boat.
The laboratory itself lasted 4 days with sessions during the day where doctoral students and faculty members presented their work. This allowed for lively discussions to take place as the multicultural audience provided for much spirited and robust debate. Activities during the warm summer evenings included a game drive and a boat cruise around the Island, which provided an opportune environment for everyone to get to know each other better. The activities on the Island were concluded with a traditional South African braai (barbecue) and a camp fire. On the Saturday the students and faculty got to know some of South Africa's more recent history with a tour through Soweto where they were entertained with a typical shebeen lunch. The laboratory ended with a farewell dinner on the Saturday evening at The View Hotel which has a spectacular view of the Melville Koppies Nature Reserve in Johannesburg.
In conclusion, I would like to thank the Dean of the Faculty of Humanities, Professor Rory Ryan, who provided the bulk of the funding for the local hospitality of the Laboratory. I am sure that the participants of this Doctoral Laboratory will have fond memories of their stay on the Island and of Johannesburg.
---
Tina Uys, University of Johannesburg, South Africa, and ISA Vice-President for National Associations, 2010-2014