Executive Committee 2012 Meeting in Beirut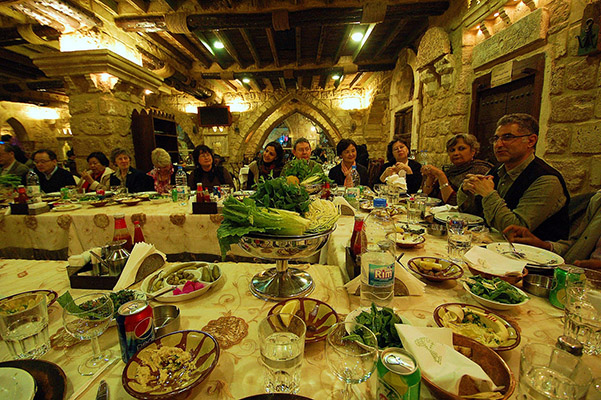 In its annual meeting the ISA Executive Committee met for five days at the American University of Beirut (AUB), generously hosted by Professor Sari Hanafi and his colleagues in the Department of Sociology, Anthropology and Media Studies. Two days of our meeting coincided with a wonderful International Symposium on "The Arab Uprisings" (reported on in this issue of Global Dialogue), sponsored by AUB, the Lebanese Sociological Association, and Friedrich-Ebert-Stiftung and drawing on speakers from all over the Arab World with comparative perspectives from elsewhere.
The five-day marathon began with separate meetings of the Program Committee for the Yokohama Congress in 2014, chaired by VP Raquel Sosa, the Publications Committee, chaired by VP Jennifer Platt, the Finance and Membership Committee, chaired by VP Robert Van Krieken, the Research Coordinating Committee, chaired by VP Margaret Abraham, and the National Liaison Committee, chaired by VP Tina Uys.
The Executive Committee met as a whole for two days at the end of the week. I reported on my many trips to different parts of the world and the progress made during the year with regard to ISA-on-line (see editorial). One of our most urgent tasks was to decide where to hold the 2018 ISA World Congress. We had five excellent bids from Budapest, Copenhagen, Melbourne, Zaragoza, and Toronto. We short-listed two – Toronto and Zaragoza – and will make a final decision pending a site visit to the former. We decided to take up membership of the International Council for Science (ICSU). Based on a subcommittee report, we discussed the possibility of initiating ISA prizes and awards and decided to pursue the details of one international award, recognizing the research and practice of sociology. Here are reports from the individual Vice-Presidents.
Margaret Abraham, Vice-President for Research
The Research Coordinating Committee (RCC) had an extremely productive meeting in Beirut. We discussed the following reports: the status of the revisions of the statutes of the Research Committees, Thematic and Working Groups; the activities of all RCs-TGs-WGs in 2006-2010; and the second ISA Forum of Sociology in Buenos Aires in August 2012.
An important part of the meeting was devoted to discussing the ongoing preparations for the Forum. We received 6,019 abstracts from 7,928 authors for a total of 693 sessions (51 in Spanish). We received submissions from all over the world including a strong representation (3,528 or 45%) from Latin America.
Although we do expect high participation, the numbers will be reduced due to the difficult economic climate. I am working with Sage to create an open-access virtual space to disseminate and exchange knowledge and research on issues connected to the Forum's theme – Social Justice and Democratization. More information on this will be out soon!
The report and discussion of the revisions of RC/TG/WG statutes noted that some RCs-WGs-TGs still need to submit their revised statutes. These revisions need to be completed well before the next elections. We also discussed the need for RC-WG-TG boards to review their composition, in particular length of time in office. A number of boards need to take active steps to find new members who will stand for office in the next election.
The RCC reviewed grant applications. A total of US $16,900 was allocated to eighteen RCs-WGs-TGs in 2011, and €8,660 to thirteen RCs-WGs-TGs in 2012. Jennifer Platt, VP for Publications, put together guidelines for Research Committee journals that are now available online: http://www.isa-sociology.org/about/rc_aims.htm.
Finally, the activities reports submitted by RC-WG-TG for the 2006-2008 and 2008-2010 periods were reviewed and discussed. Most RCs-WGs-TGs were active, organizing conferences, publishing newsletters and undertaking other professional activities. A revised RC-TG-WG Activities form has been designed to capture the data in a more efficient and consistent manner across RCs-WGs-TGs.
Jennifer Platt, Vice-President for Publications
Sujata Patel, editor of Sage Studies in International Sociology (SSIS), has agreed with Sage Publishers to produce books in India, to be sold at Indian prices for ISA members and buyers from the developing world, although the big hardback handbooks will still be available for Western libraries at Western prices. This was warmly approved.
It was agreed to offer national associations the opportunity to reprint in translation (done under their auspices) any articles from Current Sociology (CS) or International Sociology of special interest to them, without paying the usual permission fee. CS is to publish an additional issue each year, which will consist of review articles drawn from Sociopedia.
The policy has been adopted that the journal editors and Vice-President should provide some publications-related activity at every ISA event; maybe a "meet the editors" session, a workshop on writing journal articles, or a meeting with local editors. They will also attend major conferences each year to publicize our journals, observe new developments, and recruit fresh authors, referees, and book reviewers.
Raquel Sosa, Vice-President for Program
It is a pleasure to inform colleagues that the recent meeting of the Program Committee for the Yokohama Congress (2014) in Beirut was a great success. The theme for that Congress is Facing an Unequal World: Challenges for Sociology. We have already put out a call for papers and session organizers with a deadline for January 15, 2013. This can be found on the ISA website: http://www.isa-sociology.org/congress2014/. We are eager to receive proposals for ad hoc and integrative sessions, and for authors meet critics sessions. We would like members to consider this an extraordinary opportunity to participate in what has become the most transcendental international debate on social matters of our time! As many ISA members have devoted most of their professional lives to working on questions related to poverty, inequality and injustice, we expect that our Yokohama Congress will make a significant contribution to both knowledge and social practice.
The Program Committee agreed to prepare ten semi-plenary sessions on the following topics: configurations of structural inequalities; inequalities and structures of power; production and practice of inequality; social injuries of inequalities; conceptions of justice from different historical and cultural traditions; justice and social systems; overcoming inequalities; actors and experiences; environmental justice and a sustainable future; sociology and inequalities. Participants will come from diverse traditions and from all over the world. We hope that these semi-plenaries together with the Presidential and Local Organizing Committee sessions will appeal to our colleagues and contribute to the renewal of the world's social sciences for the 21st century.
Tina Uys, Vice-President for National Associations
We discussed and clarified the criteria for regular collective membership of the ISA. According to ISA procedures, regular collective members are admitted by a decision of the Executive Committee upon a recommendation by the National Associations Liaison Committee and by the Finance and Membership Committee. The Statutes of regular collective members must be in line with Articles 1 and 2 of the ISA Statutes:
Regular collective members must be non-profit associations for scientific purposes that represent sociologists, regardless of their school of thought, scientific approaches or ideological opinion.
The goal of regular collective members must be to advance sociological knowledge. Their structure should recognize the aspirations of sociologists and endeavor to support and strengthen the free development of sociology through various activities such as hosting conferences and promoting publications.
The officers of regular collective members must be elected through a regular democratic process.
We confirmed the new process developed for considering applications for Regular Collective Membership received between annual EC meetings. The Slovenian Social Science Association applied for regular collective membership during the second half of 2011. This application was evaluated by means of an online process and was approved. The application by the Uganda Sociological and Anthropological Association was approved at the meeting. The ISA now has 60 regular collective members but not all of them have paid the membership fees and, therefore, regrettably are not in good standing.
Based on the criteria established in the National Associations Liaison Committee meeting in Mexico in 2011, regional workshop grants were awarded to the sociological associations of Bangladesh, Bulgaria, Mozambique and the Philippines. Bangladesh and Mozambique also received grants for website development.
The plans for the conference of the Council of National Associations (CNA) are taking shape. The conference will take place in Ankara, Turkey, in May 2013. The theme of the conference will be Sociology in Times of Turmoil: Comparative Approaches. It will be organized jointly with the Department of Sociology of the Middle East Technical University, the Turkish Social Sciences Association, and the Sociological Association of Turkey.
Robert Van Krieken, Vice-President for Finance and Membership
The Finance and Membership Committee reported steadily increasing individual membership which is now a little above 5,000 members. The Life Membership fee is currently €300, and the committee is now proposing a differentiation of the fee across the country categories: Cat. A - €300, Cat. B - €200, Cat. C - €100, which could only be changed in the Yokohama World Congress in 2014. We recommended making it easier for members to donate to the ISA via the website, and investigating ways of attracting more donations and bequests.
We provided a summary financial statement for 2010 and 2011, to be made available to the membership, as well as a report on the 2010-2014 budget details for discussion in relation to requests for additional funding. Overall our financial situation is healthy. We have had significant increases in staff and administrative expenses due to growing ISA activities, but these have been offset by an increased contribution from Sage in the renewed contract negotiated in 2011. Additional funds were approved for Global Dialogue, Journeys through Sociology, and editors' travel expenses.
Other Items
We received an encouraging report from Koichi Hasegawa, head of the Local Organizing Committee for the ISA World Congress in Yokohama (2014). We discussed reports from our representatives to the UN (Jan Fritz, Rudolf Richter, Rosemary Barberet, and Hilde Jakobsen), the International Institute for the Sociology of Law (Ramon Flecha), and the Global Development Network (Emma Porio). We heard from Chin-Chun Yi about progress on the 2012 Laboratory for PhD Students in Taipei. We wrote and signed a collective letter from the Executive Committee defending the importance of social science research in the European Union.
We ended on a note of thanks to our hosts who left no stone unturned to make this a most enjoyable and interesting gathering in Beirut, especially to Sari Hanafi, Oubada Kassar, and Chebib Diab at AUB, and to the indefatigable staff of the ISA Secretariat for once again facilitating our complex meeting and overseeing the ISA as it strides into the future.
---
Michael Burawoy, University of California, Berkeley, and ISA President