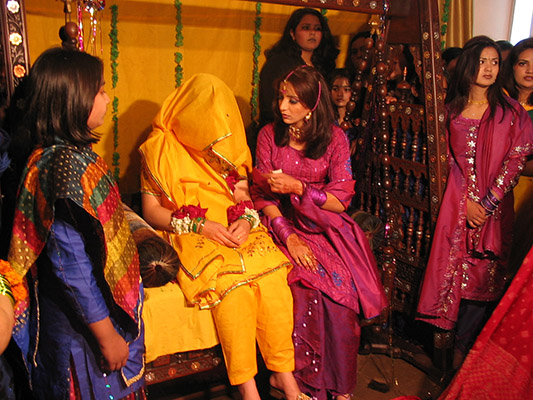 Thirty-eight-year-old Sukaina is a Londoner of Pakistani heritage. Married at eighteen to a cousin in Lancashire, Sukaina had three children by her mid-twenties. But even before her third child was born, her marriage went irreparably awry. Her husband started working as a taxi driver. With the erratic working hours and freedom of mobility that the job entails, he resumed a premarital relationship with a White British girlfriend, went back to drinking alcohol, and according to Sukaina, progressed to hard drugs. For six months, Sukaina held back from telling her parents about her marital problems because "for my family it was a dream come true, that she's ended up with somebody in the family and they're happy and there's three beautiful kids and it's just perfect. So I thought I can't break their hearts." Even when she did turn to her parents for help, it was another two years before she left her in-laws' home in Lancashire and returned to London, and two years more before she applied for divorce.
British Pakistanis, like other families of South Asian heritage, have long been viewed as bastions of the traditional family, with almost universal marriage and very little divorce. Stories like Sukaina's have remained invisible, hidden by normative stereotypes about "strong family values." Outsiders often describe British Pakistani families in similar terms. In 2007, after spending two days with a Pakistani family in Birmingham, then-Conservative leader David Cameron praised the British Asian family as "incredibly strong and cohesive" saying, "I found myself thinking that it is mainstream Britain which needs to integrate more with the British Asian way of life, not the other way round."
Using data from the Fourth National Survey of Ethnic Minorities, carried out in the mid-1990s, quantitative sociologist Richard Berthoud found a rate of separation and divorce among ever-married British South Asians of 4%, a rate less than half that of White British adults (9%) and less than a quarter of Black Caribbean adults (18%). Berthoud viewed British South Asians as "old-fashioned," "loyal to their communities' histories and traditions," resisting the trend towards individualization. However, data from the UK's Quarterly Labor Force Survey for 2010-13 shows that today roughly 10% of British Pakistani Muslims and Indian Sikhs are separated and divorced, as are about 8% of Bangladeshi Muslims, 7% of Indian Muslims and 6% of Indian Hindus in Britain – compared to 20% of White British, 27% of Black Caribbean and 23% of mixed ethnic ever-married adults in Britain. Although South Asians remain less likely than other adults living in Britain to admit to social surveys that their marriages have broken down, marital breakdown has increased among Pakistani and Bangladeshi Muslims and Indian Sikhs to levels close to those that prevailed in the White British population twenty years ago, in the mid-1990s – a time when Anthony Giddens' concerns over Britain's "separating and divorcing society" became a subject of broad discussion.
Based on an ethnographic study carried out between 2005-7 and 2012-14 in London and in the provincial English city of Peterborough, I argue that increased marital breakdown is changing family life in the Pakistani diaspora, beginning with rising numbers of men and even more women who resist encouragement to remarry. Of the 52 divorcees I interviewed, 30 had remarried by the end of my fieldwork, but 22 had not, and only six of the 22 who remained single were men. Sukaina, for example, had remained single for many years after her marriage broke up, and insisted that she wanted to stay that way. Sukaina suffered clinical depression for a good number of years after her marriage ended, but with support from her siblings, she was able to complete an adult education course, qualify as a Teaching Assistant, and start work, supplementing and eventually replacing most of the social security benefits she had relied on. No longer the good daughter-in-law her parents had "groomed" her to be, Sukaina ignored her parents' advice about remarriage for many years. "At first I hated men, really hated them, I couldn't stand the sight of them or the smell of them," she said. Some divorcees told me that they remarried in order to provide a "proper" two-parent family for their children, but in Sukaina's as in many other cases, cautiousness about introducing a step-father into her already care-worn family was a powerful deterrent to remarriage.
If some women and men now choose to live outside of marriage after divorce, those who do remarry seem more likely to choose their own partners. Of the 67 primary marriages described by my informants, 58 were described as conventional arranged marriages, and only 9 were love marriages. By contrast, of the 49 remarriages I was told about, only 20 were conventionally arranged, 9 were arranged love marriages where the match was engineered by the couple but presented to the rest of the world as an arranged marriage, and fully 20 were self-arranged love marriages. Thus, remarriages seem much more likely to involve significant courtship and intimacy before marriage. These self-chosen remarriages were also eventually supported by divorcees' wider families.
Sukaina's experiences illustrate another tendency: remarriages often cross racial, ethnic, caste and religious lines. After nearly a decade living without a partner, Sukaina fell in love with Sukhwinder, an Indian-heritage Sikh divorcee. Sukhwinder agreed to convert to Islam, and the couple married in a small Islamic ceremony attended only by one of Sukaina's sisters and three male witnesses. This shift towards consensual relationships sounds inherently appealing to liberal politics, but Sukaina was nagged by deep dissatisfaction: Sukhwinder hadn't shown any signs of being serious about his conversion to Islam, nor had he taken off the turban that identifies him as a Sikh. As a result, Sukaina hadn't found the courage to tell her parents about her second marriage and was contemplating "calling it a day."
I found secondary marriages were frequently unstable. Nine of the 30 remarried interviewees were in second marriages that had broken down or were onto their third marriage, and several other of the second and third marriages in my study were ridden with conflict –reminding us how little light the sociology of divorce has so far shed on repartnering. We need research not only on divorce but also on informal relationships and successive remarriages, as well as research on how marriage norms change over contexts of migration, transnationalism and diaspora, where the tendency has been to see the "left-behind" culture as static. As my research suggests, this has neither been the case in the past, nor in the present.
---
Kaveri Qureshi, Lahore University of Management Sciences, Pakistan <kaveri.qureshi@lums.edu.pk>