Challenges Facing the Indian Sociological Society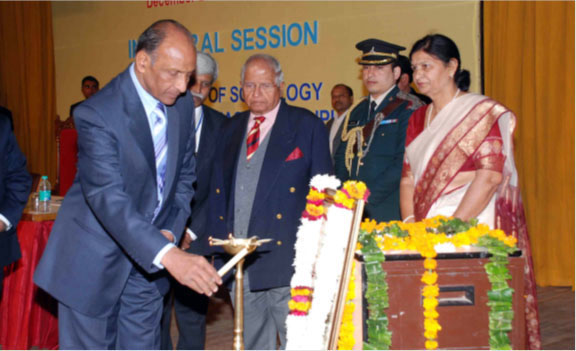 Indian sociology has attained an admirable height in terms of teaching and research. In this achievement the Indian Sociological Society (ISS) has played a significant role over the six decades of its existence. I am extremely happy to be its President from January 2012 for a term of two years. The ISS has nearly 3,500 Life Members from India and some from abroad. Sociology in India is at the crossroads today. Several challenges have appeared in recent years in our century-old academic profession of sociology. The colonial past of Indian society is still haunting pedagogy and methodology, and the American academic supremacy reigns over our academic endeavors, including concepts, frames of reference and theoretical constructs. Indian sociology has not yet succeeded in making its own contributions to social theory and conceptual development (Modi, 2010).
Rational indigenization needs to be made a reality if we are to understand the complex issues with empathy and concern. We have to develop a relevant sociology. Under my Presidentship, new initiatives to broaden the horizons of Indian sociology are being discussed. At the same time, Indian sociology can't remain aloof from the global scene. The mouthpiece of the ISS is its journal – Sociological Bulletin. We need to expand its frequency, widen its coverage, make it multilingual, and make it, in a true sense, an international publication. We need to bring out special thematic issues. Senior scholars may be requested to contribute articles. An e-Journal is also on our agenda.
Besides the reshaping of the Sociological Bulletin, there is a need to initiate fresh debates on issues relating to development, social bases of politics, new dimensions of identity and cultural claims, rapid expansion of the middle classes, social inequality, changing contours of the rural-urban divide, etc. A People's Sociology needs to be our motto in the 21st century.
To realize the new goals, we have to learn a lot from countries like Brazil, Russia, China, and South Africa. The East European countries can also offer a great deal based on their experiences of the post-socialist era. We also need to look into the indigenous intellectual traditions of the Oriental, Middle-Eastern, and African societies to develop alternative sociologies. That is to say, our task is not only to retain the positive aspects of Western sociology but also to draw lessons from developing countries. We need to establish links between mainstream Indian sociology and India's provincial societies and cultures. To achieve this the ISS will have to build close relations to regional/provincial associations to engage India's rich social and cultural diversity. I am quite optimistic that ISS will make major strides in all these directions.
Reference
Modi, I. (2010) "Indian Sociology Faces the World." Pp.316-325 in Michael Burawoy, Chang Mau-kuei, and Michelle Fei-yu Hsieh (eds.) Facing an Unequal World: Challenges for a Global Sociology (Volume II). Institute of Sociology, Academia Sinica, Taiwan, and Council of National Associations of the International Sociological Association.
---
Ishwar Modi, President of the Indian Sociological Society, and ISA Executive Committee Member, 2010-2014