US Universities: A New Site for Immigrant Struggles?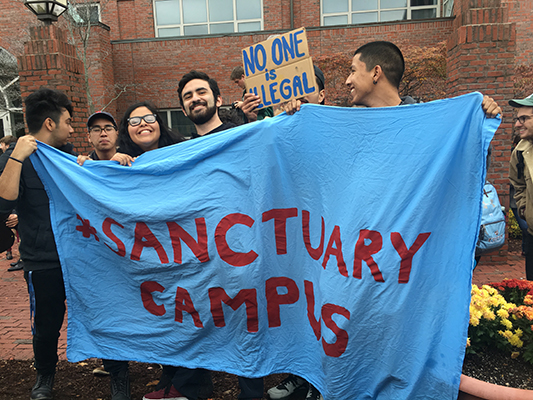 On June 15, 2012, the Obama administration announced the creation of the Deferred Action for Childhood Arrivals (DACA) program, changing US immigration policy to allow roughly 1.7 million young undocumented immigrants who entered the United States as children to receive a renewable two-year administrative relief from deportation. DACA also extended work permit eligibility to these young undocumented immigrants, and provided greater access to higher education. Most residents in the United States take for granted freedoms such as the privilege of walking without fear of deportation, of applying for jobs, or getting an education. DACA extended these freedoms to the young and undocumented, allowing people who consider the United States their home to enjoy these privileges with peace of mind, at least during the deferral period.
Following Donald Trump's election as President of the United States, peace of mind was traded for anxiety. Fear stemming from the anti-immigrant rhetoric that characterized Trump's campaign spread like wildfire. Most immediately, DACA beneficiaries feared that the protections extended by the Obama administration would be summarily rescinded. But the feeling of anxiety goes much further: migrants of all statuses fear that new draconian immigration restrictions might affect them all.
These fears were confirmed on January 27, 2017, when the President signed an executive order barring people from seven majority-Muslim nations from entering the country. Due to the order's broad language and uneven implementation, immigrants of all nationalities and legal statuses – including refugees and American citizens – were caught up in a hectic rollout, sparking protests across the country. All immigrants, whether they were refugees, student visa holders or permanent residents, woke up to a United States where the likelihood that they might be questioned, detained, and even barred from entering the country had risen sharply. State Department directives even restricted entry for US citizens who held dual nationality with the countries named in the ban.
Overnight, vulnerability seemed to have been expanded to include not only the undocumented, but almost anyone with an immigrant label. Although a Federal District Court in Seattle moved quickly to block the order, the entire episode suggested that the Trump White House's immigration policy would pay little attention to distinctions – a concern underscored on March 6, 2017, when the President's new executive order blocked citizens of six predominantly Muslim countries from entering the United States, one of the harshest interventions in immigration policy in generations.
Nowhere have these conflicts become more apparent, perhaps, than in US colleges and universities. Institutionally, both public and private American universities concentrate increasingly heterogeneous groups of migrants within their faculty, administrative personnel, and student bodies. The Obama administration's DACA program expanded this diversity: DACA recipients, finally able to enroll in college, join universities whose halls are filled with international students and whose classrooms are led by a professoriate composed of the most educated migrant class. No other contemporary institution gathers so many people of varied classes, races and ethnicities, or of such diverse immigrant status.
Thus, it is unsurprising that universities across the country joined the many voices objecting to the travel ban. On February 13, 2017, an amicus brief drafted by sixteen US universities, including all Ivy League universities, was filed in the US District Court for the Eastern District of New York, challenging the executive order. The brief asserted that "safety and security concerns can be addressed in a manner that is consistent with the values America has always stood for, including the free flow of ideas and people across borders and the welcoming of immigrants to our universities."
Similarly, the American Sociological Association (ASA) issued a statement on January 30, 2017, opposing Trump's initial executive order, and including suggestions for how to effectively implement collective action. As sociologists, the ASA reminded us, we are embedded in a large network of organizations, a network that can be more effective if we become proactive and collaborate. At a moment when an individual with hostile anti-immigrant rhetoric has been elected President of the United States, academic institutions have been pushed to evolve from observers to active participants in the fabric of society, reflecting, as Michael Burawoy put it[1], the unique position that universities hold in today's world, simultaneously inside and outside society, simultaneously participant in and observer of society. Put differently, these public statements turned the field of sociology into a field of power.
Sociologists would do well to pay attention to emergent dynamics between different immigrant groups on university campuses – a new phenomenon that is perhaps peculiar to the collegiate setting. Today, institutions that employ or represent immigrants typically advocate for migrants of a specific economic profile and educational level: for example, agricultural chambers lobby for policies guaranteeing cheap and plentiful agricultural workers and undocumented day-workers, while tech firms in Silicon Valley want to expedite the recruitment and hiring of highly-skilled engineers and computer scientists. But the American university, by assembling such a diverse assortment of otherwise different immigrant groups, has unusual potential to serve as the organizing site for immigrant social movements or efficient resistance to the Trump agenda. Alternatively, the failure of cooperation to materialize would be instructive, as well, revealing the limits of intersectional collaboration and the challenges of building robust solidarity networks across immigrant groups.
All in all, as American civil society responds to the challenges of the Trump era, sociologists will have to pay close attention to cross-migrant group dynamics within universities. It may be too early to gauge their larger significance, but when the times comes, we will need an approach that theorizes the unusual position of the American university, remembering that universities are multidimensional spaces at the intersection of divergent interests.
[1] "Redefining the Public University: Developing an Analytical Framework," Transformations of the Public Sphere, Social Science Research Council, 2011.
---
Sandra Portocarrero, Columbia University, USA <svp2118@columbia.edu>
Francisco Lara García, Columbia University, USA <f.laragarcia@columbia.edu>