The Visual Representation of
Invisible Work
As a result of the measures introduced to tackle COVID-19, some of us are experiencing social distancing, distance learning, separation, and isolation in a number of environments. At first glance, it seems as though one can talk about a "we," "us," even a collective experience, or go even further and think of a global collective. Drawing on my experience as a lecturer at the University of Applied Arts in Vienna, however, I do not entirely agree this is possible. At a time of drastic restrictions to individual freedom of movement in public spaces, the enormous range of political and societal options to deal with this exceptional situation is becoming ever clearer.
Collective spaces of learning and experiencing such as schools and universities, as well as public spaces such as parks and playgrounds, are still only partly accessible, thus shifting the focus of life into private space. When jobs are lost and children can no longer be sent to childcare facilities – without recourse to a weekend home with a garden – people are confined to the small space of their homes. Statistics have shown that there has been a surge in psychological and physical domestic abuse, and the issue of gender-specific division of labor is (back) on the agenda. COVID-19 fundamentally demonstrates the type of work that our societies rely on: system-relevant and reproductive labor. We all depend on paid and unpaid care workers, such as sex workers, friends, lovers, children, among others. Every single body and its environment needs to be nurtured, groomed, cleaned, fed, loved, cared for, held, attended to, healed, regenerated. I'd like to point out here that the notion of "system-relevant" is especially controversial, as it implies that certain work is not (as) relevant for "the system."
As we have all experienced, increased media attention to those jobs which ensure our basic and existential needs, and the sudden visibility of employees at the supermarket, led to people doing things such as clapping as a gesture of appreciation. One of my students, Nora Licka, wrote a paper about the difference between a gesture that is collectively performed in public and solidarity as a political act. Her conclusion was that a collectively performed act of appreciation in public is a strong gesture that can change the way people think and give them hope and strength to carry on. Ultimately, however, it will not contribute to better and safer working conditions for workers in supermarkets, hospitals, day-care centers etc., or to equal and better pay and fewer working hours in the long run. Moreover, when we go back to the question of what is classified as system-relevant in the first place, we become aware that there is, and always has been, work that is invisible (and unpaid), either because it takes place in the private, domestic sphere or because it is carried out during the night.
Against this backdrop, I would like to introduce and discuss my two collages from 2020 that accompany this text: "Nightcleaners" and "Service." In the collage "Nightcleaners," you can see the cut-out and duplicated figure taken from a film still from the experimental documentary Nightcleaners (1972-75) by The BerwickStreet Film Collective,and two reclining marble sculptures cut out of a picture that documents Hartford Wash: Washing/Tracks/Maintenance: Inside (1973), a performance by the artist Mierle Laderman Ukeles that took place in the Wadsworth Atheneum Museum in Hartford. The Berwick Street Film Collective's initial idea was to get a group of immigrant and working-class women to join forces with a group of feminist activists in an attempt to form a union. One of the artists, Mary Kelly, was part of the film team and also involved in the night cleaners' campaign as a feminist activist. One of the first concepts was to have a real-time documentary as a durational film lasting about eight hours that merely shows the cleaning of a toilet. Alluding to the poster for the film Nightcleaners, which depicts the sequences of a woman cleaning a toilet, the stills in the collage represent the potentially endless, repetitive activity of cleaning the remains of office workers during the night. At the woman's feet we see the double image of a white marble sculpture of a woman lying on the ground, captured in a supposedly relaxed pose.
Jenni Tischer, "Nightcleaners," collage on paper, 30 x 40 cm.
This sculpture can be seen in the background of a photograph taken to document the performance of the American artist Mierle Laderman Ukeles, in which she cleans the floor of the museum. The artist's Manifesto for Maintenance Art written in 1969 and her body of work as a whole address the unrecognized and devalued fields of domesticity, reproductive labor, and sanitation work. By transferring domestic work from the private sphere to the public realm, it becomes visible. And by declaring this work as art ["I do a hell of a lot of washing, cleaning, cooking, renewing, supporting, preserving, etc. Also, (up to now separately) I 'do' Art. I will simply do these maintenance everyday things, and flush them up to consciousness, exhibit them, as Art."] as well as exhibiting it, Laderman Ukeles not only raised questions about visibility and the value of reproductive work, but also demonstrated how the systemic substrates of material support (even when it comes to art) are inevitably entangled with value production, especially if the process seems to be immaterial. The reversed construction of representation in the collage calls into question the hierarchy of whiteness represented by an iconography created within Classicism, which disregarded any polychromy in sculpture, constructing a racist ideology based on pure monochromy and pure whiteness that had never existed in the ancient world in the first place.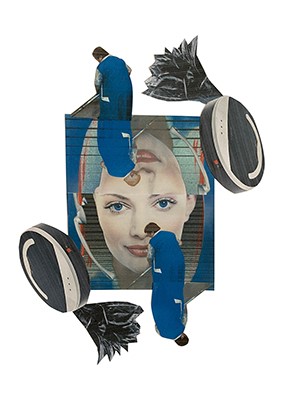 Jenni Tischer, "Service," collage on paper, 30 x 40 cm.
"Service" is a collage made of copies of a picture from a newspaper in which a woman is cleaning in front of a poster depicting a woman with a headset. The woman who is cleaning the floor is shown from the back and wears a blue uniform. In contrast, the woman on the poster smiles at us and is supposed to represent the pleasant and friendly service operator. The collage highlights that even though the technical equipment may change – just as the feather duster and robot vacuum unite on the collage – it is not possible to simply change the valorization of labor in the service sector by using a different image or different equipment. The entanglement of representation, valorization, and invisible work still needs to be highlighted and unraveled in order to address the defining hidden structure of "dirty work" that is divided down lines of class, race, and gender.
---
Jenni Tischer, University of Applied Arts, Vienna, Austria <jenni.tischer@uni-ak.ac.at>