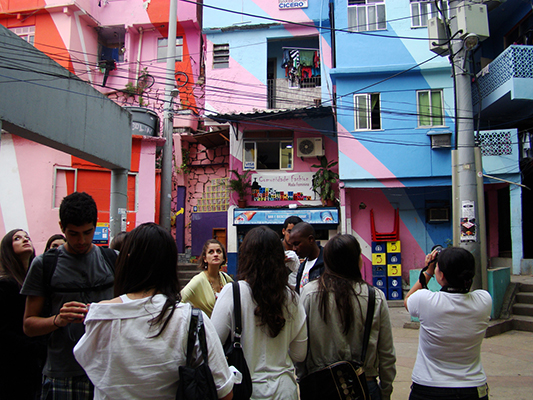 Favela tours in Rio de Janeiro, township tours in Cape Town and Soweto, slum tours in Mumbai, Manila, Jakarta, Cairo, Nairobi. Since the early 1990s – and in a context of accelerated economic integration, neoliberal urban governance regimes and globalized media cultures – territories located in the megacities of the global South are turned into a tourist commodity with a monetary value agreed upon by promoters and consumers.
Twenty per cent of Rio de Janeiro's population is comprised by favela residents: about 1.3 million people live in some one thousand communities with very different levels of urbanization and quality of life. In the international imagination, along with carnivals, football, and sexy women, favelas have become part of the stereotypical image of Brazil. In the Brazilian imagination, as a vast bibliography demonstrates, favelas have been turned into a central discursive and material reality upon which major issues – inequality, violence, citizenship – are projected, debated, and dealt with by various social actors. In the process, emerges the "traveling favela": a space of imagination and a mobile entity. As a global commodity and a trademark, it is being used in advertising campaigns for the widest possible variety of products, from Citroën and Nissan cars to Ikea furniture, in spicing up restaurants, stores, and clubs worldwide. As a tourist destination, on the one hand, it is part of global narratives and practices that re-signify poverty as an object of consumption; on the other hand, it is part of the expansion of the so-called reality tours which promise direct and safe contact, under close supervision of professional personnel, with marginal territories, idealized as the perfect opposite of the world from which the tourist comes.
In Brazil, the authorities initially ignored – and often openly reproached – the existence of growing flows of tourism toward areas that they had always sought to hide. Meanwhile, Brazilian elites claimed that favela tourism is a despicable activity which denigrates the nation's image and traps the poor in a zoo-like display. Now, however, various social actors and institutions are reinventing the traveling favela following principles of city marketing and urban entrepreneurialism in anticipation of the FIFA World Cup (2014) and the Olympic Games (2016). Two iconic events, almost fifteen years apart, help us make sense of this significant shift and how it is being consolidated today.
January 1996
Michael Jackson travels to Brazil to shoot his music video They Don't Care About Us, directed by Spike Lee. The Santa Marta favela, in Rio de Janeiro's affluent South Zone, is one of the sites chosen for the video, which aimed to expose the indifference of the authorities and elites toward urban poverty.
While the Santa Marta population mostly celebrated the event, government authorities reacted with indignation. Governor of the Rio de Janeiro State at the time, Marcello Alencar, challenged Jackson to prove his good intentions by helping the favela financially. Former football superstar and then Minister of Sports, Pelé, claimed it would ruin Brazil's chances of hosting the 2004 Olympics.
The political temperature rose when the key Rio de Janeiro papers claimed that the price of the locations and the hiring of 50 residents to provide security during the film shooting had been negotiated between Spike Lee and Marcinho VP, Santa Marta's drug king. The district attorney demanded the film be halted, arguing that serious damage was inflicted on the tourism industry. Lee called Brazil a "banana republic," aggravating the sense of injured pride among public officials.
August 2010
Santa Marta favela welcomes then-President Lula, Rio de Janeiro State governor, Sérgio Cabral, and Rio de Janeiro City mayor, Eduardo Paes, for the spectacular launching of the Rio Top Tour program. With the support of the Brazilian Tourism Ministry, Rio Top Tour is one of several actions which fall under the umbrella of the Pacifying Police Units (UPP, by way of the Portuguese acronym).[1]
President Lula presented the Rio Top Tour program as a way of making the most of the touristic potential of pacified favelas through the inclusion of the inhabitants themselves. Furthermore, they would have governmental support to realize their touristic potential. Ironically enough, the event took place where Michael Jackson shot his music video and where now a bronze statue of the King of Pop stands, which along with precarious shacks and a beautiful view of the ocean, has become a major tourist attraction in Santa Marta.
May 2013
As I write this piece, a process of market qualification for the touristic favela is taking place not only in Santa Marta but in several "pacified" favelas. This process is supported by the State and by civil society at large, including some significant leadership from within the favelas themselves. The governmental forms, in Foucauldian terms, operate not through external coercion, but precisely through the attribution of freedom and autonomy to favela residents who are now seen as potential touristic entrepreneurs.
Paraphrasing Boltanski, the worthiness of a specific favela as a tourist attraction is now measured by the efficiency of the services it can provide for tourists, by the performance of the residents as hosts, and by its capacity to deliver what is expected from a generic favela, i.e. poverty, some level of disorder, controlled violence, and joy. Following this logic, tourists are also evaluated in terms of their market worth: they are seen as customers who, through their presence and their various purchases – tickets, souvenirs, beverages and food, etc. – contribute to the social and economic development of a specific favela.
It is important to acknowledge that we are not witnessing here a retreat of governmental action. While the traveling favela is traveled to and travels around the world with governmental consent, mobility patterns within the actual grounds of pacified and non-pacified favelas are still highly controlled and inhibited by legal and/or illegal apparatuses of power. What we see, therefore, is a reformulation of strategies, tactics, and procedures for regulating territories which are more and more engulfed by the market.
[1] As in April 2013, 32 favelas were "pacified" in Rio de Janeiro following basically the same strategy: the government publicly announces an occupation before the BOPE (Special Force Unit) goes into a specific favela, giving criminals time to flee and avoiding any violent confrontation between them and the police.
---
Bianca Freire-Medeiros
, Getulio Vargas Foundation in Rio de Janeiro, Brazil