Students for Future: Towards Ecological Class Politics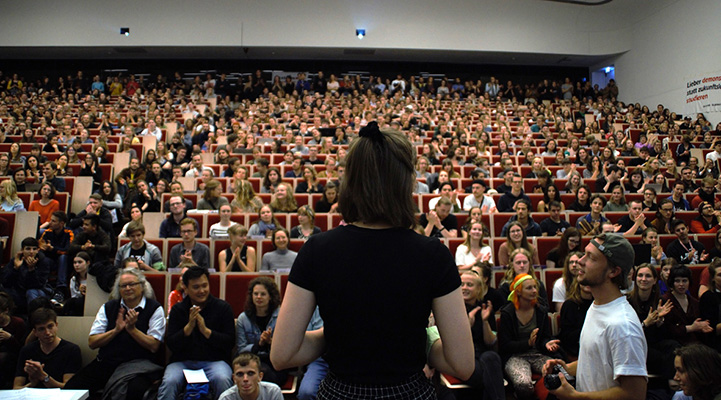 How will our world look in a century? According to recent studies, the majority of the global population will be subjected to heat conditions beyond human survivability for several weeks per year. Aridification will affect more than 30% of the world's land surface. More than a billion people will be displaced from the tropical zone. Maybe, the German physicist Harald Lesch concluded recently, humanity would then have to admit that it only learns through catastrophes. We seem to have no serious interest in averting this situation, despite being fully aware of its approach.
However, today all over the globe young people, inspired by Greta Thunberg's weekly school strikes, are taking their anger to the streets and demanding a change in climate politics. This has evolved into the global movement Fridays for Future (FFF). Through weekly school strikes, demonstrations, and other forms of protest, they aim to exert pressure on politicians primarily to make them comply with the 1.5°C goal stated in the Paris Agreement.
In Germany, the movement has met widespread approval. More than 250 local chapters have been established, and 55% of the population has expressed support for the movements' concerns. In solidarity with the school students' cause, organizations such as Scientists for Future and Artists for Future have been formed. Such a broadening of its social base is one of the most important strategic objectives of the movement, following the logic that the bigger the movement becomes, the more pressure it is able to exert on those in charge. Everyone, regardless of political affiliation, is called upon to join the fight against the impending climate crisis – and many have answered the call. This strategic outlook contrasts with the main tendencies in climate activism over the past decades. With its approach of involving large numbers of people in street protests, FFF has the potential to bring about fundamental structural change.
In Germany, students collectively joined FFF in early 2019 as Students for Future (SFF). In the following, we argue that SFF can have a significant impact on the political character of the climate movement by entrenching a systematic and class-based approach to the organization of majorities. Here we will briefly summarize the short history of SFF, followed by an analysis of what distinguishes their approach to climate politics. We conclude with some suggestions of how students and social scientists all over the world can support the movement against the impending crisis faced by humanity.
FFF conquers the universities
Following the rapid growth of Fridays for Future, in the spring of 2019 student activists across Germany began to discuss how to involve their universities in the emerging climate movement. From the beginning, the goal was to organize as many students as possible by hosting open meetings under slogans such as "Act Now! Let's bring the protests to the university: For more climate justice." Partly due to the significant impact FFF already had on public discourse at this point, these open meetings attracted up to 300 students each. Within a few months, these groups of politically diverse activists and students organized general assemblies in more than twenty universities all over the country, often being the largest political meetings these universities had seen in years. How had this rapid success come about?
Since the methods used in the east German town of Leipzig have been adopted in many other cities, we will use them here as a representative example. In order to reach as many students as possible, concepts developed in union organizing were applied by the Leipzig activists. To enforce an official general assembly, the goal was to make it impossible for other students not to hear about the planned general assembly and actively decide whether to support it or not. Thus, a petition was circulated which expressed solidarity with FFF and demanded a general assembly to discuss steps towards a more sustainable university and city. Activists and supporters systematically spread the petition in all faculties and on the main campus, and informed students about it in lectures, often with the support of the teaching staff. Within a week, 2,500 students had signed the petition.
At the assembly, the students agreed on a catalogue of demands after speakers from the university and unions emphasized the interconnectedness of ecological and social politics. In other cities such as Berlin, demands targeted not only universities but also unions and city politics; the unions were invited to the "climate strikes," and the Berlin senate was urged to introduce steps towards the establishment of a more expansive and free public transport system.
Nationwide exchange and generalization of methods
In order to spread the methods applied by activists in cities such as Leipzig and Berlin, a nationwide gathering of SFF activists was organized in June 2019, with representatives from more than 30 cities attending. Successful approaches in the mobilization of universities were presented and discussed. US union organizer and author Jane McAlevey was invited to teach the activists proven organizing methods and discuss the climate movement's next steps. This gathering was the first building block in the national coordination of the student climate activists. Equipped with these methods, activists organized general assemblies in fourteen cities by the end of the summer semester.
Concurrently, students began to be more actively involved in the dialogues with unions that FFF had initiated. To this date, almost every major union in Germany has met with SFF and FFF activists at both national and local levels. Such convergences of unions and social movements have been rare in Germany in the past years. Some unions, such as those representing public transport workers, appear to be natural allies of the climate movement because of their many overlapping interests. For example, following talks with FFF activists, Frank Bsirske, head of the service workers union ver.di, publicly encouraged ver.di members to attend the global strike day on September 20, 2019. But even unions such as the powerful IG Metall, representing carbon-intensive industrial sectors of the economy, engaged in dialogue with FFF, despite the fact that their workplaces would be those most affected by an ecological restructuring of the economy. The climate movement will have to solve many problems and answer many questions to create possibilities of actual collaboration with unions. Notwithstanding, these convergences may lead the way towards a mass climate movement powerful enough to create real social and ecological change, as we argue in the following.
A new type of climate movement?
From the above sketch of the direction which Students for Future has taken so far, we can derive some characteristics that, taken together, are rare if not unique in the broader climate justice movement.
First, SFF aims to make the struggle against the climate crisis a struggle undertaken by the majority of society. In that respect, it differs from other (not less relevant) forms of action that demand participants accept significant physical and legal risks – such as occupying surface mines or forests. Forms of action such as these inevitably mostly attract activists already radicalized to some extent, a limited milieu of what Jane McAlevey has termed "self-selected activists." In contrast, Fridays for Future emphasizes its ambition to provide a space for the majority of society in its weekly "strikes." SFF shares this sentiment.
The majority approach has implications both for the work among students and the formation of alliances with other actors. Within universities, SFF aims to confront the entire student body with the issue of the climate crisis instead of limiting itself to smaller events addressing only those already involved in climate activism. The politicization of immense numbers of young people in the past months is the result. This strategy has led to the rapid development of skills and confidence among core activists; even those who were never politically engaged before now speak in front of hundreds of students, organize demonstrations, and represent the movement in union dialogues. Interestingly, the majority of these activists are young women.
Secondly, when it comes to broadening the social basis of the movement externally beyond schools and universities, SFF (as well as parts of FFF) shares, at least in practice, a class-specific conception of what "majority" actually means. Prominent faces of FFF have mostly approached political parties, businesses, and even banks in order to gain more support for the movement, and have expressed strong confidence in institutions such as the EU to fight climate change. Many SFF activists are critical towards these tendencies. In their effort to include further social actors in the movement, specific task forces were established which were dedicated to establishing a dialogue with trade unions to organize a majority of wage-earners. This happens not merely to express mutual solidarity, but to join with potential allies in strikes in which economic bargaining power can be exerted to achieve both social and ecological improvements. This approach towards trade unions is not only motivated by the acknowledgment of the economic power of organized workers. It is also an attempt to overcome the alleged contradiction between the interests of global climate and of workers, especially those in carbon-intensive branches of industry. The political center and right tirelessly, and often successfully, reinforce this narrative, striking a nerve especially among those directly affected by a restructuring of the economy, such as in the east German former mining region of Lusatia (Lausitz). While fundamental questions remain open, recent dialogues between SFF activists and trade unions have shown that the interests of global climate and those of bus drivers as well as steel workers frequently align.
Perspectives for the near future
These two characteristics of Students for Future's strategic outlook – aiming for the active involvement of the majority of society in the climate movement and a class-specific approach to the organization of this majority – open the door to forms of action capable of achieving structural change towards a more sustainable society through the self-activity of the majority. For instance, in Germany, an upcoming nationwide collective bargaining negotiation in the public transport sector may provide an opportunity to build a coalition between climate activists, unions, and communities. Just as in the health and education sectors, public transport not only has a small impact on anthropogenic climate change, but is also essential for the social reproduction and well-being of entire cities and regions. Based on this, SFF could organize open groups in their neighborhoods and universities, who would stand in solidarity with the employees, potentially supporting them in strikes, etc. External political pressure from social movements such as FFF/SFF could politicize the collective bargaining process and emphasize the far-reaching significance of these negotiations for society. A combined effort by unions and a mass climate movement could achieve better working conditions and higher wages for public transport employees, improve living standards for those who use it through the expansion and decommodification of public transport infrastructure, and decrease carbon emissions through a reduction of individualized transportation via cars.
The hegemonic strategy among prominent Fridays for Future activists, putting confidence in political parties, businesses, and state institutions to solve the impending climate crisis, has reached a sort of dead end. While it has played into the rapid rise of the Green Party in Germany, and led to climate change dominating public discourse for months, it has not resulted in tangible actions towards the ecological restructuring of the German economy and society at large. An orientation towards an ecological class politics, with unions fighting side by side with the climate movement for an ecological and social transformation, may just offer a way out of this strategic impasse.
Join us!
Universities, we believe, have the potential to play a significant part in the building of a broad, class-based, and global climate movement. This will require an organized student body as well as critical scientists who actively support the organization process and develop theoretical contributions towards a deeper understanding of the climate crisis' causes and possible solutions. These are not only issues concerning the technical or natural sciences; sustainable technologies alone will not stop anthropogenic climate change. Our entire economy and society will have to be restructured. In which way and what the consequences will be are crucial questions social scientists will have to answer.
To be more specific: Students, get organized in the climate movement! Scientists, align your research with the pressing questions humanity faces and make your results publicly accessible! Finally, work with us to strengthen the movement. Currently, Students for Future are discussing the possibility of a week-long student climate strike. For one week we could open universities to the public and organize lectures and discussions about the climate crisis and possible solutions to it. The conference of German Rectors Conference (HRK) has defined the role of universities as "centers of democratic culture contributing to productive discussions about mastering the major challenges of society." In the light of the world's current situation and near future, we think it is time to fulfill this responsibility.
---
Julia Kaiser, University of Leipzig, Germany <juliaidakaiser@gmail.com>
Jasper Stange, Humboldt University of Berlin, Germany <jasper.stange@hotmail.de>