Prospects for Public Sociology in Ukraine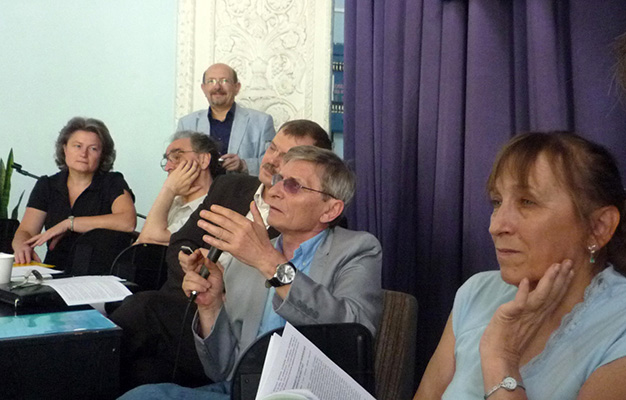 I had mixed feelings after I left the conference on the dilemmas of public sociology in Ukraine that was organized jointly by the Kyiv-Mohyla Academy and Kyiv National University of Taras Shevchenko, May 28, 2012 with ISA's President, Michael Burawoy, as a keynote speaker. He briefly presented his well-known model of four types of sociology, highlighting the importance of public sociology as a means for sociology's survival. Professor Burawoy pointed out that public sociology makes sociologists and sociology accountable to society. Consequently, it also gives sociology legitimacy by bringing important issues into public debate. In brief, public sociology assumes, on the one hand, that there are sociologists who want to share their knowledge, and, on the other hand,that there are publics ready to listen to (and even use) sociology.
The following panel discussion brought together key Ukrainian sociologists and one Russian colleague, Elena Trubina. They debated the question: "What does it mean to practice public sociology in Ukraine?," converging on a common understanding of the existing obstacles even as they diverged over the prognosis for the future of public sociology. As regards the difficulties, all the speakers noted that Ukrainian sociology lacks both accountability and legitimacy. The clear predominance of policy sociology, seen as a source of monetary gain, limits its accountability to broader publics, while public sociology is often perceived as the simplification of science for a largely indifferent public. In addition, poor public speaking skills and complicated language make contact between sociologists and publics – for example, with journalists who need short and quick answers – rather demanding on both sides. As a result, the public is neither aware nor interested in the achievements of Ukrainian sociology, which does not have the confidence or legitimacy to obtain financial or moral support.
It was challenging not to agree with such pessimism, but I was reassured by those who actually do practice public sociology in Ukraine. Among them we can find respected and experienced sociologists such as Evgeni Golovakha and Iryna Bekeshkina, who are frequent contributors to television and periodicals, as well as young researchers, such as those from Kyiv-Mohyla Academy who produce the magazine Spil'ne ("The Commons") and travel around the country to discuss its articles with various publics. Their activity proves that public sociology in Ukraine does exist. For the moment, however, it is mainly the initiative of individuals or small groups and it would benefit from greater visibility and wider involvement, especially from the younger generation of sociologists. Openness and visibility of sociology as well as the usefulness of its results for different publics are necessary for sociology's development in Ukraine. Otherwise, it will be stuck with limited financial and human resources.
Besides, public sociology can be an effective support for an autonomous civil society. We can (so, we must!) change the image of our country by talking and working with publics on their problems in the same way that doctors try to uncover latent processes hidden from everyday appearances – to use the metaphor of Professor Yuri Yakovenko. Using new technologies, creative ideas and youthful initiatives, public sociology in Ukraine can advance. Let's hope this conference will take us in that direction.
---
Lidia Kuzemska, University of Lviv, Ukraine