People Before Profits:
A COVID-19 Clarion Call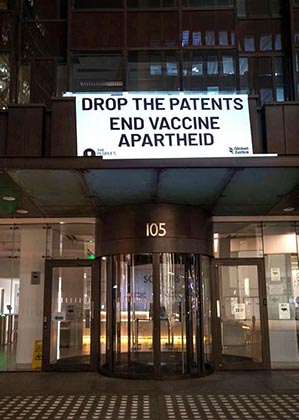 In 2001, the World Trade Organization (WTO) confronted the impact of intellectual property (IP) obligations enshrined in its multilateral agreement, the TRIPS Agreement, on global attempts to address the HIV pandemic. At the time, multinational pharma companies sued South African President Nelson Mandela over legal provisions to allow the import of affordable generic HIV treatment; these companies, as patent holders on the treatments, were charging tens of thousands of dollars for them while generic HIV medicines cost a dollar a day. The companies alleged that South Africa's actions violated the TRIPS Agreement. Global outrage against the pharma companies for launching the case resulted in all WTO members adopting the Doha Declaration on TRIPS and Public Health. This affirmed that countries had the right to interpret the TRIPS Agreement in a manner supportive of their right to protect public health and ensure access to medicines for all.
COVID-19 and TRIPS barriers
Twenty years later, another pandemic, COVID-19, has two-thirds of the WTO membership demanding that IP obligations under the TRIPS Agreement be waived. TRIPS flexibilities highlighted by the Doha Declaration – compulsory licenses, parallel imports, or strict patentability standards – have helped countries access affordable HIV, Hepatitis C, cancer, and heart disease treatments. But the current proposal by India and South Africa argues that a fast-moving, fast-mutating, infectious disease like COVID-19 requires a full waiver of IP barriers leaving countries and competitors free to pursue the research, development, and production of any COVID-19 health technology – without wasting time in complex licensing negotiations, without the fear of multi-million dollar IP infringement lawsuits, and without the fear of trade pressures from rich countries.
Rich countries, as expected, are arguing that IP is not creating barriers. But on the bleak one-year anniversary of the pandemic, the evidence is to the contrary. Even as global attention is focused on what is increasingly being seen as "vaccine apartheid" in the unequal, inequitable, and shocking scramble for COVID-19 vaccines, this inequity has underpinned access to masks, diagnostics, equipment, and treatments from the very beginning.
For the broader public, the realization of the reach and power of IP protection probably came with the news that Italian researchers working on 3D printing for ventilator valves could face legal action from IP holders. A US Senator asked 3M, a company that holds hundreds of patents on mask designs that it enforces aggressively, to give up its patents to increase supply. Threats of legal action forced pharma company Roche to reveal the recipe for its COVID-19 tests in the Netherlands. Cepheid's USD 19.80 price for its 45-minute COVID-19 tests could be as low as USD 5 and has drawn condemnation from civil society groups. US MNC Gilead sells the anti-viral drug Remdesivir at USD 2,340. Its handful of licensees supplying a limited number of developing countries charge USD 320. But researchers at the University of Liverpool estimate that mass-production prices could be less than USD 6.
As rich nations vaccinate one person every second, most of the poorest nations are yet to administer even a single dose. There is considerable vaccine manufacturing capacity in the Global South but a minefield of IP protection including patents, trade secrets, and data exclusivity stands in the way. Data from the European Patent Office shows hundreds of patents related to coronavirus vaccines. Studies suggest that vaccine patents tend to be extremely broad, covering ingredients, process technologies, age groups, and dose regimens. Trade secret protection allows vaccine producers to hold on to know-how that could help other manufacturers quickly scale up production, while data and market exclusivity will likely create further barriers in their registration.
Deepening North-South treatment divide
The Oxford-AstraZeneca vaccine should have been available for mass production under Oxford University's original pledge of non-exclusive licensing of IP on their COVID-19 technologies. Instead, an exclusive deal was struck with AstraZeneca, which entered into secret sub-licenses with some manufacturers. Production capacity is clearly insufficient as doses from India trickle into some developing countries. And the promise of no-profit pricing has not been kept as poorer countries are reportedly paying between USD 3 and USD 8 per dose.
Interestingly, rich countries like France, Germany, and Canada were among the first to adopt legal measures to facilitate COVID-19 compulsory licenses. Israel issued a compulsory license on the anti-viral Lopinavir/Ritonavir. Hungary and Russia issued compulsory licenses for Remdesivir. Government action to remove IP barriers often results in companies modifying their profiteering behavior around IP. Israel's compulsory license resulted in AbbVie announcing that it would no longer enforce its patents on Lopinavir/Ritonavir globally. Patients' groups in India, Thailand, and Argentina have filed patent challenges on Remdesivir and Favipiravir. A Canadian manufacturer has publicly sought a license for the Johnson & Johnson vaccine and may pursue a compulsory license.
Rich countries have poured millions in public funding into the development of COVID-19 vaccines, tests, and treatments. Yet they pay high prices and face supply disruptions. Instead of using legal measures to remove IP barriers, open up sharing of know-how, and increase production, they are snapping up available supplies and enforcing export restrictions. Worse still, there is no requirement for the companies to be transparent about their production capacities, their prices, or their agreements. Some negotiations reportedly feature demands that countries indemnify companies for adverse reactions or put up government assets like embassies as collateral. While the companies have undermined voluntary mechanisms by refusing to engage with the WHO's technology access pool or by de-prioritizing supplies to the Covax facility aimed at the fair distribution of COVID-19 vaccines, pharma associations are increasing their lobbying against governments and UN agencies attempting to overcome IP barriers. The WHO and UN agencies have come out vocally in support of the TRIPS waiver. But the WTO secretariat is burying its head firmly in the sand, adamantly continuing to push voluntary approaches. Even as these positions seemed to get more and more entrenched, on May 5, 2021, after months of campaigns by activists for the TRIPS waiver, the United States Trade Representative made a surprise announcement supporting the TRIPS waiver albeit limited to COVID-19 vaccines.
Even as the US move pushes negotiations on the TRIPS waiver closer, what is evident is that we have wasted the past year waiting for the companies to do the right thing. Calls for a "people's vaccine" are growing louder. As new variants emerge, countries like mine face devastating successive waves, and deaths and lingering illness from COVID-19 exact their toll on patients, families, and health systems, we have no more time to waste navigating complex trade rules that place profits over people. The TRIPS waiver will be the necessary first step in clearing the pathway to ensure access to all COVID-19 health technologies for everyone, everywhere.
---
Kajal Bhardwaj, lawyer, New Delhi, India <k0b0@yahoo.com>