South Africa: Women Miners and the Underground Self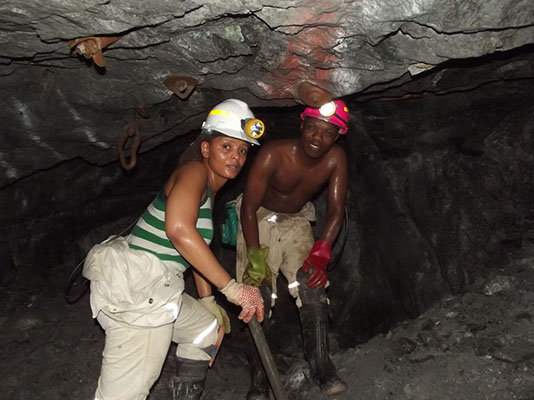 In South Africa's large and highly mechanized mining industry there are over 48,000 women working in underground occupations, mainly in platinum and gold mines. These women form part of the core workforce and labor as miners or general workers, installing support structures, water and ventilation pipes or operating different machines used underground.
For three months in 2008 I set out to study a platinum mine in South Africa as an ethnographer, working and living with women underground workers. My main aim was to understand the challenges women face underground. This was followed by a longer period from 2011 to 2012 when I immersed myself in the underground world working as a winch driver, cleaning blasted rock and hoisting it to surface, lashing and preparing the face for drilling.
As my shifts started as early as 4am, I had to leave the mine hostel at 3am and make my way to the shaft. Women who live further from the mines habitually leave their homes as early as 2am. These women have to navigate their way through public transport, often taking a bus from their village to town, then a taxi from town to the mine hostels where they catch a company bus to their respective shafts. It's a long, dangerous, and expensive journey which can take close to one third of a worker's wage – $120-150 dollars a month.
The struggle does not end when we arrive in the shaft, but intensifies when catching the cage from surface to the stopes, which are located 2-3 kilometers underground. Catching the elevator-size cage was always a rude awakening, an aggressive event; mired in shoving and ending with 50 or more workers tightly squeezed around you. In this space, to breathe comfortably, while your legs are dangling in the air, one has to synchronize their breathing with that of the person closest to you. Inside the cage, lamps are switched off, it is an unwritten rule. In that darkness, some workers would take advantage of the proximity and fondle your breasts knowing that you cannot move or switch on your lamp to expose and identify them.
When you get underground, it is a different world: dark, dusty, hot, and humid, with protruding rocks and water puddles. The stopes are short, sometimes as short as 1.2 meters and to move from one end to the other you crawl and negotiate the rocks that occasionally were dangerously unstable. Sometimes we would spend eight hours in these stopes, working on our knees installing supports to prevent rocks from falling while drilling. It was in these stopes that I was reminded of the immediacy of death.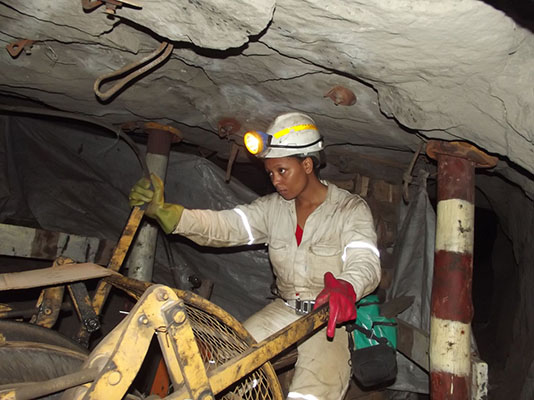 My work underground ranged from operating a winch, pumping out water and removing ore, transporting material to the rock drill operators or assisting some of my crew members. Operating the winch was a delicate and fatal affair which involved controlling the winch ropes that, with one tactless hand movement, could easily become unsynchronized and coil-up. Mastering the art of operating the winch depended more on tacit knowledge than on formal training.
While all the workers had specific occupations and responsibilities, as women we were also seen as assistants to the "real" workers, men. It was all common to see an RDO (rock drill operator) calling you with his lamp to hold steady his drilling stick and another male worker calling you to "help" pump-up roof bolts used to support the hanging wall. None of this was considered work, simply "help," it was only seen as work if done by real workers, men. As women we were sometimes delegated cleaning responsibilities or fetching water for male crew members. Towards the end of each shift, after drilling, we charged up drilled holes with explosives and connected blasting cables.
I quickly learnt that to survive as a woman I had to have a thick skin. But in addition to the thick skin I had to learn a way of "being" underground. Alongside the formal rules that I was taught on surface and at the training center, there were informal rules, a different logic and order operating underground that was defined by men. Operating outside that logic would indicate that you were an illegitimate worker. To be accepted and seen as a real mineworker, I had to learn how to walk, talk, work, carry material, use my lamp like a mineworker. From working with crews I discovered the many "languages" used to communicate underground. Besides fanakalo, the underground pidgin language, I had to learn other "languages" that were used when the noise from drilling engulfed our stopes, the lamp and glove language.
The violence in the cage and dangerous conditions in the stopes all seemed to require coping strategies that , at first, I could not muster. At noticing this, workers told me that to survive underground, you have to "forget yourself" and others said "if you bring yourself underground you can cause accidents." How could I not bring myself underground, I used to wonder? Soon, I learned that forgetting the self means adopting a different identity, or at least negotiating your identity and acting differently. Workers call it your "underground self" – a self that takes risks, resists thinking about the possibilities of rock falls or family, a self that sees cage violence, sexual harassment, and seismic events as part of the culture. Part of this culture also makes one think that 120 deaths annually in the industry are "not that bad," until it happens to someone you know or someone you've worked with. Even then, you can only be disturbed for two days, the day you see the emergency workers going to get the body and the following day, the day of mourning. After that, you are supposed to get back to your underground self and continue pushing production and navigating the unstable rocks.
Back on surface I often wondered about the contradictions of underground work – the possibilities of death as liberating and dignifying – and of my two selves, the underground self that took risks barring loose rocks and my cautious surface self. While I did this for research, many do it to feed their children, put a roof over their heads and take them to school. I thus concluded that maybe the reward of being able to take your children to school is the liberating and dignifying part about putting your life at risk.
Glossary of Mining Terms
Cage: an enclosed platform used to transport workers and material underground – similar to an elevator.
Lashing/shovelling: the process of clearing blasted rock, forcefully, often using a shovel.
Stope: An opening or room made in the process of excavating and extracting ore.
Winch: A machine consisting of a rotating drum and a rope, used to scrape and pull out ore from drilled areas.
---
Asanda Benya, University of the Witwatersrand, Johannesburg, South Africa