Making Women's Rights a Part of Everyday Life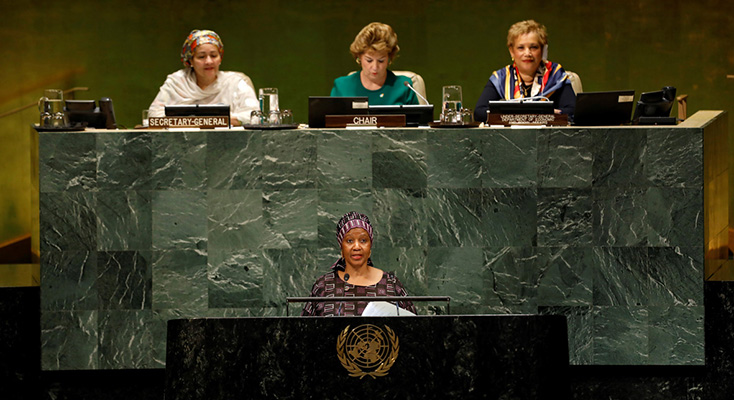 The 63rd Session of the Commission on the Status of Women (CSW63), with the priority theme "Social protection systems, access to public services and sustainable infrastructure for gender equality and empowerment of women and girls," was held at the UN Headquarters in New York from March 11 to 22, 2019. Different events and panels looked at various aspects of promotion and protection of social, economic, cultural, and political rights of women and girls from local, national, and global perspectives and in relation to the Sustainable Development Goals. An important focus of the Commission was on the implementation of protection and benefits for women: there is still a long way to go to make sure women and girls in different parts of the world fully participate and thrive in life, despite a growing understanding of and widespread consensus on the status of women.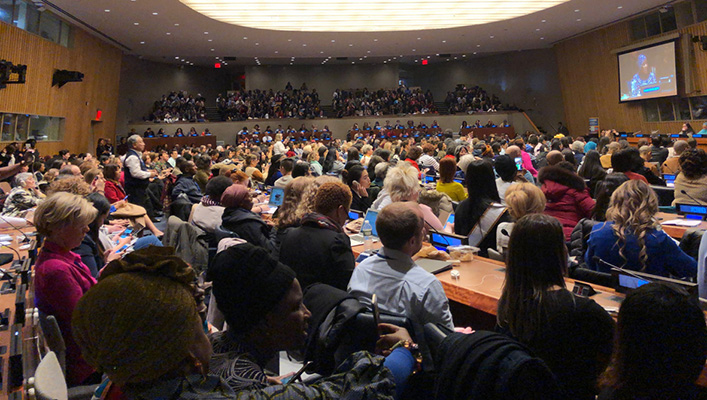 Commission Chair (and Permanent Representative to the UN from Ireland) Geraldine Byrne Nason's remarks at Consultation Day – an information and mobilization event for NGOs in consultative status with the United Nations – underlined the disparity between recognition of women's rights as human rights and women's access to economic, social, and educational opportunities that will enable them to fully participate in life opportunities. The gap that we need to work on closing is the one between the recognition of women's rights and development and application of preventive measures and programs with innovative, systematic, sustainable, culturally sensitive, gender-responsive approaches that aim to eliminate gender inequality at the local level and in everyday life. We need to see the connections between women's political representation and their educational, economic, and social participation in public life in ways that will contribute to the making of the knowledge, practices, and policies that come from women's experiences, viewpoints, insights, and positions. We also need to recognize that diverse forms of gendered discrimination cut across race, class, national identity, religion, geography, occupation, and many more "interlocking systems of oppression", in P.H. Collins' words, to contribute to the forms gender inequality takes in a particular context.
The need to coordinate policy and practice and intersectional thinking for the most effective and permanent gender equality outcomes is best illustrated by turning to the issues of domestic violence against women, women's safety in public spaces and educational settings, the exclusion of women from economic gain and social and political opportunities by incarceration, and the unequal share of unpaid care work and family responsibilities during re-entry processes. These issues, which were examined in the panels cosponsored by the International Sociological Association at CSW63[1], illustrate the interconnectedness of policy systems such as education, childcare, criminal justice, employment, and urban policy encompassing housing and transportation in enabling women's economic, social, cultural, and political participation and point to the necessity for innovative thinking, effective implementation, and enforcement.
Domestic violence against women, for instance, is an issue that is often difficult to address because it is confined to the private sphere and thus is perceived as a private problem within the family. Women's knowledge of existing services doesn't necessarily match the multiplicity of barriers domestic violence perpetuates, including but not limited to restricted access to employment opportunities, independent and safe housing, free or affordable childcare, and protection and counseling services.
Domestic violence is one form of violation of women's rights which demonstrates that law alone is not sufficient to protect women without proper enforcement. The issue of women's safety in public spaces is another. As Dr. Jackie Sebire emphasized in the panel Access to Justice for Women and Girls: The Role of Women in Law Enforcement and Peacekeeping, based on her experiences as Assistant Chief Constable at Bedfordshire Police Department, UK, women's rights are best protected and practiced by community members who are able to recognize women's problems and the way these are felt and their burden carried. Advocating for women's participation in the policing profession will contribute to women's empowerment and allow for a cultural breakthrough, for it goes against the patriarchal norms associated with the profession; this has the potential for making women's experience or "feminist knowledge" the central tool to draw from in the fight against gendered violence that is not prioritized in existing enforcement models. This is also important in light of the increasing body of research on the problems of young women travelling to school or other educational institutions. As documented by Natarajan et al. (2017), female college students often face sexual victimization on their way to school. Research such as this, drawing on women's perceptions and experiences, can help inform urban policy and channelize technology and public services to improve women's safety in urban public spaces and within institutions.
Violence and safety concerns are not the only factor holding women back from benefiting from social and economic opportunities. Unpaid care and domestic work that women have to take on limit their opportunities to enter the labor market and get jobs that will enable their independence and economic gain. Research suggests that: "around the world, women spend two to ten times more time on unpaid care work than men." (Ferrant et al., 2014). It is evident that care work has not been recognized by governments as an integral part of the sustenance of economies and life; lack of paid maternity and parental leave, and social security benefits are the most important deficiencies in social welfare systems that lead women to either not enter - or leave - the job market when they give birth. If these women later want to take on employment, they are mostly forced to take on informal forms of employment that don't provide protections. As discussed in the panel Women, Re-Entry and Social Protection, this structural discrimination particularly affects incarcerated women, whose re-entry into the labor market becomes particularly difficult due to limited work history. Lack of family-oriented policies that put emphasis on distribution of responsibilities between women and men in the family and work-family balance impacts all women but is more likely to harm the most disadvantaged women who have been formerly deprived of opportunities during imprisonment. This is especially so when paired with the lack of interventions aiming to enable the continuity of education and participation in life during the period of incarceration.
Implementation of protections and benefits for women necessitates a holistic and comprehensive approach. How do we make sure that interventions that find place in law and policy will be enforced? Governments need to be more proactive in ensuring that as many women as possible are able to have access to mechanisms that will not only enable protection but also help them thrive. Civil society organizations, such as the International Sociological Association, serve to educate policymakers on these topics and advocate for gender equal policies and practices.
(The author is a youth representative to the United Nations for the ISA and attended the Commission on the Status of Women's 63rd Session for the first time in 2019.)
[1] These panels were co-sponsored by the ISA, the American Society of Criminology, the World Society of Victimology, Criminologists without Borders. You can hear Dr. Rosemary Barberet, ISA Representative to the United Nations, speak about CSW63 at the United Nations or view the video playlist and photographs of all six panels, and view the reading lists that were distributed at the events, which were developed by ISA representatives to the United Nations.
References:
Ferrant, G., L.M. Pesando and K. Nowacka (2014). "Unpaid care work: The missing link in the analysis of gender gaps in labour outcomes." OECD Development Centre Policy Brief.
Natajaran, M., Schmuhl, M., Sudula, S. & Mandala, M. (2017). "Sexual victimization of college students in public transport environments: a whole journey approach." Crime Prevention and Community Safety, 19(3-4): 168–182. (Special Issue: Women's victimisation and safety in transit environments: An international perspective).
---
Bengi Sullu, The Graduate Center, City University of New York, USA <bsullu@gradcenter.cuny.edu>