Jürgen Hartmann, a Dedicated Internationalist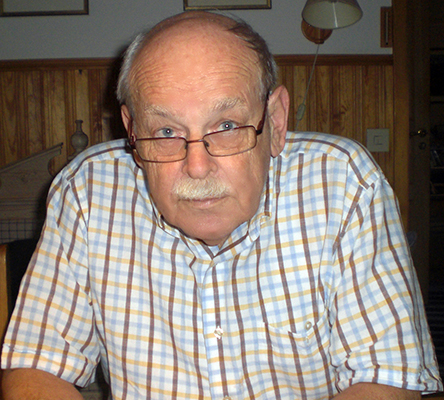 Always cheerful and friendly, kind, open-minded, welcoming, positive, cooperative, helpful, warm-hearted, understanding, an internationally active scientist, a skillful organizer, an inspiring personality – this is how friends and colleagues remember Jürgen Hartmann, who passed away on March 2, 2015.
Jürgen was born in Remscheid-Lennep (Germany) on March 18, 1944. As his father died in the war, Jürgen was raised by his mother. As a child, Jürgen spent many afternoons in the local bookstore. A voracious reader, he quickly befriended the owner, who let him read books for free in the shop's backroom. Jürgen gratefully absorbed whatever he could get hold of: he read about other countries and cultures, he studied maps and even train timetables. This kindled his academic aspirations and inspired his desire to travel the world. It helped him read at lightning speed, and he could always find his way, no matter where he was, as if he were a human compass. As the son of a working mother, Jürgen also learned early to prepare tasty meals, a skill he perfected throughout his life.
Jürgen earned his Master of Economics degree at the University of Cologne in 1969. As a student, he took on summer jobs in Stockholm and won a scholarship from Uppsala University, where he met his Swedish wife Solveig. In 1973, he received his PhD for a doctoral thesis on the student revolt in Sweden. After graduation, he worked at the Department of Sociology of Uppsala University until 1993, lecturing all across Sweden. From 1980 to 1982, he worked in Vienna as head of research at the European Centre for Social Welfare, Training and Research, a UN-affiliated organization; from 1983 to 1986, he directed the international project Integration of Youth into Society, launching his international career.
Jürgen's first contact with the ISA dates back to the IXth ISA World Congress of Sociology held in Uppsala in July 1978. ISA's Executive Secretary Izabela Barlinska, then a young student helping at the Congress Secretariat, recalls meeting Jürgen at the information desk. Then a young professor of the University of Uppsala, Jürgen felt that his help as a representative of the local academic community might be needed. And it definitely was! Both were inexperienced and new to the ISA structure, but both were eager to help the others. They became friends forever.
Working in an international setting with colleagues from different parts of the world was vital for Jürgen. He joined ISA's Research Committee on Sociology of Youth (RC34), served as its treasurer (1982-86) and was elected its president in 1986. His predecessor, Petar-Emil Mitev, notes that "during the Cold War, Jürgen made a crucial contribution to turning RC34 into a model for cooperation between youth researchers in Western and Eastern Europe. Youth researchers from Eastern European countries could always count on his well-intended support and true devotion to common academic goals."
"Jürgen's leadership of the RC34 at a crucial time positioned him perfectly to observe and understand the massive changes in young people's situation triggered in the Soviet Union by Glasnost and Perestroika," says John Bynner, who came to admire Jürgen's far-reaching analytic perspective and insightful comments when he worked with him in the comparative project European Youth and New Technologies (1987-1990), run by the European Coordination Centre for Research and Documentation in the Social Sciences in Vienna. Sponsored by RC34, this project had unique value, spanning the fall of the Berlin Wall and the demise of the Soviet Union. Bynner describes Jürgen as "a true internationalist bringing home to the less-well-initiated like myself the need to get away from blinkered national perspectives and move towards an understanding of relative differences in cultural assumptions and national priorities, especially in Eastern Europe where non-military and consumer interest in IT was still limited. Young people, through their growing demand for IT capability and cross-national media access, and as the next generation, were thus becoming one of the major harbingers of change. It is hard to appreciate now that Jürgen's idea of a certificate of computer competence, with the status of a driving license, was seen, at the time, as utopian in Eastern countries. He recognized early on the significance of the transformation of the transition to adulthood brought about through new technology and the consequences of individualization, polarization and widening inequality in an increasingly globalized world which was its aftermath. That we wrestle with these things today as central to youth politics and policy is, in no small part, due to Jürgen's influences that we can cherish to this day."
As a truly international scientist, Jürgen managed to initiate cooperation with Chinese youth researchers under the RC34 umbrella. It is no coincidence that in the two periods following his presidency, RC34's Vice-Presidents for Asia were from China. Jürgen played a key role in diplomatically paving the way for the first RC34 conference ever held in China, Asian Modernization and Youth (Shanghai, 1993).
Jürgen was also an excellent networker. Helena Helve, Nordic Youth Research Coordinator (1998-2004) and RC34 President (2002-2006), considers Jürgen a pioneer of Nordic youth research. Helena was impressed by "the fascinating keynote speech about youth movements in Europe in the 1960s and 1970s that Jürgen gave at a Nordic youth research conference. Jürgen actively promoted the cooperation of Nordic youth researchers. He was one of the founders of the Nordic Youth Research Symposium NYRIS and the Nordic youth research coordination. Even when he had become a well-known international scientist, he always considered himself a Nordic youth researcher. His work has internationalized and made Nordic youth research known all around the world." Jürgen was also a member of CYRCE (Circle for Youth Research Cooperation in Europe) founded in 1990 by his successor, Sibylle Hübner-Funk, which contributed to building up and strengthening European youth research.
Jürgen's broad knowledge, teaching experience and his ability to explain complicated issues clearly made him a sought-after speaker. There was something special about his presentation style: even when he spoke to large audiences, listeners felt he was speaking to them individually.
After his RC34 presidency, Jürgen was elected to the ISA's Executive Committee: he served on the Finance Committee from 1990 to 1994, and as Vice-President for Finance from 1994 to 1998. In this role, he helped with ISA world congresses, bringing sociologists to Bielefeld (1994), Montreal (1998) and Brisbane (2002).
Besides youth research, Jürgen was passionate about enhancing international understanding through exposure and experience; he viewed youth travel, from exchanges to tourism, as central. Lyudmila Nurse vividly remembers an incident in October 1992, in Moscow, where she organized the international conference Youth and Social Changes in Europe: Integration or Polarization. On the first day of the conference, the Director of the Youth Institute received a telephone call from the then-Ministry of Science and Technologies which was involved in the development of new youth policies in Russia. They wanted to meet with some of the western scholars who attended the conference. Jürgen was very enthusiastic about the fact that the conference had attracted the attention of the Russian government. We were thrilled to be invited to the Kremlin where our small group was received by Gennady Burbulis, the then-State Secretary of the Russian Federation who was thought to be the second most influential politician in Russia after President Boris Yeltsin. At the meeting, the main focus was on how to engage young people of Russia in the democratic process. Jürgen was the first to reply with a suggestion that sounded very simple and straightforward: Young people of Russia must be allowed to travel abroad and to see the world. At first, everybody thought it was such a simple thing to do; then Jürgen went on to explain that the country should also change and be attractive for young people to return. There was an engaging discussion and a great sense of satisfaction for Jürgen that his message about youth mobility was so well received.
Jürgen's work on youth mobility and travel played a significant role in shaping youth research in this area. He systematically analyzed reasons for traveling and profiled youth travelers. In his works on youth mobility and travel in Western Europe, he linked European Union policies and the concept of "youth mobility" to the emergence of a European consciousness and a fruitful cooperation in economy, politics and culture, arguing, for example, that the European Interrail ticket contributed to young Swedes' experience of being "European" to a much higher degree than any institutionalized exchange program, and that young people's willingness to travel is correlated with their ability to speak foreign languages.
When Dalarna University entered into a partnership with five other European universities to create a program in European Tourism Management (ETM), Jürgen seized the opportunity to make his interest in tourism his profession, becoming director of the Swedish part of this Masters Program (1994-2008). He loved teaching and continued to lecture after retirement.
Jürgen was a true friend to many and a great colleague to all RC34 members. We will miss his team spirit, his cheerful smile and hugs, his hearty laughter, his enquiring mind, wise counsel and encouragement. If we build on the rich legacy he left us, he will live on in our work and memories.
(We are grateful for the contributions of Izabela Barlinska, John Bynner, Helensa Heklve, and Petar-Emil Mitev.)
---
Lyudmila Nurse, Co-founder and Director of the Oxford XXI Think-Tank, UK and former Board Member of ISA Research Committee on Youth (RC34) <lyudmilanurse@oxford-xxi.org>
Sylvia Trnka, former Board Member of RC34, Austria <sylvia.trnka@aon.at>