Foxconn: The Global Predator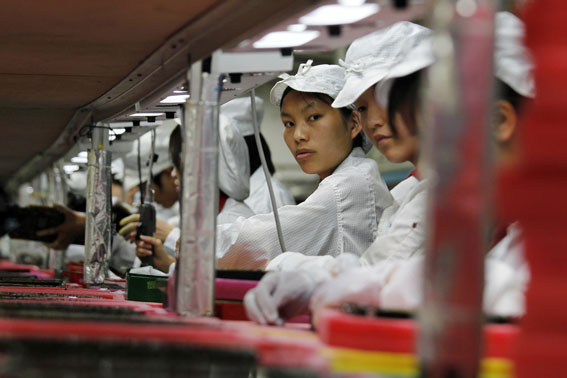 Taiwan-owned Foxconn Technology Group is the world's biggest contract electronics manufacturer, taking in over 50% of global electronics manufacturing and service industry revenue. Foxconn operates more than 40 manufacturing facilities and Research and Development centers in Asia, Russia, Europe, and the Americas. Its accumulated revenues for January to September 2010 reached NT$1.95 trillion (US$60.82 billion), up nearly 63% on the previous year—larger than some of the companies for which it manufacturers products such as Microsoft and Nokia by the rankings of the Global Fortune 500 Companies. With the huge government expenditure and the rapid growth of demand for consumer electronics, China's export economy is fast recovering from the recent financial crisis. But is the Chinese strategy of low-cost, suppressed-labor-rights competitiveness economically sustainable or morally supportable? In the 'electronics workshop of the world,' 17 worker suicides took place at Foxconn's factories in China at the beginning of this year. This tragedy has led to 13 deaths and 4 injuries, all of them internal migrant workers between 17 and 25 years old—in the prime of youth. Their loss should awaken Chinese and international society to reflect upon the costs of a development model that sacrifices dignity and life for economic growth and profit.
Over 85% of Foxconn's 937,000 employees in China are unmarried, young people. The post-80s and post-90s new generations have higher expectations of life than their elders. They are better educated, long for a life attuned to the times, and for the city where everything is happening. The higher their aspirations for a better future, the more obvious becomes the contrast to their harsh reality. As holders of rural household registration status, young migrants share deep anxieties over employment as they are being locked into minimum wage jobs with few benefits. On the bottom rung of the international commodity supply chain, Foxconn workers are deprived of decent wages and social protections. Employees at Foxconn and other workplaces remain marginalized workers and second-class citizens.
Leading international brands have tremendous influence over their contractors. Apple for example is squeezing suppliers worldwide with little concern for the effects of its actions on the people who produce their products. It is estimated that Apple commands gross margins in the range of 50% on the new fourth-generation iPhone, compared to 20-40% for competitor products. Apple enjoyed record profits, and still Apple used every opportunity to secure ever lower prices from suppliers. Producers from India, Vietnam, Cambodia, Bangladesh and other developing countries are pitted against China in a battle to become sub-tier suppliers further down the global supply chain. On factory floors, workers bear the brunt of cost cutting.
Under the direct pressure of Apple and other buyers, as of May 2010—at the height of the then 13 consecutive building-jumper-suicides (dubbed the 'suicide express' by Chinese media)—Foxconn paid assembly-line workers at its 500,000-strong Shenzhen factories only 900 yuan a month (US$132). This subsistence level wage is not enough to meet workers' needs and compels workers to work up to 100 hours of overtime a month, close to three times the maximum 36 hours permitted by Chinese labor law.
Foxconn CEO Terry Gou publicly expressed that the suicides had no connection to Foxconn's management methodology, wages, working or dormitory conditions but rather that personal problems led to the suicides. Recently, media reports show Foxconn rapidly expanding everywhere across the mainland, aiming at creating a 'supply empire' of no less than 1,300,000 workers by 2011. When these two pieces are brought together, inevitably it leads to concerns that such a giant enterprise would fail to reflect on the reasons for the tragic loss of life. During this high-speed growth, aside from increasing its own market competitiveness and the worth of stockholders' shares, what will Foxconn do for this vast number of young migrant workers?
From this May to September, SACOM and Foxconn Research Group, a team of over 60 professors and students from 20 universities in mainland China, Taiwan and Hong Kong, including Peking University, Tsinghua University, National Taiwan University, and Hong Kong Polytechnic University, conducted a research at 12 of Foxconn's mainland factories in Shenzhen, Nanjing, Kunshan, Hangzhou, Tianjin, Langfang, Taiyuan, Shanghai, and Wuhai cities. We conducted a survey (1,736 questionnaires) and interviews (300 cases). In addition, 14 undercover researchers entered Foxconn to work as workers. Through this independent investigation, we call on Foxconn directly to face and resolve its systemic labor problems. No one has the authority to advance economically and accumulate wealth at the cost of another person's life.
On September 22 the Mid-Autumn Festival Holiday, we visited 17-year-old Tian Yu—one of the Foxconn survivors. On March 17, this carefree girl who once loved laughing and flowers jumped off the fourth floor of the Shenzhen Longhua Factory worker dormitory. Compared to the other jumpers, she was lucky; she lived. Yet in some ways she is unlucky, because her young body is still paralyzed even after many surgeries, and she will spend the rest of her life in a wheelchair.
To prevent workers from responding to unjust treatment with suicides, we urge Foxconn and its high-profile customers to improve working conditions. We encourage credible NGOs and scholars to offer participatory training in workers' rights at the workplace level. Workers should exercise their rights to democratic union organization and collective bargaining. At the time of writing, Foxconn suppressed the peaceful sit-in strike at the 7,800-worker Tamilnadu factory in southern India. Foxconn India management refused to negotiate with the union representatives to raise wages—currently a regular Indian worker with an experience of four years earns only Rs4,800 (US$106) a month. On October 9, local police arrested hundreds of striking Foxconn workers and jailed them in the Vellore Central Prison.
ActNow! (1) Please support the LabourStart campaign titled India: Over 500 Workers Jailed in Dispute with Foxconn. (2) Add your name to the students and scholars signature campaign titled Create Humane Labor Standards at Foxconn and End 'Stealth Manufacturing' in Information Technology! Please email Debby Chan or Jenny Chan at SACOM. Thank you!
---
Jenny Chan, University of London, UK