Committing Sociology through Environmental Justice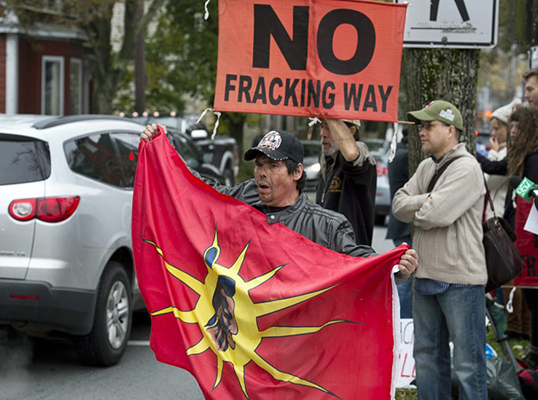 While cities around the world are seeing a rise in racism and nativism, this trend appears to have bypassed Toronto. This might be surprising, since Toronto is also one of the world's most multicultural cities, and, like other major cities, it is also host to both the best and worst of urban conditions.
Over the last year, there has been a rise in urban protests around the world, and Toronto has been no exception. Contention arising from the 2016 American election; protests by victims of Flint's water crisis; massive Indigenous-led action against the pipeline at Standing Rock, North Dakota; or Black Lives Matter's challenges to a post-racial panacea that never existed. Each is an example of protest led by millennials driven to social media and the streets.
Similar tensions and mobilization have also emerged in Toronto, where the majority of the population is foreign-born and many are racialized. For some, it has been shocking to see a rise in racist incidents in a city long known for its culture of multiculturalism. Toronto's Black Lives Matter movement delayed the city's major Gay Pride parade in protest against police violence, and the city's Tamil refugees blocked one of its major highways, reminding residents of the extent to which racialized people are socially and spatially segregated in the city's suburbs.
Rather than simply treating these events as separate political and economic tensions calling for different forms of activism or intervention, it is crucial for sociologists to see linkages across activism, action, and issues in order to press for policy reforms. I argue that environmental justice offers an umbrella for sociology to do just that.
Environmental justice is both a theoretical framework and a social movement that seeks to merge issues of social justice into environmental movements. By broadening the traditional and exclusionary notions associated with conservation, to more inclusive views of environmentalism, environmental justice integrates a wide range of social and environmental problems, from health, housing, and urban planning to policing.
As an approach to activism, environmental justice draws on protest strategies associated with the civil rights movement – blockades, petitions, and media campaigns – to fight for proactive social and environmental policy. Inspired by Robert Bullard's seminal work, environmental justice has become an exemplar of a community-oriented sociology that is responsive and relevant to today's interrelated social, political, economic, and environmental concerns.
In its early form, environmental justice focused on highlighting the uneven spatial distribution of environmental risks experienced by marginalized, racialized, lower-income and Indigenous peoples. In Canada, this has involved attaching a name to the ongoing colonial legacy of poor infrastructure and the lack of consultation with Indigenous peoples in decisions about land and resource that impact their communities. In this regard, shared concerns about land rights, health, and risks to ecosystems create links across social justice issues – and making for an obvious connection between Indigenous protests about oil sands development in Alberta and the Dakota Access pipeline protest at Standing Rock.
Environmental justice in urban centers, including Toronto, has also provided a framework to question the status quo and move toward solutions to the uneven processes of urban development. Such trends are linked to systematic disinvestment in racialized lower-income communities, resulting in less green space and fewer healthy food options, as well as a lack of affordable housing, less access to public transit, and greater amounts of policing and social stigma.
Canadian environmental sociologists, like others around the world, are examining how environmental nongovernmental organizations, the media, and government policies frame and respond to the needs of marginalized Canadians. Their work illuminates how environmental injustices become apparent when we ask who gets what and by what means.
Inequities in access to resources and power cross many of the current streams of activism, and can unite them. In Toronto, and globally, white privilege is associated with economic, social, and environmental advantage. Historical patterns of decision-making have reinforced existing power structures and maintained the status quo, so that while good neighborhoods improve, poor neighborhoods become more rundown.
More recently in Toronto, environmental justice has been used as a banner for protests against the tar sands expansion of Alberta's dirty oil, and against globalization's growing inequalities. As multinational corporations relocate manufacturing facilities to less-developed countries, where wages are lower and environmental regulations are less stringent, globalization links the poor and racialized – those who are vulnerable to environmental injustices in their workplaces, homes, and communities – locally as well as globally.
Climate change is a global concern for sociologists doing environmental justice work. In Canada, the politics of climate justice are complicated by Canada's reliance on fossil fuel as an economic engine, whose beneficiaries tend to view the effects of climate change or concerns about pipeline expansion as distant and manageable. In contrast, in less-developed nations that are more vulnerable to natural disasters, often with poorer infrastructures, larger coastal settlements, and greater dependency on subsistence fishing and agriculture, the impact of climate change caused by carbon emissions seems more immediate. Thus, there is a pressing need in Canada to frame local energy decisions in the context of global consequences.
Taken together, these examples show that there are at least three aspects of environmental justice that could inform "committing sociology" in these times of crisis and protest.
First, sociologists need to be open to interdisciplinary approaches. Environmental justice draws on qualitative, quantitative, spatial and legal methods, and bases itself in theoretical frameworks from geography, law, urban planning, public health, and sociology. Some environmental justice research has focused on uncovering the narratives and experiences of those suffering from environmental risks, racism, and other often-ignored oppressions. These hidden narratives are an important starting point for studying the process of change.
Second, sociologists need to advocate social and environmental policy reforms from government and private sector stakeholders. Our understandings of social and environmental problems are continually evolving, and climate justice interventions are required at both local and global levels to protect vulnerable populations disproportionately impacted by the health, economic, and environmental risks associated with climate change.
Finally, beyond the implementation of policy, there is a role for sociologists to play in monitoring and evaluating new policies from the perspective of marginalized communities, a task that would benefit from an intersectional approach. By using an environmental justice lens, sociologists can help to strengthen the relationship between policy and the construction of a more social just world.
---
Cheryl Teelucksingh, Ryerson University, Canada <teeluck@arts.ryerson.ca>