Ann Barden Denis: In Appreciation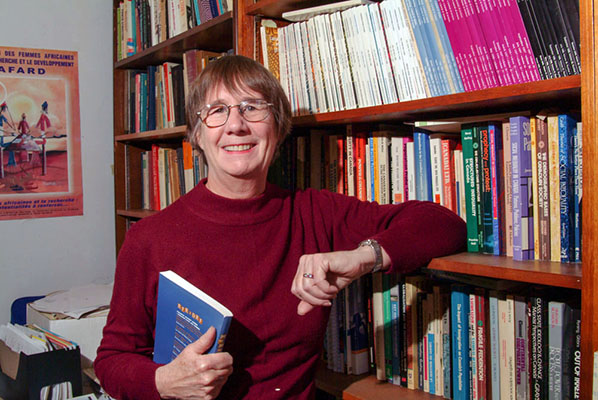 On February 5, 2019, Ann Barden Denis passed away suddenly from cardiac arrest. She was only 73. Ann committed much of her life to sociology, to interdisciplinary scholarship, to equality in society, and to respectful social relationships across differences. She leaves many grieving colleagues, students, friends, and mentors who miss her calm and caring presence as well as her collaborative, analytic, and executive skills, knowledge, and reliability.
Recently Ann began to use her middle name, Barden, to honor her strong maternal family roots. She greatly valued the wisdom and practical advice that her grandmother and mother passed on from their experiences in large, patriarchal, French Canadian families. From these women, Ann learned the importance of education and employment for asserting her independence as a woman in a man's world. Understanding how these issues related to individual and social power gave Ann strength and confidence in her personal and sociological leadership roles. It also helped her to develop and change as a feminist throughout her career. While this appreciation focuses on Ann's public presence and contributions to scholarship and activism, she also led a socially engaged and caring life as well as remaining independent as a woman.
Ann's loss impoverishes many organizations that have been supported and shaped, or revitalized by her work. She made extraordinary administrative and scholarly contributions to the Canadian Sociology and Anthropology Association (CSAA), now CSA, and its Feminist Sociology Research Cluster; to the International Sociological Association (ISA) and two of its research committees, RC05 (then, Ethnic, Race and Minority Relations, now Racism, Nationalism, Indigeneity and Ethnicity) and RC32 (then Women in Society, now Women, Gender and Society); and to the Canadian Research Institute for the Advancement of Women (CRIAW-ICREF), especially in recent years. In each of these associations and committees, and at her bilingual University of Ottawa, Ann worked unflaggingly in major leadership roles (frequently as President) and in less eminent positions to ensure their organizational effectiveness and their continued social, academic, and practical relevance. She also worked to protect and foster basic principles of social justice, openness, access, and inclusivity in and between them. Moreover, she used her skills as both a writer and editor to contribute to their books, journals, special issues, fact sheets, and newsletters. She advised related journal boards and Canada's Aid to Scholarly Publications over time. Canadian and international sociology and intersectional feminist research relationships have benefitted greatly from her feminist leadership and administrative brilliance.
Ann was also a long-standing member of ACSALF, Canada's Francophone equivalent to CSAA, Canadian Ethnic Studies Association (CESA-SCEE), and, from its first meeting, Women and Gender Studies et Recherches Féministes (WGSRF). She had a strong presence within both Francophone and Anglophone sociological communities and kept the Francophone pronunciation of her surname, "Denis." Her insistence on the silent letter "s" in her name allowed her to flag issues of Francophone language and ethnic equality from the beginning of her career in Canada among Anglophone sociologists. Later she joined Quebecois and other Canadian colleagues at meetings of the Francophonie, championing French language and culture internationally.
In 2011, Ann co-initiated Feminist Interdisciplinary Sessions at the annual Canadian Congress of the Humanities and Social Sciences (CHSS) and from 2013 co-chaired CSA's Feminist Cluster. In co-organizing and largely administering both interrelated programs, she personally translated cluster documents into French to facilitate Francophone participation and bilingual sessions. As a result of her lifetime of dedicated work and advocacy, significantly more attention was and continues to be paid to bilingualism within CSA and CHSS.
Ann's sociologically informed and holistic feminist administrative approach contributed to the survival of CRIAW-ICREF, founded in 1976 to make research on women more accessible to women for advocacy. From 2009 to 2015, Ann became a board member and took presidential terms (Vice-President, President and Past President). It was a time when CRIAW and other feminist organizations were threatened with extinction. During this punishing era of government cutbacks, Ann contributed what was needed to rebuild CRIAW's organizational viability, including re-establishing its volunteer committees with her active presence. Her global interests and administrative skills led her to understand the requirements for CRIAW to regain its credentials for United Nations (UN) status. As a CRIAW representative at the UN, she took on important roles in UN's associated NGO status of women meetings as organizer, presenter, and mentor and also communicated with Canadians about the UN issues.
One example of Ann's sensitivity and multi-faceted skills took place at the ISA in 1994. After an RC32 pre-conference in another city, our group arrived at ISA check-in for our pre-arranged and stand-alone group residence. ISA housing authorities had excluded one of us, a senior Asian scholar. Amidst talk of protest for dividing our group, Ann assessed all perspectives. She calmed the situation and took the lead in implementing what turned out to be a win/win/win strategy. Next morning, she rearranged our residential space to accommodate our missing member and convinced housing authorities to agree. Her plan enabled us to visit our colleague's gated and guarded "protected housing" complex for non-white participants. We were horrified at this racism as were other ISA members and decision-makers. Ann's actions in this critical incident were vital in helping the ISA become more egalitarian and truly international.
Of course, Ann was also an exemplary scholar and left a fine legacy of scholarly writing. Her PhD thesis, The Changing Role of Students in Relation to the Government of British Universities (1935-1968), foreshadows her sociological imaginary in grounding her research explicitly in biographical realities and within historical structures of power. Her subsequent scholarship was mainly Canadian and focused on education, women's work, the labor force, the Internet, and on women, class, and ethnicity. Her research became more comparative after the 1986 ISA conference in India and sabbaticals in the English-speaking Caribbean, especially Barbados. She headed an international research team on (In)equality, Identity and Internet Use by Minorities in a Globalizing World: Young People's Internet Use in Barbados and Francophone Ontario.
As ISA Vice-President for Research (2002-06), Ann organized a conference of its Research Committee. After re-election to ISA's executive, she co-edited The ISA Handbook in Contemporary Sociology: Conflict, Competition, Cooperation and The Shape of Sociology for the 21st Century: Tradition and Renewal. In addition to these initiatives, Ann took on both immediate and longer term issues in the ISA as well as lingering problems such as undemocratic practices and lack of linguistic and geographic diversity in some research committees.
Ann's foundational and diverse contributions to the practice and development of Canadian and international sociology generally, and to intersectional feminist and ethnic studies in particular, are inestimable.
She is missed, remembered and appreciated.
---
Linda Christiansen-Ruffman, Saint Mary's University, Canada <ruffman@smu.ca>
Angela Miles, University of Toronto, Canada <angela.miles@utoronto.ca>
Marilyn Porter, Memorial University, Canada <mporter2008@gmail.com>