An Interview with Izabela Barlinska
(Part I)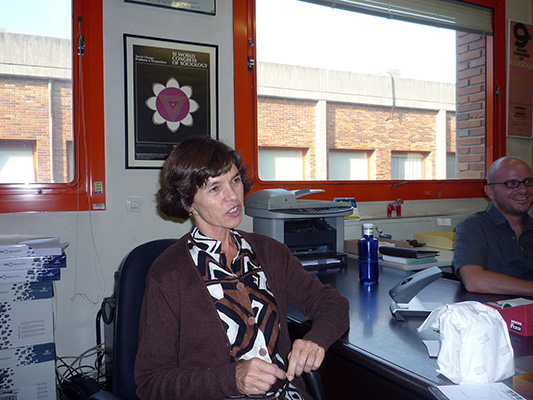 Everyone in the ISA knows the name Izabela Barlinska – and she knows almost everyone! Efficient and creative, loyal and dedicated, soft-spoken but resolute, she has been associated with the ISA for some 35 years. Mistress of many languages, including English, French, Spanish, Russian and her native Polish, she occupies the hot seat in the ISA, directing operations from Madrid. Aided by her devoted assistants, Nacho and Juan, she deals with everything from finance to membership, from taking minutes to advising research committees and national associations, to programming and organizing our multitudinous and ever-more complex meetings. Vice-Presidents and Presidents depend on her knowledge and her wisdom. It's all done with modesty, tact, and a cool sense of irony.
She became ISA's Executive Secretary in 1987, and under her stewardship the ISA has moved from strength to strength, expanding its membership from 1,200 to over 5,000 members today, embracing some 55 National Associations and 55 Research Committees. She began her trajectory with the ISA as a young student in Warsaw and then moved with the ISA from Canada to the Netherlands, and then to Spain. During this time she wrote her PhD and published it as a book in Spanish under the title Civil Society in Poland and Solidarity. Being in the Polish opposition, she says, trained her well to keep silent in the many awkward situations that inevitably arise in her taxing position.
Michael Burawoy interviewed her in Madrid on September 27, 2011. The first part of the interview, which describes her exile from Poland and her early years with the ISA, is published here. The second part will appear in the next issue of Global Dialogue, dealing with the consolidation of the ISA in its Madrid offices after she became Executive Secretary.
MB: Izabela, how on earth did you get involved with the ISA and take on this amazing but taxing job?
IB: Well, it was just one of those accidents of life. It began in 1977 with my aunt Magdalena Sokolowska, who was a member of the Executive Committee of the ISA. It was spring, I remember, because I was busy with my exams at the University of Warsaw. She phoned me, could I please come the following two or three days because she was organizing an international conference and she needed help. She needed a "little girl" to help her out, you know? Meet people at the airport, take them to the hotel, see what happens with the lost luggage and that sort of thing.
MB: Why did she call you in particular?
IB: Because I knew Russian and English and I was around. But I had exams the following day so it was rather complicated. But my father told me I had to do it – who are you to say no? If you were 20 years old I guess you still had to listen to your parents. And so the following day I found myself sitting at the airport. Mind you, it was Poland – communist Poland with all its difficulties, where nobody spoke foreign languages. So anyway, here I was, waiting at the airport, doing what was expected of me, while studying for my exams. But apparently some sort of mutual sympathy was born with Kurt Jonassohn and Céline Saint-Pierre who were at that time the Executive Secretaries of the ISA and the Secretariat was then located in Montreal. They said to me – look, next summer we'll be organizing a World Congress of Sociology in Uppsala, Sweden, and we expect a lot of people from Eastern Europe, especially Russians. And since we already know you and you speak English and Russian may be you would be interested to work with us.
MB: That must have been quite a tempting invitation!
IB: Indeed! Imagine, you get an offer to go to work for one month in Sweden? I didn't think twice. Yes, I'd be happy to go. And I went. Ulf Himmelstrand, who would be elected President of the ISA at the Congress (1978), picked me up at the ferry. I came the cheapest way you could possibly come from Poland, which was crossing the Baltic Sea on the ferry. I spent then one month in Uppsala, putting together the program. And then during the congress week they put me on the desk, which was called "General Complaints."
Well, I couldn't have had a better start in the ISA! I knew nothing of the ISA, but here I was – trying to solve the problem of a grandmother who had lost her granddaughter who probably went for a ride to Stockholm... Well, you can easily imagine what might happen in "general complaints." But apparently I was successful enough in my new task because a few years later I got a letter from Kurt Jonassohn and Céline Saint-Pierre saying they had some small student grants to help them prepare the World Congress of Sociology in Mexico in 1982, and would I like to go to Montreal at the end of 1981. Of course, I said – fantastic! Half a year in Canada on a student scholarship – who would refuse that? I actually applied for the passport and, as you know in a communist country to get a passport was not an easy thing. But I got my passport, and I was ready to go.
MB: But this was the time of Solidarity – Poland was in turmoil – right?
IB: Yes, Solidarity was very much part of my life. From school years I was in touch or involved in the political opposition, actually, thanks to a very good history teacher I had at school. She used to invite us to her place to discuss reality and Polish and European history, very different from the official version we were taught at school. And through her and through the colleagues from that seminar I came into contact with people who were in the political opposition then being built in Poland. And once I walked in, I never left.
So when, in 1980, the strikes began, my role was to talk to foreign journalists coming to Poland, and when Martial Law was imposed in Poland – the famous 13th of December of 1981 – I was in trouble. Police entered my home, searching for papers. They took away my typewriter, and tapped my phone, probably because of my very visible connection with foreign TV stations and journalists. My trip to Canada in December of 1981, like everything else, was put on hold. However, some time later the Polish government pretended that life was back to normal and the people had freedom. Playing politics, they started opening the borders.
Everyone had to return their passports when Martial Law was imposed and then suddenly out of the blue there was a phone call in March 1982, "your passport is here, why don't you collect it?" Now I already had the Canadian visa, I had everything, but I didn't want to go. I had a long conversation with the leaders in the opposition circles. And they said – you have to go because you will be more useful abroad than here in Poland. So I went, but not very happy, because I thought my place was in Poland. And when I arrived to Canada, everybody thought I was immediately going to ask for political asylum. But that was the last thing I wanted. This was my fight, this was my passport – and here I am. So that was how I started working at the ISA Secretariat in Montreal, where everyone was wonderfully kind and hospitable. There I became good friends with Jacques Dofny and Alain Touraine, who were then Vice-Presidents of the ISA. Actually, I already knew Alain Touraine from the times of Solidarity's strikes in Poland. This was the beginning of my life with the ISA.
MB: Before you left for Canada, you had another interaction with the ISA, when Ulf Himmelstrand came to visit Poland.
IB: He was sent by the ISA to see what was going on in Poland. It was a very cold winter of 1982. Tanks were everywhere in Warsaw, the military controlled everything. I went to meet Ulf at the airport, we strolled through the streets, met with various sociologists. We thought then that Ulf's report was too correct, something the government would be all too happy to read. It was only later that I understood that he had to be very diplomatic and careful not to endanger his sources of information, Polish sociologists.
MB: In those days how did the ISA Executive Committee deal with the Cold War?
IB: It was careful to balance both sides. And I think they knew that unless they have somebody on the Executive Committee from the Soviet Union there would be trouble. In that sense I think the elections and the composition of the Executive Committee was pretty political.
MB: So, you went to Montreal to prepare for the Mexico World Congress of 1982 and after Mexico you joined the ISA permanently?
IB: Yes. In Mexico, Fernando Henrique Cardoso was elected President and it was already decided that the Secretariat would move to Amsterdam. I went there to work under the new Executive Secretary, the sociologist Felix Geyer. We stayed in Amsterdam for four years. These were the times when the ISA would be hosted and sponsored by specific universities. So we had offices at the University of Amsterdam.
MB: At that time you had other preoccupations than the ISA?
IB: Well, I had to mature into my new situation and, indeed, I started meeting all those famous opposition people who had left Poland, first in North America and then in Amsterdam, which was after all closer to Poland, and I started writing my little stories. It was a sort of double existence, not always easy but interesting. It was the revolution of my generation, so I was actually very fortunate to have a chance to participate in it. And I mean it. Despite all the consequences involved. And look what happened – 30 years have passed and here we are – "free countries." We abolished the system.
MB: Yes. Solidarity was the beginning of the end. But how did you regard that system? You never sought asylum? Why not?
IB: It never occurred to me to seek asylum since that could have had repercussions for my family. But I also thought a lot about how to convey my views about Poland to people who didn't really know communism. I wanted to insist on the importance of resistance – that what I did and was doing was correct – but the system was not entirely bankrupt… Okay, something was obviously wrong about the way the regime functioned. But I had a very decent education at school. I never suffered from hunger. Of course I come from a Warsaw middle-class family – both parents had jobs and we had a decent standard of living. I discovered that in many things I was better educated and better prepared than my colleagues from the "free countries." Schooling, education, and knowledge were very prestigious in Poland. We were locked in but we knew it, and so we were eager to learn not only what we were being taught but also the other history. As I told you, I was lucky I had a magnificent history teacher. She changed my life. And then we were always listening to what was happening in the world. You would be reading books that someone illegally brought from the West. You would spend the whole night reading a book, because the following day you had to give it to somebody else. That was common practice.
MB: These are the stories you would tell people to try to get them to understand what it meant to be in Poland. What did you think about Solidarity itself?
IB: I was excited. Later on I became more critical. But it was a power that could not be stopped. After Martial Law was imposed Solidarity was officially disbanded and went underground, but it still existed. Those were very special years in the country, when people got organized in new ways. Queuing in front of the shop to buy milk was part of civil society. People were getting organized to survive, or to fight against something, or to get around the system which was making their life impossible. There was a very special feeling of unity.
MB: Yes. And the Church, too, had a very important role.
IB: The church acted as an umbrella for all kinds of opposition. It also helped when Martial Law was imposed and many of our colleagues were put in jail for long periods, and mothers and their children were left alone. Shops were empty. Telephones didn't work. Trams didn't work. We were all paralyzed. There were a lot of challenges at that time.
MB: You dealt with these issues in your dissertation that you then published as a book in Spanish – Civil Society in Poland and Solidarity. Am I right?
IB: Yes, I did write about Solidarity and civil society for my PhD dissertation but, of course, in a less personal way. My PhD was not so much about Solidarity as a social movement because many people wrote about it, but how life was organized – how people in the country functioned on a day-to-day basis. There were chapters on the opposition, and on how people organized the second economy, bartering sugar for beans and the like. My supervisor here at the University Complutense in Madrid, Victor Pérez-Díaz, insisted that I write a chapter on the history of protests in Poland, so that non-Polish readers would understand the context.
MB: What about the Polish opposition under communism?
IB: The early Polish opposition never questioned communism; they were trying to modify the regime, modify the system – seeking to improve it – they wanted "socialism with a human face," as they called it.
MB: That's in the beginning, in the 1950s. But do you think the Solidarity movement represented the same thing?
IB: In a sense yes; if you look at the demands of Solidarity at the very beginning, they did include Free Trade Unions, but this was the most political of the demands. All the others were about making communism livable, such as stable prices, better working conditions, and the like. Nobody was really questioning the system. We just wanted to improve conditions of living within it.
MB: But before you went to Madrid, while you were in Amsterdam, 1982-86, you were a contact for the opposition with lots of people passing through, depositing underground publications with you, keeping you up to-date with what was going on?
IB: That's right. I always had an extra bed for such visitors. My family was well connected to journalists and they often stayed with me. In fact that is how I met Ryszard Kapuściński.
MB: You mean the famous Ryszard Kapuściński? You got to know him? He must have been an amazing man from what he has written – his books on Iran, Ethiopia, and Russia are all brilliant!
IB: It was actually very funny how we met. It was when he came to Amsterdam to promote one of his books. He was bringing something for me from my family. I was living in the attic in one of those typical Amsterdam houses that are very narrow with a lot of staircases. Kapuściński had to walk all those stairs, carrying a lot of books for me – most of them underground publications. He got to my place and he said, "Ah, I have to lie down!" He had a problem with his lower back, and with all those stairs and all those books he was in great pain. So here he was, the famous Kapuściński, whom I had never met before, lying stiff on the floor in my apartment for the next five hours. He couldn't move! So that's how we became friends.
MB: So he actually never left Poland for any length of time, except on his journalistic missions?
IB: Yes, he was always there. And of course we talked and talked. At the time I didn't quite know what to do about my life. And then he said to me, "Look, 98 percent of people in the world are happy because they have a quiet and organized life. But there's two percent who ask the questions you are asking yourself." He didn't say anything else. And then added, "Those who ask those kinds of questions have the obligation to keep asking them."
(TO BE CONTINUED)