A Conversation between Law and Sociology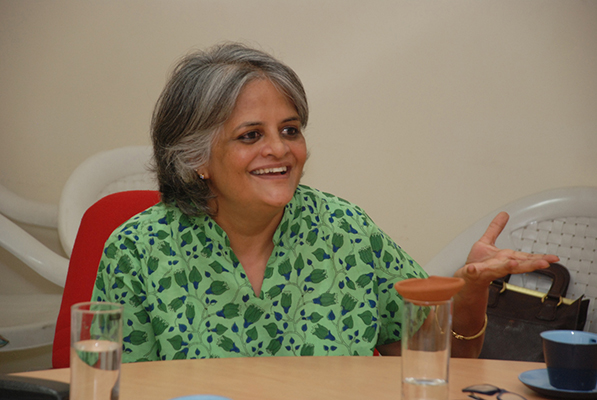 Kalpana Kannabiran is Professor of Sociology and Director of the Council for Social Development, Hyderabad, an autonomous research institute supported by the Indian Council for Social Science Research. She was awarded the VKRV Rao Prize for Social Science Research in the field of Social Aspects of Law in 2003. She was part of the founding faculty of NALSAR University of Law where she taught sociology and law for a decade, 1999-2009, and is co-founder of Asmita Resource Centre for Women, set up in 1991. Her work has focused on understanding the social foundations of non-discrimination, violence against women, and questions of constitutionalism and social justice in India. Her most recent book is Tools of Justice: Non-Discrimination and the Indian Constitution (Routledge, New Delhi, 2012). In 2012 Kalpana Kannabiran received the Amartya Sen Award for Distinguished Social Scientists for her work in the discipline of law.
I started to study sociology at the undergraduate level in Hyderabad in the late 1970s but it was not an informed choice. The combination of subjects – economics, sociology, and geography – seemed interesting in a vague kind of way, and different from literature, psychology, and philosophy which I was sure I did not want to study. In a sense it was a default choice. I went to a public college in a state university – Nizam College in Osmania University – and from there to the University of Hyderabad for a Masters and MPhil and finally to Jawaharlal Nehru University for a PhD in sociology. Undergraduate teaching in my time was unimaginably unimaginative, as it tends to be in state universities, but so was the Masters program.
Fortunately, by my second year of BA, I had got closely involved with a feminist group, Stree Shakti Sanghatana, and was participating in campaigns against domestic violence and rape. I was also beginning to learn about the movements for civil liberties that campaigned against state impunity in the post-Emergency era, i.e. between 1977 and 1985. I was also fortunate to have a ringside view of the movement for civil liberties because my father was a lawyer and President of the Andhra Pradesh Civil Liberties Committee and later became National President of the Peoples Union for Civil Liberties and my mother, a feminist writer and poet, was a vocal critic of the civil liberties movement, even while providing vital support to survivors and political dissidents who kept coming to our home. She was also part of Stree Shakti Sanghatana and a co-author of We Were Making History: Life Stories of Women in the Telangana People's Struggle.
This experience of directly witnessing the effects of state violence and the resistance to it beamed back on my understanding of sociology as holding the possibility of understanding society differently. And from that moment when I began to look at sociology seriously, it was always tied to an understanding of the law and a commitment to radical politics. Not sociology of law but sociology and law as full disciplines that must speak to each other, in ways that enable a more nuanced understanding of justice. In an ironic twist, this connection was reinforced for me by the "accidental" deaths of my MPhil supervisor (then just about thirty) and her husband (also a teacher in the same department) in a fire at home that was witnessed by their two-year old child. I was her first and her last research student and a friend. The fact of domestic discord was well-known as was the extreme distress my supervisor was going through. There was nothing in all those classes on the sociology of the family that prepared me to even understand this. Coping was possible only because of my engagements with struggles outside the university, although my teachers were always vexed by my "activism."
My involvement in the politics of organizing and my experience of law as tied to courtroom deliberations and strategies of interpretation, led me very early on to looking at case law, at the constitution and constituent assembly debates and at legislative debates. But I was also interested in exploring the possibilities of a popular and transformative constitutionalism: How do social and political movements represent the constitution in courts and outside? How are movements organized around constitutionalism? What legislative trajectories have movements opened up and how do these shape movements in a dialectical turn? The Scheduled Tribes and Other Traditional Forest Dwellers (Recognition of Forest Rights) Act of 2006 is an instance. The two-way relation wherein movements force the upholding of the constitution against a negligent state and the reliance of the state on movements for wisdom regarding legislation and accountable government throw up very interesting possibilities for research such as the recent efforts that came to a head after December 2012 around a new law on sexual assault. Putting it differently, if we were to place justice at the center of sociological endeavor, the study of law creates enabling conditions for the sociological project.
I was not of course satisfied with looking at the law as a sociologist, because as a co-founder of a feminist collective, Asmita, in 1991, I was a pro bono counselor for women survivors of domestic violence and rape. Even a doctorate in sociology and an understanding of law did not help me get answers from lawyers representing cases. To dismantle the disability that professional gate-keeping imposes, I studied law and obtained formal degrees – a Bachelors and then a Masters in Jurisprudence. I refused to practice law but I could now enter courts to explore a different [constitutional] common sense with lawyers, judges, litigants, law students – one that broadened the understanding of fundamental rights beyond the rigidities and reductionism of constitutional law as it was practiced. Instead, I focused on reducing the suffering of and harm to people and communities that were particularly vulnerable.
On the other side, I was struck by how little sociologists understood law, although a range of sociological concerns are quite closely tied to realms of formal and customary law. Despite early western anthropology and sociology closely examining the relation of law and society and their transitions – Malinowski, Durkheim and Weber being the most obvious examples – sociology in India remained a gated community at many levels right through my education and my early forays into research and writing. A large part of the practice of sociology in India, for instance, has focused on "caste" – and much of this work has reproduced ideologies and structures of domination by situating theory within the experience of the dominant and deriving its logic from that standpoint. It has taken a long time to turn that around, and finally today we see the emergence of a different argument in classrooms and journals.
My own work departed from these conventions. Thus, one part focused on the historical emergence of criminal jurisprudence and how its development during the colonial period led to contemporary debates around sexual assault, sex work, the death penalty, and the criminalization of homosexuality and of transgender persons. A sociology calibrated with law enables an exploration of the politics of legislation, courtrooms, and interpretive strategies; it advances a keen understanding of the finely tuned mechanisms through which ideologies of domination percolate through procedural law into jurisprudence, defeating fundamental rights even while seeming to uphold them; and, of course, it examines the relationship between social location and access to justice.
A second and related thread has been my interest in investigating violence. While exploring the fields of gender, caste, disability, and minorities (sexual and religious), my work has revolved around understanding the relationship between discrimination, loss of liberty, and violence. I have been particularly interested in theoretical strategies that might give rise to a shift in constitutional interpretation by courts, looking for instance at the different forms that the loss of liberty takes for different groups that suffer discrimination – untouchability (caste), sexual control (women), forced displacement (tribes), genocidal violence and ghettoization (religious minorities), and the refusal to impose barrier-free access as a norm (persons with disabilities). How does the idea of social transformation simultaneously accommodate the frames of revolutionary violence, Gandhian non-violence, and Ambedkarite resistance to caste? As an architect of the constitution and an anti-caste philosopher, Ambedkar is an influential figure who has been marginalized by the mainstream academy. How might we resurrect an intellectual history that will fold in to constitutional concerns?
The question of justice – framed by sociology and law as interlocked disciplines – throws up two ideas that are particularly relevant: the first is Ambedkar's idea that constitutional morality must replace public morality – a concept that lay buried for six decades till it was resurrected by the Delhi High Court in 2009 in its upholding of the rights of sexual minorities in the Naz Foundation case. Ambedkar only sketched it. What are its contours and how might this idea be developed to advance the place of justice within social sciences? This appeal to Ambedkar's idea itself underscores the importance of making impossible or unimaginable connections in our exploration of justice. The second focus that I find fascinating is the uses of the idea of insurgency – disobedience, criticality, and reflexivity – in fleshing out the field of constitutional morality and of justice more generally. This is the vision that drives movements for social transformation, and provides a framework for radical struggle on different fronts. It contains the potential for subaltern interpretations of constitutional morality by communities facing historical injustice and their advocates – interpretations that are subversive by definition.
---
Kalpana Kannabiran, Council for Social Development, Hyderabad, India, member of the ISA Program Committee for the Yokohama World Congress, 2014 and member of ISA Research Committee on Women and Society (RC32)