40+ Years with International Sociology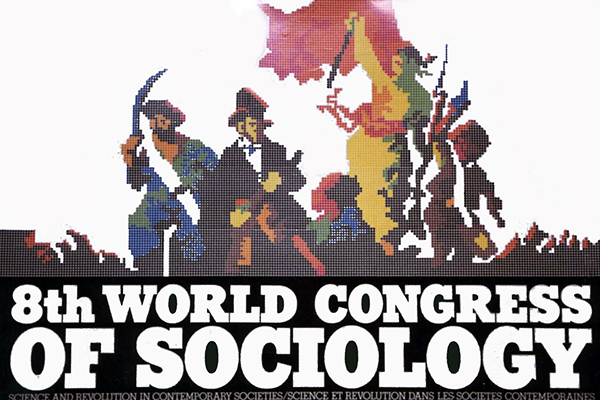 It is a pleasure to respond to an invitation to share some recollections of my rather long association with the International Sociological Association. As a caveat, my remembrance of the past is neither complete nor immune to the tarnish of time; readers will undoubtedly benefit from Jennifer Platt's superb account in her A Brief History of the ISA, 1948-1997.
The international field has always appealed to me, as a vital component of my equally strong interest in sociological theory. As a faculty affiliate of the American Sociological Association (ASA), I served on the ASA's Committee on Worldwide Cooperation, becoming its chair when the previous chair, Reuben Hill, became ISA President (1970-74). Reuben, who very much hoped American sociology would venture outside the United States, invited me to join the ISA. My first opportunity came in 1974, where Reuben had invited Russian sociologists for the ISA Eighth World Congress in Toronto. Immediately following the ISA meetings, delegates were invited to the ASA meetings held in Montreal.
In both settings, our Worldwide Cooperation Committee provided a link with overseas visitors. I especially remember meeting with Russian sociologists; the strains of the Cold War disappeared quickly, as the reception's jovial atmosphere approached collective effervescence. For both Reuben Hill and ASA president Peter Blau, the joint meetings proved to be a triumph of sociological diplomacy.
Following this, I took life membership in the ISA – one of the best investments I have ever made. At the Ninth Congress in Uppsala, I remember how spread out the meetings were, but also how Sweden was both very expensive and very modern. And perhaps because Uppsala (unlike Toronto or Stockholm) is a university town rather than a metropolis, the site offered few distractions but gave many occasions for meeting scholars from various countries – a major attraction for international gatherings of scholars.
After Uppsala, the ISA's Tenth Congress in Mexico City (1982) had a large number of sessions in Spanish, the ISA's third official language, as we were vehemently reminded by Alain Touraine to the cheers of Latin American students. Touraine, it should be said, has been a progressive champion of world sociology, both at various world congresses and in his development seminars in France.
While the 1982 ISA meetings were taking place, however, we experienced financial anomie: Mexico's Finance Minister declared the country could not meet its debt payment, prompting a major financial crisis. ISA delegates were left scrambling to get dollars at Mexican banks; but financial communication broke down, creating widespread confusion over exchange rates. Not only were the rates changing overnight, but branches of the same bank often did not know what rates had been set by Mexico's central bank. Some ISA members who could access their credit cards discovered they could upgrade their hotel rooms from standard to deluxe, as the peso plunged and the dollar rose. But not all profited, and many left Mexico on the first available flight.
This was the only ISA meeting that I recall taking place during such an eventful crisis. The Twelfth Congress in Madrid was fine, save for exceptional heat and the absence of air conditioning. At the Thirteenth Congress (1994) in Bielefeld, Richard Grathoff invited a number of Polish and other Eastern European sociologists who had kept sociology alive during the repressive Soviet regime which crashed in 1991.
I had much in common with Grathoff, who placed qualitative, interpretive sociology at the center of sociological theorizing, and I was delighted when he asked me to continue on the editorial board of International Sociology when he took over its editorship (1991-1996). I joined the board when Martin Albrow became its first editor (1984-1990), and I greatly enjoy both being a contributor and a reviewer for a journal which gives primacy to comparative, international sociology.
Even though attending all ISA meetings is practically impossible (both because of the cost of travel since retirement, and because of my commitments to ASA, which often meets at about the same time as the ISA), I am pleased to have participated in a number of recent congresses: Montreal (1998), Brisbane (2002), Gothenburg (2010), Yokohama (2014), and the recent ISA Forum in Vienna (2016). Seeing old friends from around the world (unfortunately a declining number), meeting new ones, and encountering new sociological ideas in places of different cultures are still as enticing as when I first joined the International Sociological Association – and will certainly draw me to attend the 2018 19th Congress in Toronto.
---
Edward A. Tiryakian, Duke University, USA, and member of ISA Research Committees on History of Sociology (RC08), Sociological Theory (RC16) and Sociology of Religion (RC22) <durkhm@soc.duke.edu>